Masters needs injection of drama on back nine on Sunday to match build-up
The build-up to the 87th Masters certainly delivered on the drama front as the schism in men's professional golf dominated the agenda.
Now what it needs is an overdue injection of drama on the back nine on Sunday, where the old adage says the year's first major tournament truly begins.
Since Tiger Woods safely, and smartly, found the 12th green in the final round in 2019 while his rivals floundered, the result has never really been in doubt.
Woods made birdie on the most famous par-three in golf and added more on the 15th and 16th to give himself the luxury of a bogey on the last to secure a fifth green jacket.
Dustin Johnson won the 2020 Masters, staged in November due to the Covid-19 pandemic, by five shots with a record-breaking total of 20 under par, while Hideki Matsuyama's mistakes five months later came too late to matter.
Scottie Scheffler's three-shot victory over Rory McIlroy 12 months ago included a four-putt on the 72nd hole, although McIlroy's closing 64 was at least a thrilling reminder of what he is capable of.
Both men are expected to challenge for the title again, Scheffler seeking to join Jack Nicklaus, Nick Faldo and Tiger Woods as back-to-back champions and McIlroy looking to become just the sixth player to complete a career grand slam.
McIlroy's confidence that he has all the ingredients necessary was eclipsed by a bullish prediction from Woods that it was only a matter of time before the Northern Irishman succeeded, perhaps piling more unwanted pressure on his shoulders.
However, McIlroy was notably relaxed in his pre-tournament press conference and revealed plans to practice with Brooks Koepka, thereby easing expectations of simmering tensions between the PGA Tour and DP World Tour loyalists and the 18-strong LIV contingent.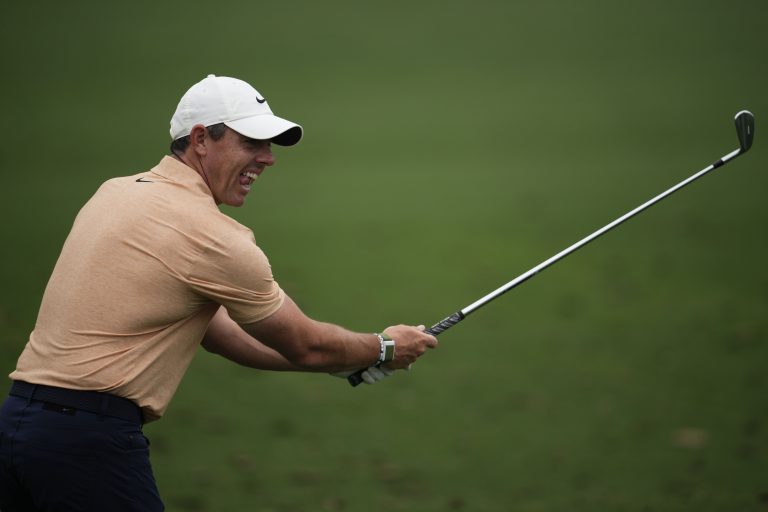 LIV Golf CEO Greg Norman had stoked the flames by suggesting that the remaining 17 members of the Saudi-funded breakaway would be gathered around the 18th green on Sunday if one of their colleagues were to triumph.
And, with perfect timing, reports that an arbitration panel had ruled in favour of the DP World Tour in their case against 12 LIV players for playing in conflicting events without permission leaked on Tuesday morning.
Nevertheless, the Champions Dinner – attended by six LIV players; Phil Mickelson, Sergio Garcia, Bubba Watson, Charl Schwartzel, Patrick Reed and Johnson – reportedly passed off without incident, leaving the stage hopefully clear for the actual golf to shine.
Scheffler, McIlroy and world number three Jon Rahm are the joint-favourites to be slipping on the green jacket on Sunday evening, although a first Monday finish since 1983 is a possibility due to forecast rain over the weekend.
The temperature is also set to drop significantly on Saturday and Sunday, something which will not suit the battered body of Woods.
"Yeah, I've seen it," Woods responded with a rueful smile when asked about the forecast.
The 15-time major winner was also notably less bullish than usual about his chances of defying the odds and challenging for an unlikely win, talking more about being able to "appreciate the time I have here and cherish the memories".
Woods has already provided plenty of those in his previous 24 competitive starts at Augusta, but new ones promise to be few and far between.