Thomas Bjorn a Liverpool fan – but who do other Ryder Cup stars support?
While Thomas Bjorn and his 12 charges will be fully focused on the task at hand at Le Golf National this weekend, expect at least a few of them to cast a quick glance at the football scores inbetween matches.
Europe's captain Bjorn, a diehard Liverpool fan, was smiling from ear to ear after he was given the opportunity to take a tour of Anfield recently, and most of his players are no different when it comes to showing their love for their favourite clubs.
After all, even the world's best golfers can't help but turn into regular fans when football is involved (though unlike regular fans, some of these guys actually get to hobnob with their heroes).
Rory McIlroy – Manchester United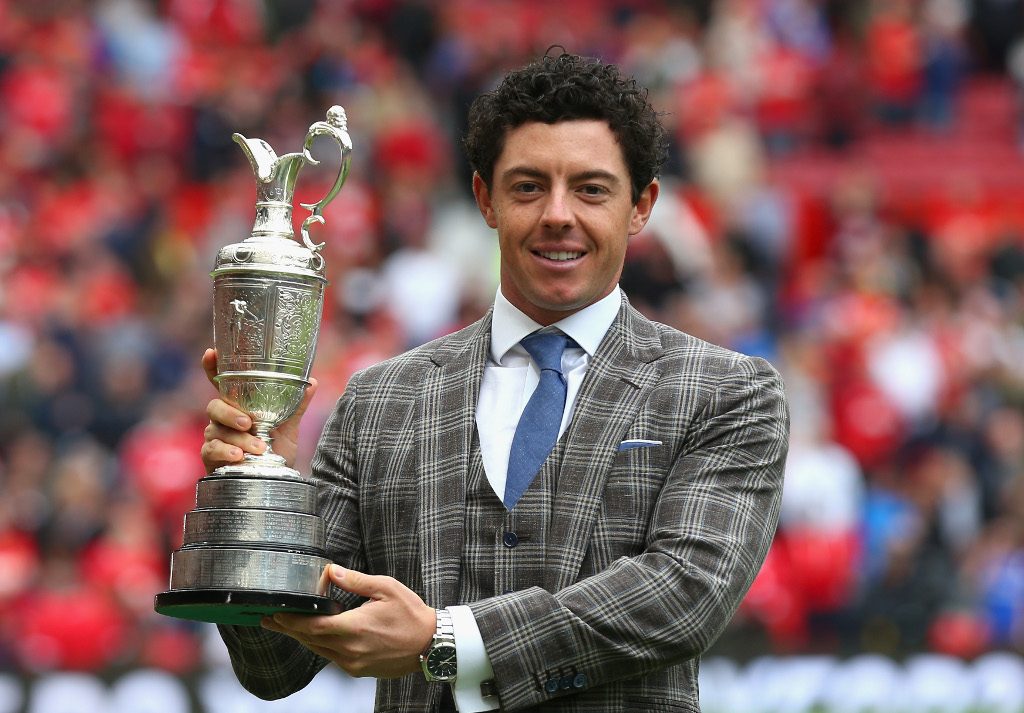 A Red Devils fan since he was a little boy, Rory McIlroy was given the honour of showing off the Claret Jug at Old Trafford after winning the Open in 2014.
Earlier this year, the Northern Irishman revealed he was reluctantly supporting Liverpool in the Champions League final, even though it hurt him to do so.
"As much as I'm a United fan, and United fans are supposed to hate Liverpool, I think it would be great to see a British team win, so hopefully (they will)."
Sergio Garcia – Real Madrid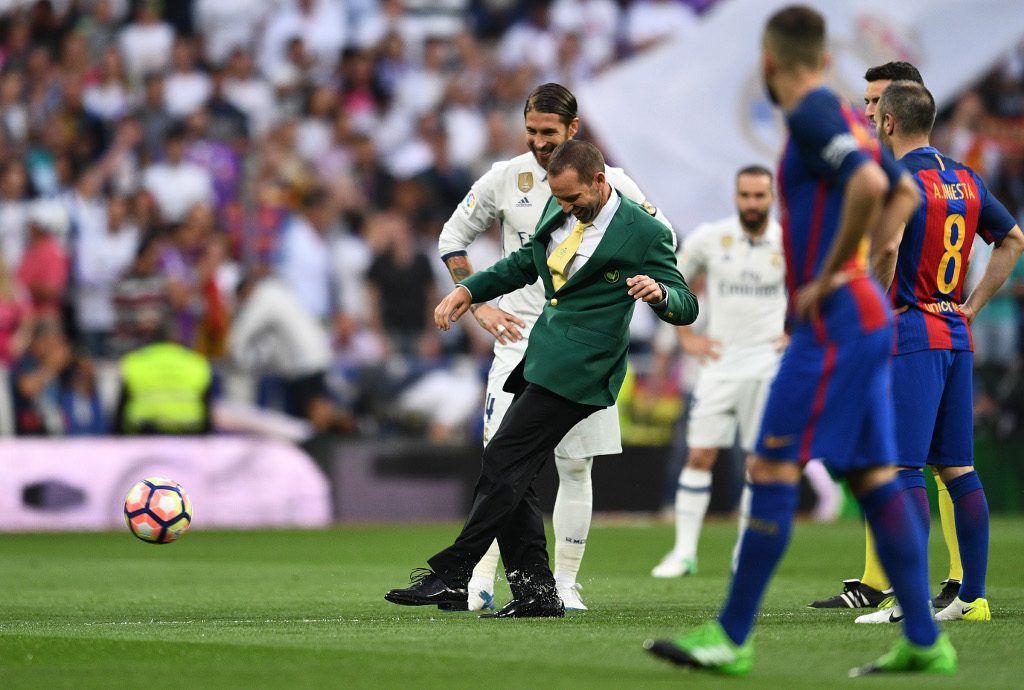 Like Rory, Sergio was given the star treatment by his favourite club – mighty Real Madrid – after he finally broke through with his first major win at the Masters last year.
García was allowed to take the honorary kick-off before the Clasico between Real and Barcelona, a moment he's unlikely to ever forget:
Justin Rose – Chelsea
No doubt Justin Rose has enjoyed Chelsea's barnstorming start to the season, with the Blues once again looking like title-winning material.
Rose once got take part in a golf chipping competition at Chelsea's training ground after an invite from then captain John Terry. No word on who won, but if it had been Terry who beat Rose, we'd probably have heard all about it.
Ian Poulter – Arsenal
How much does Ian Poulter love the Gunners? So much that back in 2006, he risked falling foul of the European Tour's rules when he decided to wear an Arsenal shirt for one of his rounds at the Abu Dhabi Championship.
Ian hasn't worn any Arsenal gear on the course since… except, wait a minute, what's that on your shoe, Ian?
Tommy Fleetwood – Everton
Tommy Fleetwood was invited to Goodison Park as part of a promotion for the Open Championship last year, and the lifelong Toffees fan naturally got a huge kick out of it.
Great to see Evertonian @TommyFleetwood1 at Goodison yesterday, along with the famous claret jug, promoting the 146th @TheOpen at Birkdale. pic.twitter.com/4GoOqi214h

— Everton (@Everton) April 16, 2017
Francesco Molinari – West Ham
Just how does an Italian golfer end up a West Ham fan?
Well, Molinari moved to London back in 2009, and at the time one of his heroes, Gianfranco Zola, was the manager at Upton Park.
"He's moved on since, but I've stuck with the Hammers," says Molinari.
Jon Rahm – Athletic Bilbao
Spaniard Jon Rahm does not hide his love for his favourite club Athletic Bilbao, and reveals that football was both his first love and his first passion.
"I'll never forget when I was 13, we played in a big tournament with other top teams," said Rahm, who played in goal at the time. "We were leading 3–2 in the final seconds, and there was a penalty kick, so I had to stop the shot. Both teams were lined up watching, all the fans were yelling, and I stopped the ball and we won. I loved that feeling, of everyone counting on me."
Rahm once hoped to play for his beloved Bilbao, so we can only imagine how hard it was for him when he was asked to wear an Atletico Madrid shirt prior to this year's Open de Espana.
Tyrrell Hatton – Liverpool
He may hail from High Wycombe, but Tyrrell Hatton is a Reds fan through and through, and often tries to squeeze in a round or two with Liverpool star James Milner.
"I've got to know Milner – he's a really keen golfer, so obviously when our schedules permit we try and get a game in. So for me, it's quite cool to know a player from the team I support!"
Henrik Stenson – Manchester United
If Sweden's Henrik Stenson had to pick a football club to support, he'd pick Manchester United, because he remembers being a fan back when his favourite player, Jesper Blomqvist, was at Old Trafford.
But the truth is football isn't really the sport that gets Stenson's blood pumping.
"I like cage fighting more," he reveals.
Paul Casey – None
What's that Paul? You're not a football fan?
We'll let Casey explain in his own words, by way of a comparison with Ken Comboy, who was his caddie at the time.
"Ken's a thug from Manchester. And I'm a fairy from the south. He loves football, I hate football. I love performance cars, he hates performance cars. It's no wonder we get along so well, eh?"
Thorbjorn Olesen – FC Copenhagen and Manchester United
Another player in the Red Devils' corner, though at least Olesen splits his allegiances with FC Copenhagen.
The Dane is a self-confessed football nut, so it seems like he has plenty of time to spread the love around.
Alex Noren – ?
We couldn't find a single thing on who Alex Noren supports when it comes to football. It is possible the beautiful game just isn't for him? Does he just not have time for typically manly pursuits?
Hang on… we've found a single line from an old interview: "Noren cites his interests as football and cars."
Never mind.