Tiger left to rue mistakes after opening 72 at PGA Championship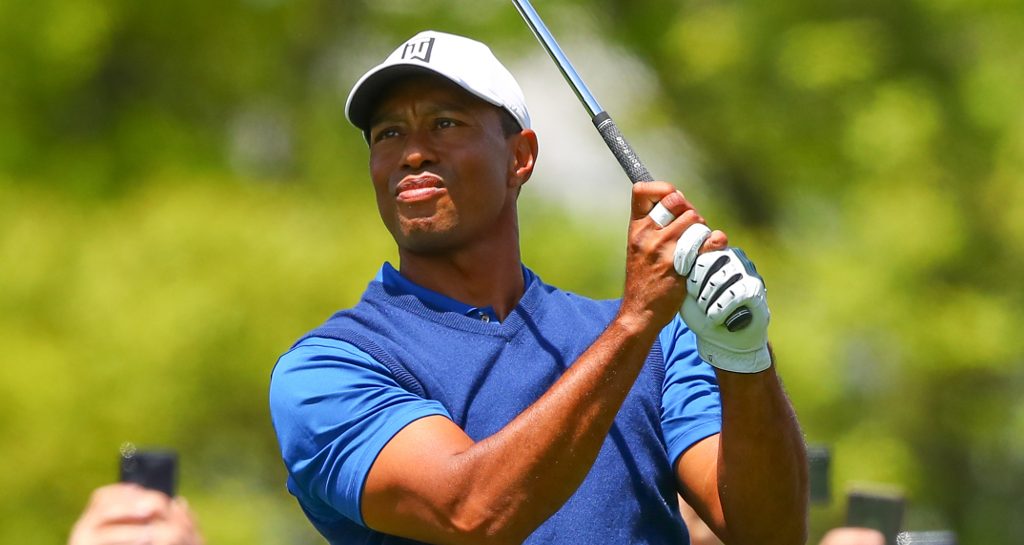 Tiger Woods has a mountain to climb if he's to win back-to-back majors this week after opening with a two-over-par 72 at the PGA Championship on Thursday.
While he tried to mount a recovery and finish with a somewhat respectable round, two double-bogeys in his opening eight holes left him firmly behind the eight ball, while another trio of bogeys late on undid much of his good work in response.
Woods, who later revealed that he missed Wednesday's practice due to sickness, made the worst possible start when he double-bogeyed his first hole of the day, the 10th, right out of the gate.
A wayward opening drive resulted in a tough lie to the left of the fairway, and he needed four shots to find the green before lipping out from six feet for an unsightly six.
Woods steadied the ship with a run of four pars followed by his first birdie of the day at the 15th, but his good work was undone by his second double of the day at the short 17th when he found the bunker with his tee shot and failed to find the green with his splash-out.
https://twitter.com/PGAChampionship/status/1129045656092446722
Woods then appeared to steady the ship with back-to-back birdies at the first and second, followed by a 30-footer for eagle at the par-5 fourth that thrilled the crowds as he managed to get under par for the first time in his round.
Could you hear the Tiger roar from Bethpage? pic.twitter.com/IWScNZmEQd

— PGA Championship (@PGAChampionship) May 16, 2019
But Woods again let it slip with bogeys at five, seven and eight as he was forced to settle for a 72 that left him down in 51st place.
"It wasn't as clean as I'd like to have it for sure," said Woods. "Didn't get off to a very good start. It was a good drive and ended up in a bad spot, and I compounded the problem with trying to use the backboard behind the hole there and missing a putt I should have made.
"And then found my way back around. Got it back under par for the day, and let a couple slip away with a couple of bad putts and a couple mistakes at the end.
"The golf course is playing tough. I felt like it's not that hard to make bogeys out here, but it's hard to make birdies. And I thought it was going to be hard to get the ball close to the holes.
"When I had a few opportunities there with short irons, I played aggressively and was able to get them in there where I had makeable putts, and otherwise 30, 40 feet away and move on.
🐅talks after Round 1.#PGAChamp pic.twitter.com/6atjMIiOiq

— PGA Championship (@PGAChampionship) May 16, 2019
"We'll see what the golf course offers up tomorrow. It changed quite a bit from when we played this morning to this afternoon. The greens got a lot faster, and we'll see how it dries out over the next few days.
"I don't see them cutting the rough down, so it's just going to place another premium on driving the ball in the fairway to get at some of these flags," added Woods, before praising leader Brooks Koepka's stunning 63.
"He played well. He hit a couple loose tee shots that ended up in good spots, but I think that was probably the highest score he could have shot. He left a few out there with a couple putts that he missed, so it could have easily been a couple better."