Stricker 'hangs tough' in Ohio triumph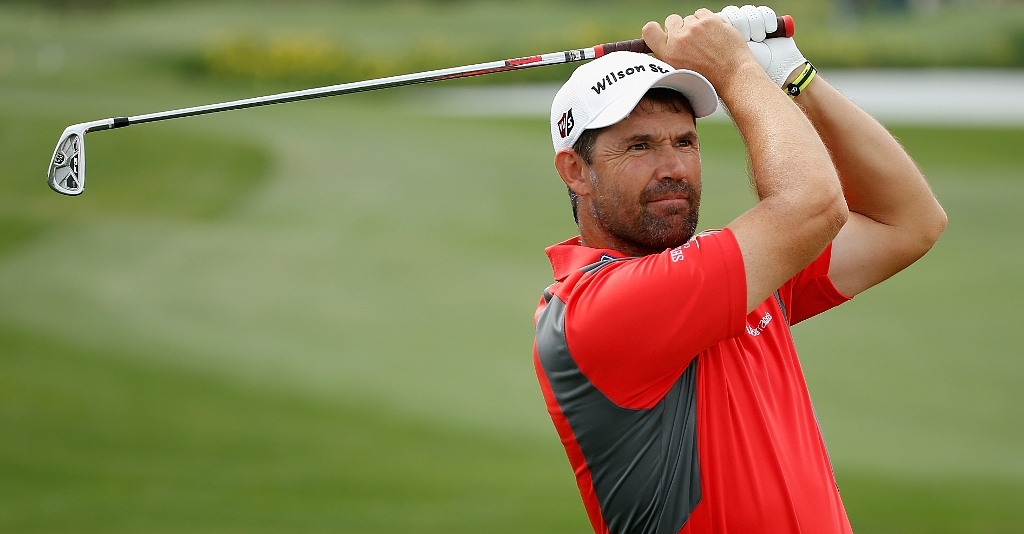 Steve Stricker "hung tough" when the going got rough and went on to win The Memorial at Jack Nicklaus's storm-hit Muirfield Village.
Steve Stricker "hung tough" when the going got rough on Sunday and went on to win The Memorial at Jack Nicklaus's storm-hit Muirfield Village in Ohio by a stroke.
The 44-year-old American, who with this win reversed his recent slide on the World Rankings list and jumped four places to replace Phil Mickelson at No 4, was three shots clear at the start of the round and strengthen his hold on what is considered to be one of America's most prestigious tournaments outside of the majors by birdying six of his first nine holes.
His birdie-run dried up on the second nine and after losing some ground on the closing stretch with a bogey at 15 to a chasing pack with its birdie-lust rampant, Stricker did just enough to ensure that his closing 4-under 68 took him to a 16-under total, gave him a one-stroke victory over fellow Americans Matt Kuchar and Brandt Jobe and earned him his 10th US PGA Tour title.
Kuchar and Jobe both closed with sparkling 65s
Dustin Johnson, who also posted a 65, was alone in fourth at 12 under, and Rory McIlroy, a shot further back after a 68, must have felt encouraged by his improved performance ahead of the US Open in two weeks time.
And not far behind him, fellow Brit Luke Donald, the new World No 1, will also have been pleased to close with a 68 after slipping somewhat in the third round with a 73.
Stricker hit the finish line just in time in a final round that was interrupted by electrical storms. The night was fast approaching when he punched the air in triumph and beaming, went off to be congratulated by Nicklaus.
Later he admitted: "I know it wasn't pretty,"
"It was a little bit of a struggle after the rain delay and at that point I was just trying not to make a mistake, but I hung tough and holed a couple of crucial putts when I had to. It was pretty special walking off (18). He (Nicklaus) is a friend and it's truly an honour.",
A seemingly ice-cool Stricker looked comfortable when he led heading down 18 and although it increased the drama when he found himself in some bunker trouble, his closing bogey wasn't enough to stop him winning a title he truly coveted.
He has always maintained that a Memorial victory would be one of the most meaningful of his career.
"It's right up there at the top, if it isn't (at the very top)," he said.
"It's a great field, it's a great course and when you have Mr. Nicklaus's name attached to it, it adds another element of importance."
With greens made easy to an attacking approach play after being softened by overnight rain, Stricker stretched his lead to four by coolly sinking 10-foot birdie putts at the first two holes.
Kuchar briefly cut that advantage to three after hitting a superb approach to within two feet of the cup at the sixth, but Stricker bounced back with a birdie at the par-five fifth.
Kuchar, playing one group in front of Stricker, picked up further shots at the seventh and eighth to close to within two strokes of the lead.
Undaunted, Stricker appeared to tighten his grip on the tournament with three consecutive birdies from the seventh to reach the turn in five-under 30 and once again go four strokes clear.
The final day was beginning to look like a cake walk for the leader.
But the birdies dried up as he parred the next three holes, once with a magnificent up-and-down from a bunker at the par-three 12th, and he had just teed off on 13 when play was halted for just over two-and-a-half hours due to the threat of lightning.
At that point, Stricker's lead had been trimmed to three.
Jobe, now fully recovered from the operation needed to sew back parts of a thumb and finger amputated in a garage accident at home, made a blistering run of five birdies from the seventh.
When play finally resumed, Stricker posted his first bogey of the day at the par-five 15th where a wayward drive into the trees forced him to take a penalty drop because of an unplayable lie.
He wobbled dangerously after that, but held his nerve and was able to hole difficult, par-saving putts from 16 and seven feet at the 16th and 17th holes before that bogey at the last that didn't really matter.
"The fifteenth hole really made me feel pretty uncomfortable," Stricker said. "But thank goodness I made a couple of great putts coming in."
Kuchar and Jobe had high praise for Stricker's performance
"I played some great golf for four days," Kuchar said. "If somebody beats you, you tip your hat and say, 'Great playing, Steve'. My five-under on the front didn't gain any ground on him. It was tough to see."
Jobe said: "Steve played great. I thought if we would have gone out and shot 65 that might have been good enough. We did, but we were a little short. It was his tournament to win or lose, and he went out there and won it."
Top 10 leaderboard
272 Steve Stricker 68 67 69 68
273 Brandt Jobe 71 68 69 65, Matt Kuchar 69 71 68 65
276 Dustin Johnson 68 73 70 65
277 Rory McIlroy (NIrl) 66 72 71 68
278 Gary Woodland 72 69 69 68
280 John Senden (Aus) 71 70 71 68, Luke Donald (Eng) 70 69 73 68, Jonathan Byrd 71 67 69 73, Mark Wilson 70 73 66 71, Webb Simpson 72 70 70 68, Kevin Streelman 74 68 72 66