Scots are too hot in Gloria final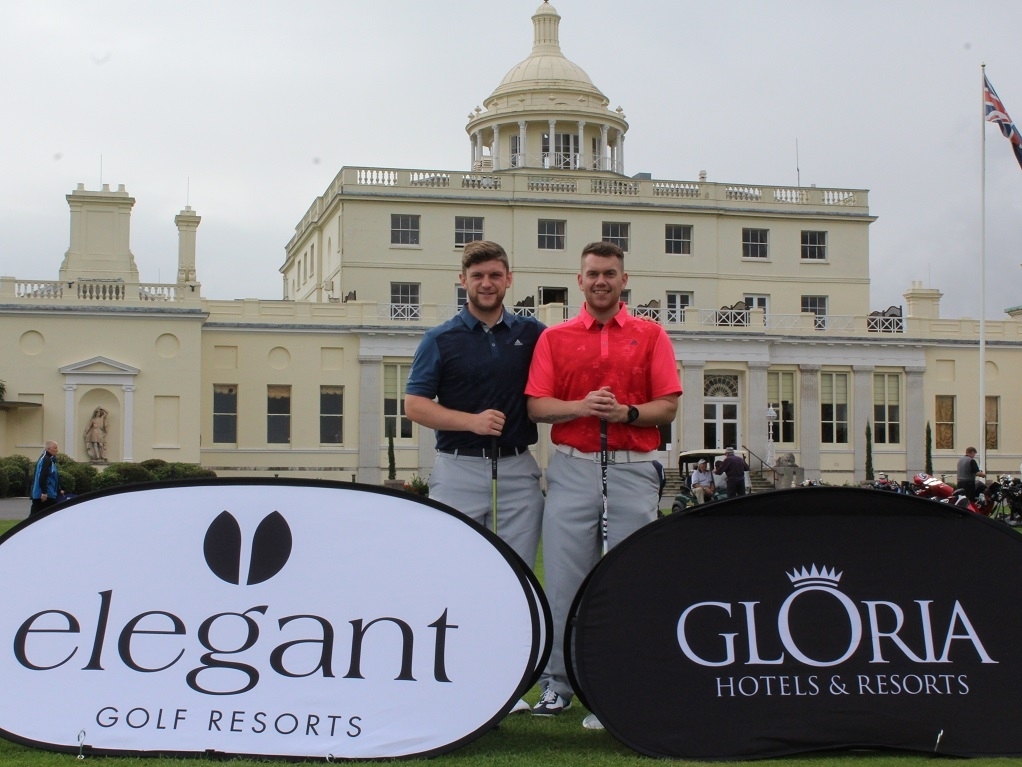 Scottish duo Kyle Lochhead and Stuart McMeekin expect their popularity to soar among their friends after carrying off the top prize at the Gloria Hotels & Resorts UK Pairs' Golf Championship Grand Final.
The pair, who won through their qualifier at The Carrick in July, shot an exceptional 51 Stableford points in the betterball format for victory at Stoke Park Country Club Spa & Hotel, which has now secured them a luxury golf holiday to the lavish Mediterranean five-star resort in Belek on the Turkish Riviera.
Ivan Forster and Stewart Robertson, who won at The Grove, were runners-up after they turned in a fine display themselves with 47 points, while Boyd Smith and Michael Jacobs were third on their home track with 44 points. The eight pairs battled it out for the honours after coming through qualifying events at Golf at Goodwood, Stoke Park, Helensburgh, The Grove, The Carrick, Mottram Hall, The Mere Golf Resort and Cranleigh Golf & Country Club with more than 500 amateur golfers involved since the start of the event.
But it was the pair from Glasgow who were unbeatable in the final of the competition, held in association with Elegant Golf Resorts – specialists in luxury golf holidays – and Monarch.
However, their next task could prove even trickier as they select their two companions to join them on the Turkish trip.
Lochhead, a 15-handicapper, said: "We've got about 10 mates who were already arguing about who was coming with us even before we had won, so things could get pretty interesting now!
"I had a terrible start to the round. I think I was about 12 or 13 over par for the front nine after I hit my drive out of bounds on the first hole. But thankfully Stuart birdied the first hole and played really well on the front nine.
"Then on the back nine, I was two under gross for the first six holes so it made a big difference to our score. We wanted to win but first and foremost, we wanted to enjoy it and the course was in fantastic condition.
"We were bickering at each other at one point when we had a zero pointer on the eighth hole. But we said 'let's get it out of our heads'. We never looked back from there and it's fantastic to win."
McMeekin, who plays off 18, said: "There was no pressure coming down here. We were just looking forward to the whole event.
"When it comes to medal rounds, I'm always around 18 over par. I can scramble but I'm just nowhere near consistent enough. So playing pairs golf is a good format for us. We've heard a lot of great things about Gloria and we can't wait to get over there."
The Grand Final included a visit from European Tour star Simon Dyson, who held a short-game clinic before the round and then also joined the groups out on the course before presenting the prizes.
Gloria Golf Club's director of Golf David Clare, who was also in attendance, said: "Congratulations to Kyle and Stuart. They played a great round of golf on the day and were worthy winners.
"The competition has been a huge success and we look forward to welcoming our champions to Gloria. Now we are planning to stage it again in 2017 and hope to make it a regular event."
The other finalists were: James Webber, Dan Andrews (Golf at Goodwood), John Delargy, Dave Clewley (Mottram Hall), Kenny Brady, Will Magdzinski (The Mere), Nathan Stride, Ethan Stride (Golf at Goodwood) and Wes Davies, Josh Davies (Cranleigh Golf & Country Club).
The winners will be flying from London Gatwick to Antalya airport in Turkey with scheduled leisure airline Monarch. Antalya is one of more than 40 destinations that Monarch flies to from its five UK bases including London Gatwick, Birmingham, Manchester, Leeds Bradford and London Luton.
Elegant Golf Resorts are currently offering a seven-night, all-inclusive stay at Gloria Serenity Resort with three rounds of golf across Gloria Old and Gloria New courses from £739pp, subject to availability.
Price includes all food and beverages, meet and greet, private airport transfers and is based on two adults sharing a double room and groups of eight golfers (£869pp for a group of four, £889pp for a group of two). The offer is valid from March 11 – April 25, 2017.