Q&As with FedEx king-pins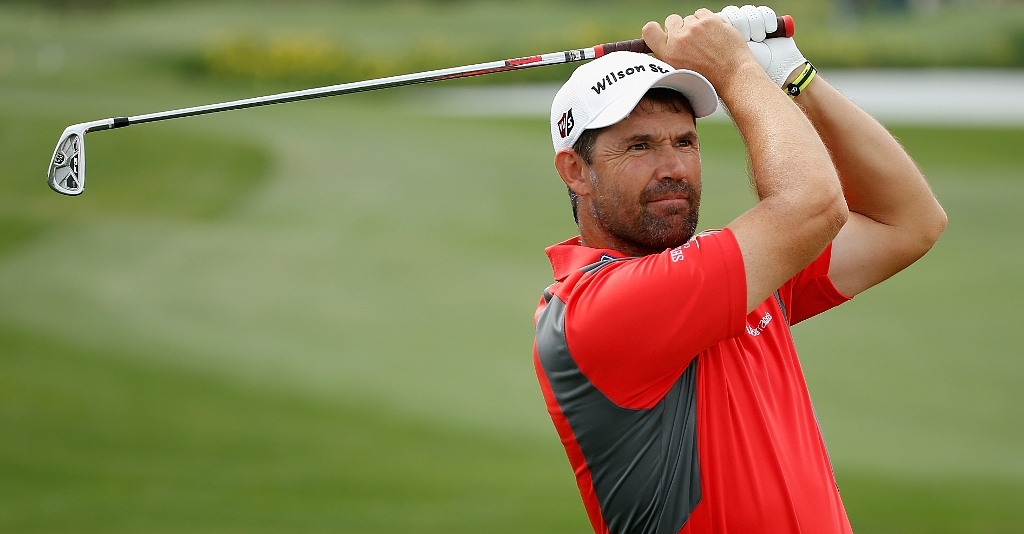 We selected some of the key questions (with their answers) that were put to winner Rory McIlroy, runners-up Phil Mickelson and Lee Westwood and third placed Tiger Woods after the BMW Championship on Sunday.
Starting with McIlroy, here they are:
RORY MCILROY:
QUESTION: Yours comments on the week?
RORY McILROY: Just another great week. You know, I came here with the mind set from Boston that I just wanted to keep going on this roll. Some suggested that I could have taken a week off and still could have been in the top 5 in the FedExCup standings going into Atlanta, but I felt like I was playing really well and didn't want to stop that run.
I sort of picked up where I left off in Boston, shot 64 the first day here, and just playing with a lot of confidence right now. I'm confident in my ability and confident with the shots that I'm hitting and confident on the greens. You know, I'm making the right decisions out there, and everything is really just going to plan at the minute. It's a nice run to be on, and I want to try and keep it going for as long as possible.
Q. If it were easier to win in back-to-back weeks, it would have been done before. Tiger was the last time in 2009. For you what was the biggest challenge in pulling this off?
RORY McILROY: I think yesterday was a very important day. I thought yesterday I didn't have my best golf, but I still managed to shoot 69, not to shoot myself out of the tournament, I went and did some great work on the range last night after I played, figured a couple things out. My driving yesterday was horrendous, and today I think I only missed one fairway.
You know, it was a big turnaround, and I'm glad I went and did that session on the range last night.
Q. Can you just tell me the clubs you hit on 9 and 15, on the par-5s?
RORY McILROY: 4-iron both times, 4-iron from 233 on the 9th and a 4-iron from 226 on 15.
Q. In layman's terms at all, can you tell us exactly what you fixed last night?
RORY McILROY: It's actually something very simple. I feel like on the way down, it was just my body was spinning too fast, the club was late catching up and I was hitting everything to the right, so just a little bit of timing, waiting on it from the top of the backswing, and releasing it, not being afraid to release it on the way through, and that straightened up the driver a lot today.
Q. Was that hard to take to the course?
RORY McILROY: No, not really. I trusted it. I just went out there, and as I said, the thing about the last two weeks, I've just played with complete trust and complete confidence in my ability.
Q. This run you're on here over the past month, does it give you any appreciation for what Tiger did for all those years, and do you find it easy or difficult to keep this up?
RORY McILROY: Yeah. I mean, I think I've always had an appreciation for what Tiger did over the years, winning seven, eight, nine times in a season for I don't know how long, 10 years. But yeah, you know, it's — the more you put yourself in this position and the more you win and the more you pick up trophies, the more it becomes normal, and it feels like this is what you're supposed to do. I'm sure that's how he felt when he was on that run and how he still feels. He still won three times this year.
I don't think I'm quite there yet, but I'm getting to that stage where I'm thinking, this is what I should be doing. I should be lifting a trophy at the end of the week.
It's been great. The last four weeks, five weeks have been incredible, some of the best golf that I've ever played. I'm going to try and keep the run going for as long as possible.
Q. The swing adjustment you made on Saturday night, that ability to go from horrendous to beautiful in your own words, is that newly acquired, or is that something you've always had?
RORY McILROY: It's something that I've always had. The difficulty is not trusting it when you get out on the course. But as I said today, I played with complete trust and complete confidence, and just went out there with it. I striped it on the range last night for about 40 minutes after I played, and that gave me the confidence to go out with it today on the course.
Q. Where do you learn more about yourself and what do you take more pride in, winning by eight or coming down the stretch with five or six of the very best players in the world all over you?
RORY McILROY: You know, I think both are great achievements in themselves, just being able to separate yourself from a major championship field and winning by eight, or whether it's grinding it out at — I didn't play my best golf last week in Boston, but to close out the victory, and today I did, I hit two beautiful shots into 15, birdied 16, hit a great shot into 17, and by that time I had sort of done enough.
You know, both give you just as much satisfaction as the other.
Q. Can you talk about the top 5, especially the other four guys, certainly Tiger and Phil have had success at East Lake before, that challenge of beating those guys?
RORY McILROY: Yeah. You know, it'll be my first trip to East Lake, so it'll be a new golf course for me. But that's what the FedExCup Playoffs were designed for, to have the best players playing at this time of the year and to make it exciting. I'm one Tiger two, Phil three, Dustin Brandt and Nick Watney at whatever four. So you've got all these top guys with a chance to win going into Atlanta. It's what it's all about, and it makes it exciting for the end of the year.
PHIL MICKELSON:
QUESTION: Can you talk about your day?
PHIL MICKELSON: I was a little bit off today. My timing was just a fraction off. I wasn't quite getting the ball on line with my irons, and my putter was just a little bit off, both with the speed and the read. I'm really pleased with the way my game has come around the last two weeks, though. I had a fourth last week, tied for second this week. It puts me in a position where if I can improve just a little bit more for the Tour Championship and win, I'll be able to win the FedExCup.
I accomplished one of my goals, which was to get into the top 5. The other would have been obviously to win. But more than that, I just feel really good about where my game is headed, and hopefully I'll keep improving on that at Eastlake.
Q. I can hear the excitement in your voice. You're happy about things, aren't you?
PHIL MICKELSON: Yeah, I really know where I'm headed with my swing, with my ball-striking off the tee, iron play, distance control, wedge, putting, all that stuff feels really good, and I look at a day like this as just a blip as opposed to a trend. The trend is going up.
Q. What do you think the difference was when yesterday you were clicking on all cylinders?
PHIL MICKELSON: Sometimes it's just a fraction off; the rhythm, the timing; the club didn't go through impact as smoothly as it did yesterday. But it was still a good day in the sense that I accomplished one of my goals. Obviously the other one was to win, but one of them was to get in the top 5 heading into East Lake because my game is heading on the upswing. I had a good week last week at Deutsche Bank, I played well again this weekend. The parts of my game are getting better, each one, so hopefully at East Lake I'll improve that last spot or two and see if I can get the win.
Q. Would you talk about Rory? I guess you're probably not surprised he's on this run that he's on?
PHIL MICKELSON: Oh, no, he's a great player. He's playing great, and he's going to be tough at East Lake. But we'll see. We've got, what, 11 days or so to prepare.LEE WESTWOOD
Q. You guys were going at it pretty good. Can you sum up the day for us, what it was like out there playing with Rory?
LEE WESTWOOD: I think we both played well. I think that sums it up.
Q. Can you talk about the kind of player he is?
LEE WESTWOOD: Well, he's a talent, yeah. I played with him when he was 13, and you could see it then. He's just maturing all the time, as he will do. And he's a very, very good player.
Q. Is it good to have him as a teammate coming up?
LEE WESTWOOD: Yeah, yeah, I was going to say, if he needs a (Ryder Cup) partner, I don't mind.
Q. He could play with anyone, couldn't he?
LEE WESTWOOD: Could he? I think we probably both could, so it's an option that Jose Maria has got.
Q:: Was there a point today when you felt like you could make it happen?
LEE WESTWOOD: You know, I didn't know. I was hitting good shots, I was inside Rory a lot of the day pretty much on the greens. I got a bit unlucky at 14 with the lie in the fairway, conducive to a bit of a hook, and just turned over a little bit too much, and when I got up there, it pitched, come out of its plug mark, had to play it where it was and made bogey. Then got in between clubs at the next, between a 3-iron and a 5-wood, and then 16, I hit a great shot in, and I hit a great putt which I thought was in. And then I played the last two holes solid.
Q. Is there a different feeling playing with the all-star cast on the marquee, or is it just another golf tournament?
LEE WESTWOOD: Well, it's certainly not just another golf tournament. I would say that the FedExCup events are higher profile, aren't they.
Q. Yeah, but I'm just talking about all the heavyweights on the board.
LEE WESTWOOD: I think it's good for everybody to see a top-quality leaderboard in tournaments. I guess the people coming, the players playing, everybody wants to see the big names at the top. It only makes sense.
Q. Were you watching the scores today?
LEE WESTWOOD: Yeah, it's the first time I've played the FedExCup.
Q. Were you watching it last year?
LEE WESTWOOD: I was sitting home thinking I'd like a crack at that, yeah.
Q. I don't think enjoyed playing today more than you did. That had to be a lot of fun early on the back nine with Rory back and forth.
LEE WESTWOOD: Yeah, it was a good day out on the golf course. I played rather well, and yeah, it was a fun day out there.
Q. The game was there all day, just couldn't get a decent run of putts to drop, could you?
LEE WESTWOOD: Yeah, I made one on the par-5s today. But other than that, I hit it really close. I had a nice one on 13, which kind of got me going a little bit, but then I bogeyed the next, just got a rough lie next to the green.
Q. You're going to the TOUR Championship for the first time.
LEE WESTWOOD: Yeah, I'm quite amped up. I'm in good position for it, so hopefully come back in two weeks' time and win.
TIGER WOODS
QUESTION: You had a tough time on the greens today. It was challenging out there, wasn't it?
TIGER WOODS: Well, those were probably the only two poor putts I hit all day, and they happened to be on the same hole. But I rolled it really well today. Had a lot of lip-outs. Unfortunately the putts just didn't fall in.
Q. What's your impression of the whole week, the course, the crowd?
TIGER WOODS: The whole week was incredible. The fans are just absolutely fantastic. They're excited but they're respectful; they're out there trying to police themselves. The last couple weeks, especially the first week of the Playoffs, that wasn't the case. So it was nice to play in front of people who were excited about our sport and wanted to help create a great environment.
Q. Under firmer conditions, can this course hold up to a PGA Championship?
TIGER WOODS: We're always going to shoot low numbers if you have ball in hand. But if it dries out, it might present a totally different challenge. But if it's like this, this is about the score. We were saying at the beginning of the week it's going to be near 20, and here it is 20 plus.
Q. You came close even though you didn't birdie any of your last par-5s. Is that what ultimately could be the difference, the par-5s?
TIGER WOODS: Yeah, I struggled yesterday at the start, obviously. I was 3-over and got myself back in the tournament. And as I said yesterday, it was going to take about a 63 or 64 today to give myself a chance, and that was the number. With the pins, we saw the dots for today, and that it could be done. Because the greens were so soft, and if you take care of the par-5s, throw in a couple more, all of a sudden you have your number.
Q. How would you compare this course and the experience of actually playing here?
TIGER WOODS: Well, this is different for a Pete Dye course. We're not used to seeing it this flat. Sawgrass isn't like this, Whistling Straits is definitely not like this. He has some very difficult moundy golf courses, and this one is a little bit more tame. The slopes are not as sharp, but they're a little bit bigger.
Q. Does Rory reminding you of yourself with what he's been doing?
TIGER WOODS: Yeah, he's going out there and is up near the lead and posts a good number. He's doing the things he needs to do, and as he said yesterday, he's feeling very confident about his game. Right now he's just really playing well, and he's making a ton of putts. That's a great combo.
Q. What about yourself? The last couple of weeks you've been close but not close enough. You're obviously playing pretty well. Where do you put yourself right now?
TIGER WOODS: It's getting better. It's getting better. I just need to have that one little stretch of holes that kind of … I guess got to fight through that. That little stretch sometimes take you out of a tournament, especially in a shootout like this. Going 3?over through 8 yesterday, that's not very good out here, especially when most of the guys were 3-under through 8 out here.
Q. If you could pinpoint one thing, what is your favorite thing about staying here in Indiana or about the course in general?
TIGER WOODS: I think it's the people here. The people here are just so nice. It's a treat. It really is a treat to come here and have — as I said, the fans out there were policing themselves. Some guy has a camera and it goes off, and they're getting on him for that. That's nice, because it's not always like that when we play.