Pepperell claims British Par 3 victory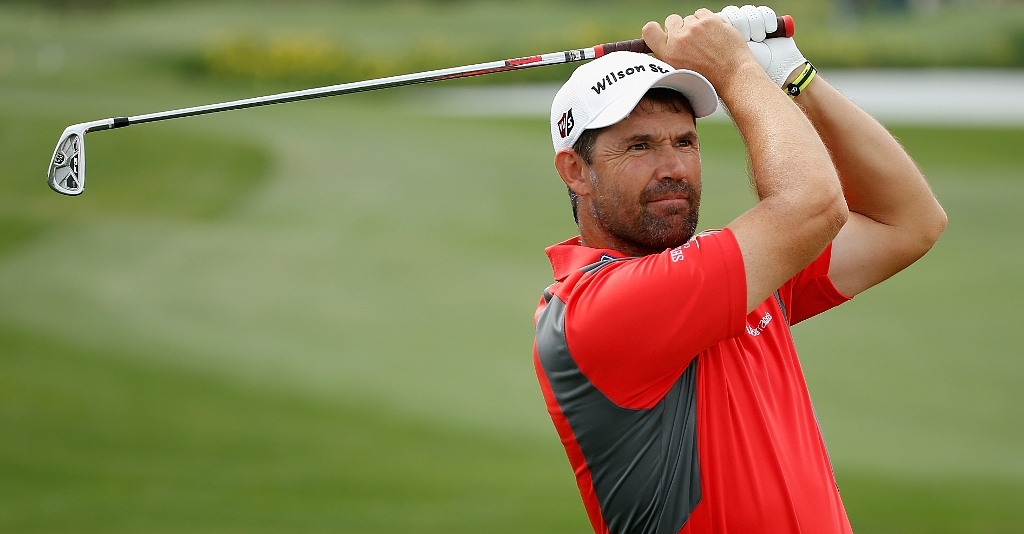 After a superb back-nine birdie-blitz, and a tense three-hole play-off, England's Eddie Pepperell claimed the 2014 Farmfoods British Par 3 Championship at Nailcote Hall in Warwickshire.
The 23-year-old from Oxfordshire secured his second professional title, and a cheque for £25,000, with a chip-in for birdie on the third extra hole after he and local qualifier Jak Hamblett had tied on seven-under-par for the 36-hole tournament.
Heading into the back nine Pepperell was three shots behind the clubhouse leaders Paul Lawrie and Gary Wolstenholme, who had set the target even before he had teed off.
Lawrie, the 1999 Open champion, had played especially brilliantly, shooting an eight-under-par 46, an 18-hole record on the nine-hole course, whilst Wolstenholme's six-under total of 48 included a hole-in-one on his sixth hole.
Pepperell began to hunt the pair down on the back nine, making four birdies in five holes from the eleventh, but, just as crucial to his victory charge, was a fine eight-foot par putt on the 16th green.
"What I did today was hole out better," he said. "It was the definitely the difference and those par putts are just as important as the birdie chances you convert."
He also created par-breaking opportunities on the last two holes, but his failure to take them offered Birmingham's Jak Hamblett, the halfway leader, the chance to tie him and he duly did so with three birdies in the final five holes.
Like Pepperell, Hamblett had an eight-foot birdie putt on the final green that would have clinched the win, but he was tentative with the effort.
After two extra holes were halved with pars, both players missed the green at the third time of asking. Hamblett, who had lipped out from off the green on the second extra hole, knocked it close; Pepperell then drained his effort to secure victory.
Afterwards the Oxford golfer was pleased with his success, but keen to keep it in perspective.
"I just tried to have fun out there and it was a good test of my short irons. I wasn't thinking too much about winning, I simply wanted to hit the ball well and enjoy myself."
This was Pepperell's second experience of the event, but vastly different to his first.
"I actually told my caddie that I vowed last year never to return because I found the course quite frustrating, but I'm glad I changed my mind!"
A curious key to his success was reading the words of last year's winner Tommy Fleetwood on the morning of his final round.
"Tommy said that there are a few holes where you just have to find the green and accept a two-putt par. It's very difficult to get that in your head when you've got wedge in your hands, but it's the right strategy and I thought about it on the 16th green, which ultimately proved crucial."
Hamblett was understandably upset to have missed a lucrative opportunity, but equally proud of a fine effort in which he confounded the expectations of onlookers to stay in contention whilst more experienced golfers fell away.
"I feel like I conducted myself well and I put my tee shots close on both 17 and 18. I holed out on 17 for a good birdie, I just didn't make the putt on the last."
The Farmfoods British Par 3 Championship has its roots in the Short Course Professional Championship, which was held in Torquay from 1933 to 1963 and included the likes of golf legends Harry Vardon and JH Taylor as competitors.
Rick Cressman, owner of Nailcote Hall, was persuaded by Sid Mouland, father of European Tour winner Mark Mouland, to resurrect the concept in the late 1990s and since then it has grown year by year.
That Pepperell's victory follows the triumph of fellow young Englishman Fleetwood was not lost on tournament host Tony Jacklin.
Fleetwood's win at Nailcote Hall was soon followed by his maiden victory on the European Tour, in the Johnnie Walker Championship at Gleneagles, and the 1969 Open champion and legendary Ryder Cup captain suggested in his closing speech that Pepperell may replicate Fleetwood's success.
An exact repeat might be too neat, but Pepperell knows he succeeded in the heat of battle, albeit not at tour level, and that experience can surely help him in the future.