Paul McGinley: PGA Tour players will feel like the losers out of golf merger
Paul McGinley believes commissioner Jay Monahan faces a "real problem" to persuade PGA Tour loyalists they are not the losers in golf's peace deal.
Players reacted with shock and a sense of betrayal at the proposed merger of the PGA Tour and DP World Tour's commercial operations with those of Saudi Arabia's Public Investment Fund (PIF), which bankrolls LIV Golf.
Rory McIlroy, whose previously close friendship with Sergio Garcia broke down after the Spaniard joined LIV, admitted he felt like "a sacrificial lamb" after being the most prominent supporter of the PGA Tour, only to see it join forces with an entity he "still hates".
Monahan faced calls to resign at a heated players' meeting on Tuesday and McGinley believes he faces a huge task to win over the players who, in some cases, turned down massive payouts to remain loyal to the PGA Tour.
"He's obviously in a very tricky position," former Ryder Cup captain McGinley told Sky Sports News.
"He's got his players to back him, he's been very, very strong anti-LIV, he's been very, very strong trying to build up the PGA Tour. A lot of players have not gone over to LIV because of his persuasion and now all of a sudden there's a deal done and these guys look like they're isolated.
"And that's the issue I have with the statement that came out a couple of days ago.
"When a deal is done in the City they make sure that both sides are the winners. And when this was announced this doesn't look like there were two sides that were winners here.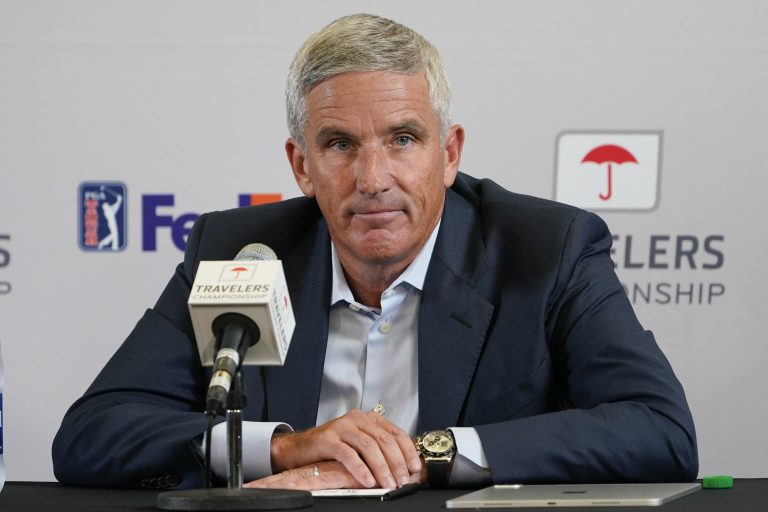 "It may look like the LIV guys that went over there and took the money are now coming back in and they're the winners.
"They've been very giddy on social media and they look like they're the smartest guys in the room now because they went over there and that really isolates the PGA Tour players who remained loyal.
"I think that's where there's a disconnect for Jay and that's where he's got a real problem.
"The release sounded, and the optics of it were, there were winners and losers and the PGA Tour players looked like they came out on the wrong end of that. That's why there's so much angst among them at the moment."
It has been reported the merger will face scrutiny from anti-trust regulators in both the United States and Europe, with Monahan openly admitting that a competitor had been "taken off the board".
And McGinley believes there is no guarantee the deal will go ahead as planned.
"The work only starts now, there's so many complexities here if there is going to be this merger," he added.
"There's so much to entangle here. How are you going to bring the guys from LIV back in, how are you going to make it equitable for the guys who remained loyal to the tours? What's the schedule going to look like?
"It looks like a huge amount of complexity. This is far from over or a fait accompli. I think there's so much that has to happen before we get to even a stage where there's a kind of equilibrium, never mind anything put in place.
"The players will be looking at what's in it for me, how much prize money am I going to get, what's my job security?
"The players in Europe are going to think that I'm glad we have this strategic alliance (with the PGA Tour) in place, that puts us at the top table and gives us access to these incredible amounts of funds.
"Everything is open and on the table. I think the LIV events are very, very complex to integrate back in again because the players own equity in these teams.
"So if you're going to have the likes of Rory McIlroy playing in these team events, where the other players are benefiting because they have equity and he doesn't, how do you make that right?"