Miguel Angel Martin on the brink of first Staysure Tour win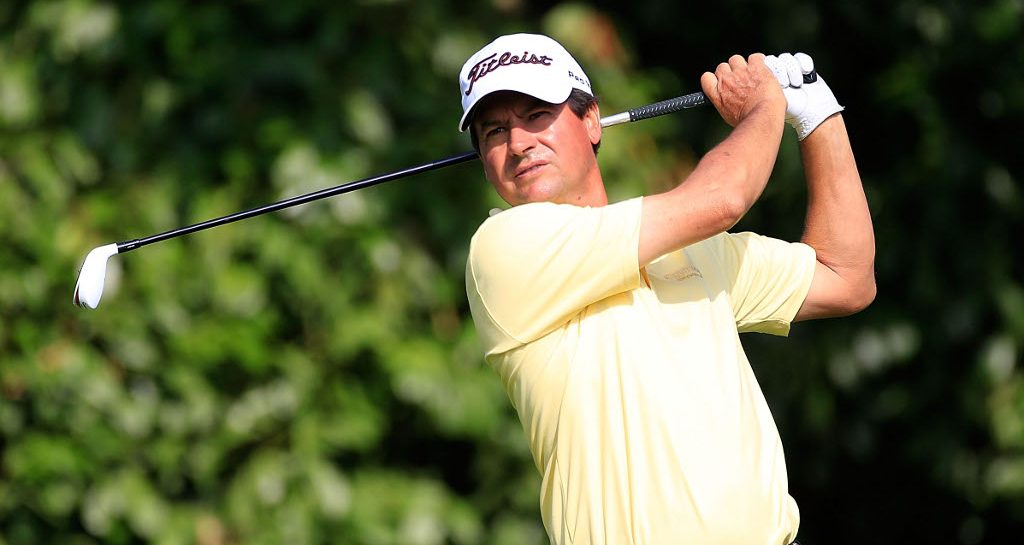 Miguel Angel Martin broke 60 in round two of the Staysure Tour's MCB Tour Championship – Seychelles and he never even knew he'd done it.
The 56-year-old Spaniard made ten birdies and one bogey in a 9-under-par lap of 59 which counts as an unofficial score owing to the preferred lies in operation this week and also the reduction to par from 70 to 68 because the waterlogged par-5 16th hole was played as a par-3.
Martin may have been aware of the restrictions on his celebrations after signing his card, but prior to it he was blissfully unaware of the extent to which he had blown both away the field and the course.
"I tell you the truth and you're not going to believe me," he insisted. "I never knew how many under par I was. I had no idea. I just concentrated on my game, trust me. On 18 I just said to myself: 'I want a birdie'. So when the birdie putt dropped I fist-pumped because I was so pleased to complete that.
"My putter is hot. It is so hot. I do only 25 putts and that is good, no? My best ever putting I think. I get asked how the greens are rolling and I think they must be rolling pretty well for me because I don't miss any putts!
"I'm playing really, really good. Tee to green is solid. I think I missed one fairway and two greens, both times the wind changed after I hit the ball and both times I saved the par.
"It was difficult conditions today. I am thinking this is an amazing round. I never imagined this."
It's probably safe to say that no-one else in the field predicted such a score either. In all 17 of the 32-man field broke 70, but no-one got within six strokes of Martin's Saturday score.
Roger Chapman was one of three players who took Route 66 around Constance Lemuria, completing it with an eagle at the par-5 18th to grab solo third on 3-under. First round leader Tom Lehman might have imagined that his 66 would maintain his advantage, instead it left him alone in second, two clear of Chapman on 5-under, but five adrift of the distant Spanish pace-setter who revealed that this was his second career 59 in tournament play. The first came 31 years ago in the Abierto del Sur (South Open) in Argentina.
"It was a par-70 at Mar del Plata Golf Club. I won by nine shots I think that time. Vicente Fernandez and El Gato – Eduardo Romero – were in second. I hope I win again with 59.
"It is a long, long time since I have been in this position. If I win it would be a very happy Christmas."
Completed the Seychelles triathlon this morning. Early hike through jungle, swim in the Indian Ocean to recover, then watching 12 holes from a bike. pic.twitter.com/YN6KX3tTCi

— Matt Cooper (@MattCooperGolf) December 15, 2018
A three-time individual winner on the European Tour, he is yet to lift a trophy on the Staysure Tour despite having finished top 30 in the rankings in each of his seven seasons at this level.
His last victory at European Tour level was in the 2000 Dunhill Cup, a team event which he won for Spain alongside Jose Maria Olazabal and Miguel Angel Jimenez. The temperature was very different that October week in St Andrews, but the field was remarkably similar.
In fact both Lehman and Chapman were present, and Martin defeated David Frost (T17th this week) in the final. He'll hope history repeats itself on Sunday and he completes the Indian Ocean Swing in triumph.
This putt on the last for Martin sees the Spaniard card a round of 59 on the par 68 layout at Constance Lemuria.

Martin leads by five strokes at the conclusion of the second round #MCBTourChamp pic.twitter.com/mKqrV3D9h1

— Staysure Tour (@StaysureTour) December 15, 2018