The Match: Mickelson beats Woods on 22nd hole to bag $9m prize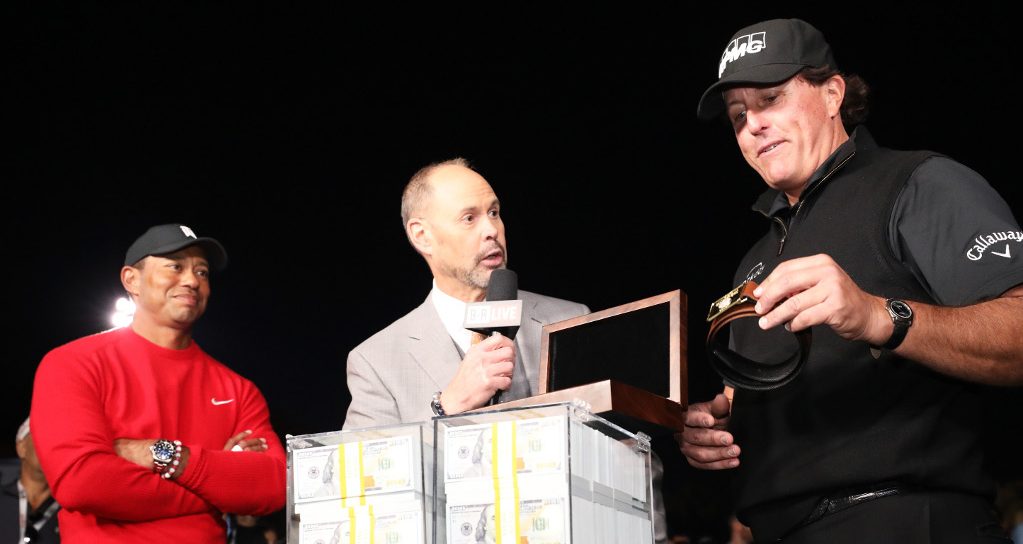 Phil Mickelson won 'The Match' over Tiger Woods in Las Vegas on the fourth extra hole, securing the $9m prize with a five-foot birdie putt.
The two players could not be separated after 18 holes at Shadow Creek in Las Vegas, and after three straight play-off pars, Mickelson finally clinched the victory on the 22nd hole – a 93-yard makeshift par-3 they were replaying for the third time.
Mickelson also looked to have the upper hand in regulation, and was 1-up on Woods going to the 17th hole, a long par-3.
But Woods chipped in to get it back to all square, prompting Mickelson to exclaim: "You've been doing that crap to me for 20 years, I'm not sure why I'd be surprised now."
"I did not want to have that match end on that hole," said Woods afterwards.
Right on time, Tiger is BACK

Watch the end of #CapitalOnesTheMatch on @brlive: https://t.co/xoa47Ogz8fpic.twitter.com/EJ1SwdTXsX

— Bleacher Report (@BleacherReport) November 24, 2018
Both players then birdied the 18th hole to force the play-off, where Tiger had a great chance to take the victory on the 20th hole, only to miss from eight feet.
Tiger can't sink it and we play a 20th hole 🤯#CapitalOnesTheMatch pic.twitter.com/HFWWNRPLtE

— Bleacher Report Live (@brlive) November 24, 2018
That allowed Mickelson to snatch the victory two holes later after a deadly tee shot to the short par-3 that left him just five feet for birdie:
Phil Mickelson wins #CapitalOnesTheMatch four playoff holes later 🙌 pic.twitter.com/pMilz3iUOR

— Bleacher Report Live (@brlive) November 24, 2018
"A day like today is not going to take anything away from [Tiger's] greatness," said Mickelson. "He's the greatest of all time. But to have just a little bit of smack talk for the coming years means a lot to me because I really don't have much on him. He always drops the big picture, and it's the trump card. But to have a day like today, I never thought we'd go to this extra hole. My heart just can't take much more of it."
Mickelson also came out on top in the various side bets between the two players, and an additional $600,000 will go to a charity of his choice after he won three closest to the pin competitions as Nos. 5, 8 and 13.
Phil takes Tiger's bet and the 300k… all in less than 2 minutes 🤑#CapitalOnesTheMatch is heating up pic.twitter.com/UEVNFr7EBH

— Bleacher Report Live (@brlive) November 23, 2018
Ultimately, 'The Match' was a reasonable success, although there turned out to be much less trash talk than predicted, the quality of golf was not spectacular, and it's unlikely the $9 million made-for-TV, pay-per-view enterprise convinced anyone that it's the wave of the future.
Along with the bragging rights and a cool 9 Mill, Phil got the champion's belt.

Unfortunately, looks like it was 'Made in Tiger size' 🤣 pic.twitter.com/2VMMnfKjd5

— Bleacher Report Live (@brlive) November 24, 2018