It's advantage Donald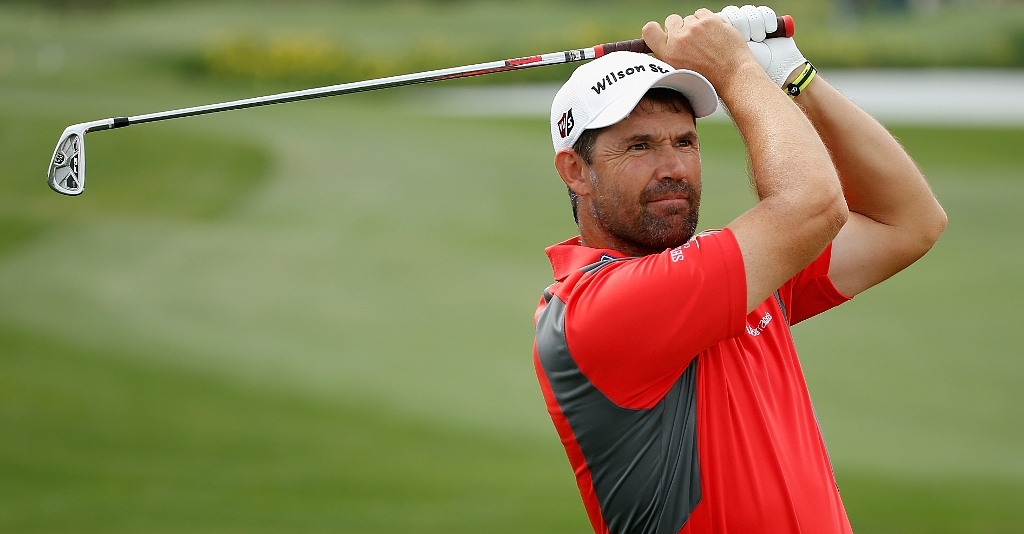 Luke Donald has seized the early advantage in his bid to reel in and beat Webb Simpson in the race for US Money list title.
World No 1 Luke Donald has seized the early advantage in his bid to reel in and beat Webb Simpson in the race for US Money list title.
The Englishman opened his challenge in the first round of the Children's Miracle Network Classic at Disney World's Lake Buena Vista on Thursday by shooting a flawless 6-under par 66 that put him on top of the leaderboard in a seven-way tie with Americans James Driscoll, Gary Woodland, Scott Stallings, Derek Lamely, India's Arjun Atwal and Australia's Nathan Green
More significantly it put him three shots in front of US Money List leader and the late-season golden boy of American golf Simpson by three shots.
Simpson, who along with Donald and his co-leaders, also played the Palm Course, the easier one the two in play at Lake Buena Vista this week, posted a bogey free 68.
Australian Steven Bowditch who topped the section of the field that played the Magnolia course, shot a seven-birdie 67 on the crowded leaderboard to finish the first day in a second logjam of seven players just one shot off the pace.
With their head-to-head battle the biggest story line of the week, the two have been paired together by organisers for the first two rounds and they each relished the opening day.
"We get along fine and we had a little light-hearted banter going today," a smiling Donald told the media after recording four birdies on his outward nine and two more after the turn.
"He asked when I was having my off-season and I said, 'Well, it was going to be this week. Thanks for playing the last two weeks'."
Simpson, who leads Donald by $363,029 in the PGA Tour money list going into the season finale, agreed.
"It was fun," said the 26-year-old, who has won twice on the US PGA Tour in his last six starts. "We fed off each other a little bit and we had a good time."
Donald, who only entered this week's event when he knew his bid for the money title was under threat, was wary of focusing too much on Simpson at the Disney.
"My focus this week is trying to win the tournament," the 33-year-old Englishman said. "Obviously I have to beat Webb to do that but I've got to beat the rest of the field as well. I have to keep my eye on everyone."
While Simpson trails Donald by two shots going into Friday's second round, he was happy with his Disney start.
"It was tough this morning," he said. "It was cold when we teed off and then the wind picked up pretty early.
"I just thought if I could eliminate my mistakes and shoot anything under par, that would be pretty good on day one. And I did."
Among the other high profile golfers bidding for victory in the PGA Tour's US finale this week, are two-time US Open champion Retief Goosen of South Africa who opened with a 68 and British world number 17 Justin Rose who struggle home with a 75.
American Robert Garrigus, who won last year's Disney Classic by a commanding eight shots, launched his title defence with a 70.
Donald and Simpson are not the only players in this week's field at Disney World with more than the title to play for.
A good few of the lesser known journeyman, who are near the edge of the 125-man bubble that will decide who and who doesn't retain their playing cards for next year, are fighting for their very golfing lives.
One of them, Driscoll, 125th on the money list coming into this week, gave himself the perfect start with his opening 66 on the Palm layout.
"I don't look at 125 as that special a number," he said. "All the guys at 120 through to 190 are kind of all in the same position.
"Every one of those guys needs a good week this week to avoid having to go back to Q-School (qualifying school)."
THE TOP 10 LEADERBOARD
(USA unless stated, par 72)
66 James Driscoll, Arjun Atwal (Ind), Nathan Green (Aus), Luke Donald (Eng), Gary Woodland, Scott Stallings, Derek Lamely
67 Scott Gutschewski, Steven Bowditch (Aus), William McGirt, Kris Blanks, Paul Stankowski, Kim Bi-O (Kor), Ben Martin