Hurley leads in Malaysia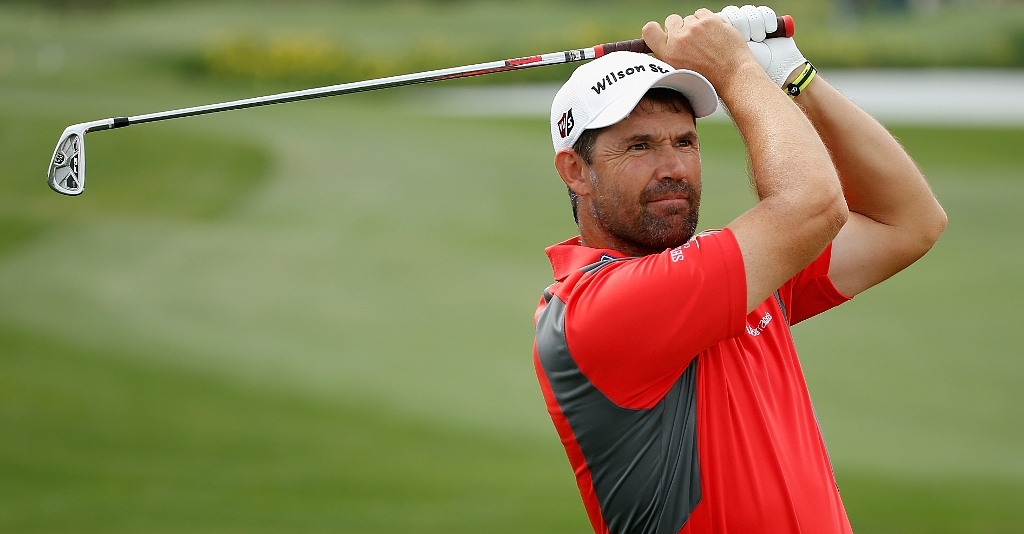 From protecting oil platforms as a US navy officer on board a destroyer, American Billy Hurley III will now need to defend a two-shot halfway lead after a second straight five-under-par 67 put him in pole position for a maiden PGA Tour victory.
The 32-year-old Hurley fired six birdies for an outward 30 at the Kuala Lumpur Golf and Country Club (KLGCC) before a double bogey on two and another birdie on seven saw him take his place atop the leaderboard on 10-under-par 134.
His countryman Kevin Streelman produced a bogey-free 68 for second place, while Korea's Noh Seung-Yul, the youngest Asian Tour number one when he won the Order of Merit in 2010, was amongst those tied for third place.
Defending champion Ryan Moore (69) and Ryder Cup stars Lee Westwood (65) and Sergio Garcia (68) are also tied for third with Noh.
Hurley, who served as a lieutenant on board a U.S. Navy destroyer from 2007 to 2009 in the Persian Gulf, knows he must be on top of his game to fend off a caliber chasing pack.
"I played nicely to start. That's what I consider to be maybe the toughest stretch; kind of 11 through 13 are kind of the hardest holes out here, and I birdied 11 and 13," said Hurley.
"And then I just hit a couple of wedges close on 16, 17 and 18 and was able to make a couple of 10, 12 footers.
"I even played a little bit better probably than the score is on the front side; you know, one bad swing, but I hit a lot of really good putts that kind of just hit the edge.
"There're 36 holes of golf left. You know, a two shot lead is better than a one shot lead, but it's not quite as good as a four shot lead. You always want to have more."
After graduating from the U.S. Naval Academy, Hurley served his country before switching his attention to his professional golf career. He enjoyed four top-10s in the recently finished 2013/14 season in 97th on the FedEx Cup rankings.
"I loved being in the Navy, and still have great memories and great friends from being in the Navy. If I didn't want to play golf, I'd probably still be in the Navy right now, but I'm happy to be out here," he said.
The 23-year-old Noh, who won the Malaysian Open at this week's venue four years ago, will be chasing a third Asian Tour title and second PGA TOUR victory after six birdies against three bogeys pushed him into contention.
"It's a pretty good round but I just made a few silly mistakes. I feel very comfortable on this course, and the swing is pretty good," Noh said.
"I missed a few putts but still I'm playing good, and just three shots behind. So it'll be really exciting for the weekend."
He has taken full advantage of the par fives at KLGCC so far, getting to six under on those holes in the last two days.
"I think this course is a very good advantage for the long hitters on the par fives. That's the key to this course," said Noh, who was rookie of the year in Asia in 2008 before becoming number one two years later.
Westwood hit the shot of the day with a rescue for his first ever ace on the PGA TOUR at the par three 11th hole, as he charged into contention at the same venue where he won the Malaysian Open in April.
"I obviously hit a great shot at 11 that was the highlight of the round. You need a bit of luck but at the same time you've got to hit well and straight," Westwood said.
"And I went back out after the rain delay and birdied two of the last three and had a really good chance at 17 as well to about eight feet, so pleased with the way I finished, and 65 has got me right into the tournament."
Westwood's playing partner Garcia rolled in six birdies against a lone bogey to stay within three shots of the lead.
Using a conventional putting grip as opposed to his "claw" grip, the Spaniard is expected to make his move on the leader over the weekend.
"I hit a couple bad putts here and there, but other than that, I felt like I hit a lot of good putts, even the one on the last I just misread it, but it's been quite good. It's something that I wanted to try and see if I could do it," said Garcia, the world number four and highest ranked player in the field this week.
Moore, who won last year's CIMB Classic in a Monday play-off, was disappointed to drop a bogey on the last hole, a par five. He said the two-hour weather delay in the early afternoon affected him the most.
"It was an overall good day until I went back out there. I missed an eight-footer for birdie on 17 and then a three putt there (on the last hole) because I thought the greens were way slower, but apparently they weren't," said Moore.
"I'm in a good position after two days. I played good solid rounds of golf, and just got to keep doing that.
"Winning and being comfortable and familiar with a golf course definitely makes a difference. In the end you just have to go play better than everybody else."
The US$7 million CIMB Classic is sanctioned by both the PGA TOUR and Asian Tour.