Confident Westwood marches clear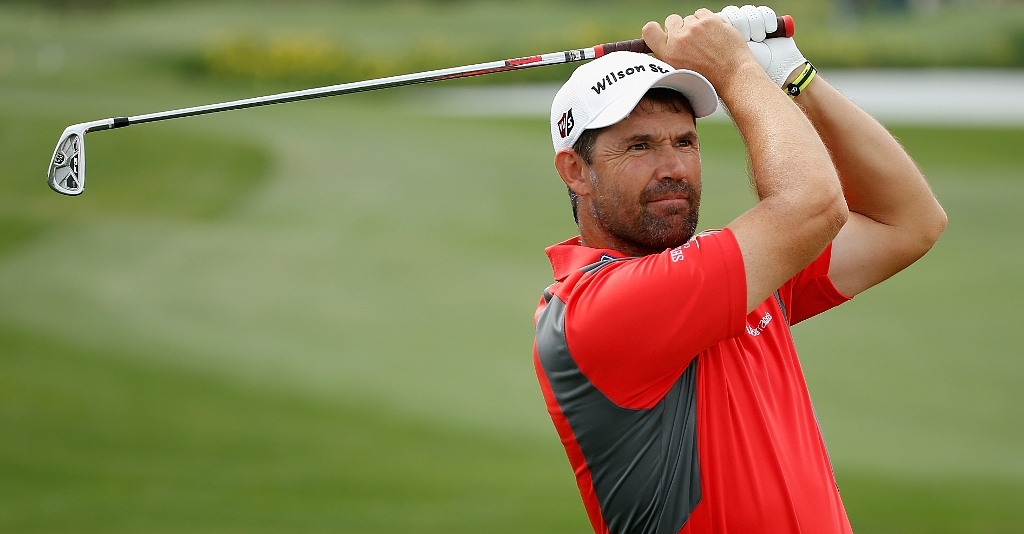 Lee Westwood has marched into the third-round lead at the prestigious Omega Dubai Desert Classic.
Lee Westwood marched into the third-round lead at the prestigious Omega Dubai Desert Classic on Saturday when overnight front-runners Rory McIlroy and Thomas Björn stumbled.
After finishing his second-round 65 at Dubai's renowned Emirates Golf Club on Friday with three straight birdies, the in-form World No 3 came back on Saturday to picked up more shots on three of his first four holes on his way to a rock solid 67 that lifted him to 15 under and onto the top of the congested leaderboard.
Germany's Marcel Siem and Scot Stephen Gallacher, winner with his hole-in-one earlier in the week of a luxury Mercedes Benz sedan, are a solitary shot adrift, having each carded 68s playing alongside Westwood.
Spain's Rafael Cabrera-Bello, who played with McIlroy and Thomas Bjorn and had to birdie 18 to come away with a third-round 70, is tied with Siem and Gallacher and at just one of the pace, the first round leader is still very much in with a chance against a man who doesn't have an especially strong record in recent years of winning when entering the final round on top of the leaderboard.
In the meantime, while McIlroy and Björn, the joint overnight leaders, will both have been disappointed that they could only muster rounds of 72 and 73 and have slipped back into joint 5th and 9th places respectively, both men will nevertheless be well aware that at just two and three shots off the pace, they are also still strongly in the running to win.]
This especially applies to McIlroy, Ulster's World No 2, who closed his roller-coaster day with a fourth birdie at the last that nullified his four bogies to join Germany's World No 4 Martin Kaymer, Scotland's Scot Jamieson and the latest Swedish talent Joel Sjoholm at 13-under.
Former Open Champion Ben Curtis of the USA, whose 67 included an eagle at 13, and South African George Coetzee were alongside Björn in the group at 12-under.
On his latest situation a still optimistic McIlroy said: "Two shots over 18 holes is nothing. I still feel in a pretty positive frame of mind and the windier it is on Sunday the better. It will make it a tough battle."
He did admit however, that his quality of golf had slipped in round three.
"It was pretty ragged to say the least," he said
"Conditions were a little tougher. The wind was up and that put me off a little bit. The greens got firmer and the pin positions were a little tougher. I'll go to the range and try to iron it out.
"I just had to try to hang in there and stay as close to the lead as I could. To be only two back is a bonus – I feel it could have been worse."
A clearly happy Westwood told Sky TV interviewers shortly after finishing his round: "I played nicely again. Very solid.
"I got off to a very good start, three under after four, rolled the ball well on the greens and hit a lot of good quality iron shots."
The Englishman said he felt he would be able to tee off in the expected high winds on Sunday in a confident mood.
"I've won 30-odd times in my career, so I'm used to knowing what to do when I'm leading a tournament," he declared
"I'm hitting the ball well. Whatever happens with the weather happens and you just have to contend with it. Whoever plays it best will win. Its simple as that."
Sjöholm, chasing his first European Tour title, posted a six-under 66 for the second day in succession, but disclosed that he had been far happier with his performance in Saturdays round.
"I pulled something out of my hat yesterday. Today I played better golf from tee to green and made some good putts out there," said the Swede, whose second 66 was the best score of the day.
"My putting has been really good this week. It was quite bad actually on the first day, but great yesterday and great today. I'm just hoping that tomorrow is going to be one of my greatest putting days."
TOP 10 LEADERBOARD
(Gbr & Irl unless stated, par 72):
201 Lee Westwood 69 65 67
202 Stephen Gallacher 69 65 68, Marcel Siem (Ger) 65 69 68, Rafael Cabrera Bello (Spa) 63 69 70
203 Rory McIlroy 66 65 72, Joel Sjoholm (Swe) 71 66 66, Martin Kaymer (Ger) 66 67 70, Scott Jamieson 65 68 70
204 Thomas Bjorn (Den) 66 65 73, Ben Curtis (USA) 70 67 67, George Coetzee (Rsa) 69 66 69