Alcanada adds state-of-the-art trolleys and buggies to its fleet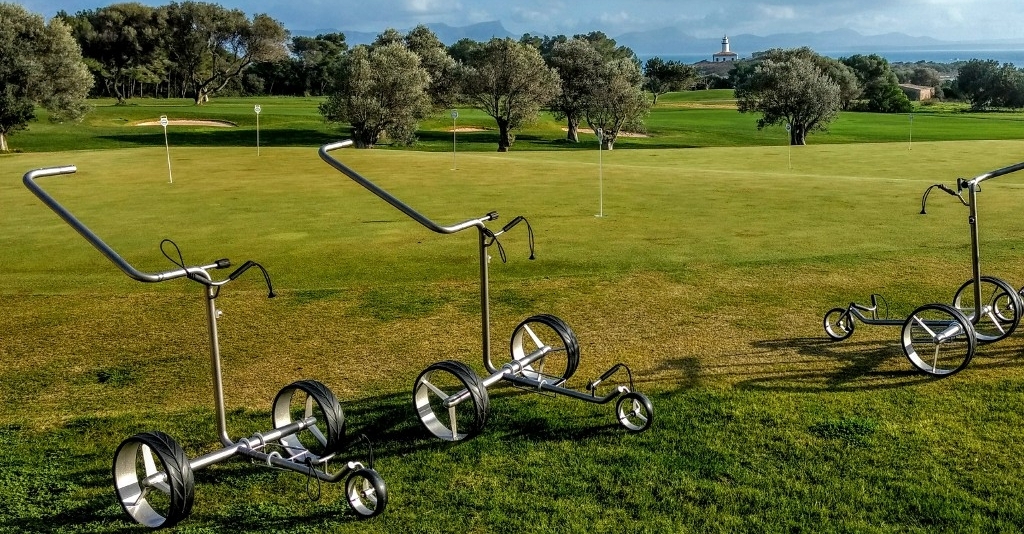 Club de Golf Alcanada has further strengthened its reputation as one of Europe's premier courses with investment in the latest state-of-the-art trolleys and buggies.
The stunning venue in the north of the island of Mallorca again highlighted its continued commitment in offering the best possible service and experience by purchasing a dozen stylish newJuCad Phantom Classic electric trolleys, adding to its fleet of buggies and buying new TaylorMade M2 rental clubs at a combined cost of €50,000 (approx. £43,665).
German-based JuCad has built an unrivalled reputation for modern and innovative lightweight carriers across the globe ever since it launched its first dismountable stainless steel design back in 1988. Since then it has continued to be the leader in the market with ideas such as the 'hidden' storage of the battery within the trolley shaft.
Kristoff Both, director of golf at Alcanada, said: "We have been considering renewing our electric trolley rental fleet for a while as we see more and more players asking for this service.
"After looking at the different models and brands on the market, we have finally decided on a model from the German company JuCad as both style and quality seemed to resemble most our quality and service philosophy.
"After having the new fleet of 12 stainless steel electric rental trolleys for a couple of weeks we can confirm that this was the right decision – the players love these easy to handle, light and good looking trolleys.
"Rental hire numbers of the trolleys is up already. JuCad is a very well-known brand in Germany but even people who are not familiar with the product are very impressed as it is a great modern design with the batteries hidden in the handle."
The Robert Trent Jones Jnr-designed course, which has been voted the best golf course in Europe by visitors to 1golf.eu six years running, also added four new prestigious Club Car buggies complete with GPS and coolers, taking their fleet to an impressive 38.
Both added: "Some people still like to use buggies and we have added to our existing fleet. They all have GPS and coolers to offer comfort. What we have on offer just gives a lot more option for people."
The additions of trolleys and buggies follows on from the club's recent investment in new golf clubs to hire – the latest TaylorMade M2 – having acquired eight sets of men's regular right handed, two sets of men's stiff right handed, two sets of men's regular left handed and three sets of ladies right handed.
Rental cost for the new JCad Phantom Classic trolleys, which retail at €4,590, are €20 for 18 holes; buggies are €40 for 18 holes and the new TaylorMade clubs are available for €34. Pull trolleys are still available at €6.