Woosnam in three-way tie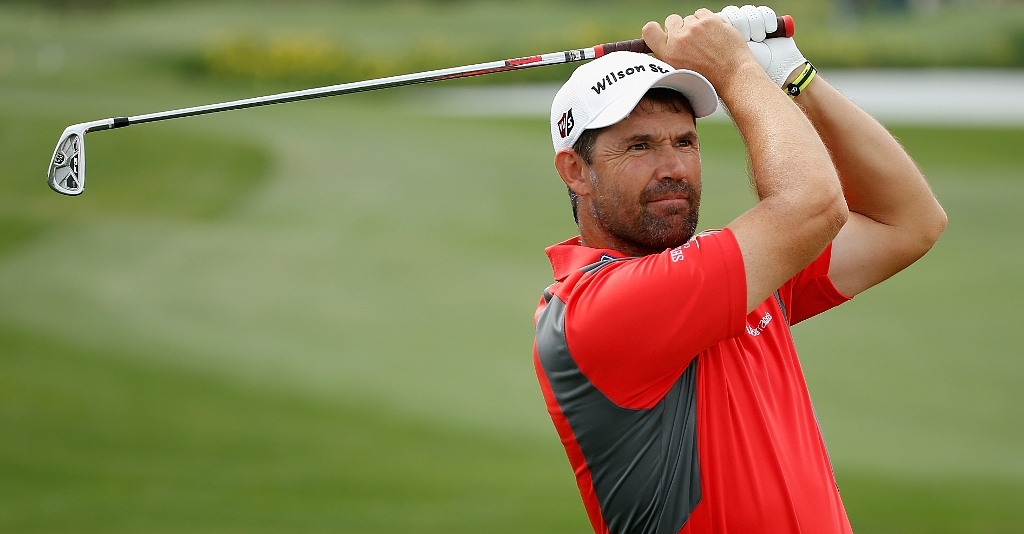 Ian Woosnam is ideally placed for a popular home victory in the Ryder Cup Wales Seniors Open.
Ian Woosnam is ideally placed for a popular home victory in the Ryder Cup Wales Seniors Open after firing a superb 67 to surge through the field and into a three-way share of the lead with American Jerry Bruner and South African Bertus Smit.
The 2006 Ryder Cup winning captain, who made up six shots on the final day to win the Irish Seniors Open in association with Fáilte Ireland and AIB Bank two weeks ago, began the second round adrift of overnight leader Bob Cameron by the same margin after a first round 75.
However, a flawless back nine of 32, which consisted of four birdies – one coming after chipping in from 30 yards on the par four 13th hole – and just ten putts saw the 1991 Masters winner surge up the leaderboard to finish on two under par 142 at Royal Porthcawl.
It means Woosnam will start in the final group for the second year running in the Ryder Cup Wales Seniors Open and the 51 year old Welshman is determined to go one better than last year, when he finished runner up to Peter Mitchell.
"I've just got to keep it in the fairways and battle hard – that's what I did today," he said. "It's great to be in the last group tomorrow again. I'm looking forward to it.
"It would be great to win on home soil. I've won twice at St Pierre (British Masters in 1983 and the Epson Grand Prix in 1990) so it would be nice to do it again. I came close last year so I'll see if I can pull it off tomorrow.
"I basically got off to a good start today with a birdie on the first and then played defensively and took two bogeys on the next two holes," he added. " I just scrambled around pretty well for the first nine in one under par and then on the back nine I didn't do too much different but I had 10 putts. That's what you have to do in these conditions.
"When I had an opportunity to make a birdie, I made a birdie. When I needed to get it up and down, I got it up and down. It was a great chip in on 13. I hit some nice shots from the eighth onwards after that I hit some bunkers but I managed to chip and putted well."
In contrast Smit's round was built on a fine front nine where he recovered from a bogey on the second with four birdies in a row from the third hole to go out in 32 before eventually signing for a 68.
With the South African rugby team also defeating the British Lions, Smit heads into Sunday's final round hoping to make it a double cause for celebration and he admitted he was looking forward to playing alongside the former World Number One for the first time.
"It will be fun but a little bit nerve racking because I haven't played with Woosie yet," said the 56 year old. "The first time I played with Sam Torrance was similar but I did quite well then, although Woosie is on quite a run."
Bruner posted five birdies en route to a round of 70 and the 5ft 6in Los Angeles-based player is hoping he can capture his third Senior Tour title and first victory since the 2005 Algarve Seniors Open of Portugal.
"It will be nice going out with Woosie – two little guys, or three in fact as Bertus isn't that big!" he said. "I always say Woosie is the only guy on Tour I'm taller than! I like playing with him. As long as I keep my head right, I've got a good chance tomorrow."
Ireland's Des Smyth, an Assistant Captain to Woosnam in The Ryder Cup at The K Club two years ago, is one stroke behind the leaders on one under par after a 69, as is Australian David Merriman following a 70.
Leading second round scores:
142 B Smit (RSA) 74 68, J Bruner (USA) 72 70, I Woosnam (Wal) 75 67,
143 D Merriman (Aus) 73 70, D Smyth (Irl) 74 69,
144 B Lincoln (RSA) 75 69, R Drummond (Sco) 72 72,
145 S Ebihara (Jpn) 76 69, D Hospital (Esp) 76 69, J Rivero (Esp) 71 74, K Spurgeon (Eng) 72 73, S Owen (Nzl) 77 68,
146 G Brand (Eng) 75 71, C Mason (Eng) 75 71,
147 T Johnstone (Zim) 72 75, B Boyd (USA) 77 70, J Rhodes (Eng) 76 71,
148 J Quiros (Esp) 75 73,
149 B Cameron (Eng) 69 80, J Chillas (Sco) 79 70, J Heggarty (Nir) 80 69, A Franco (Par) 79 70,