Wood widens the Mallorca gap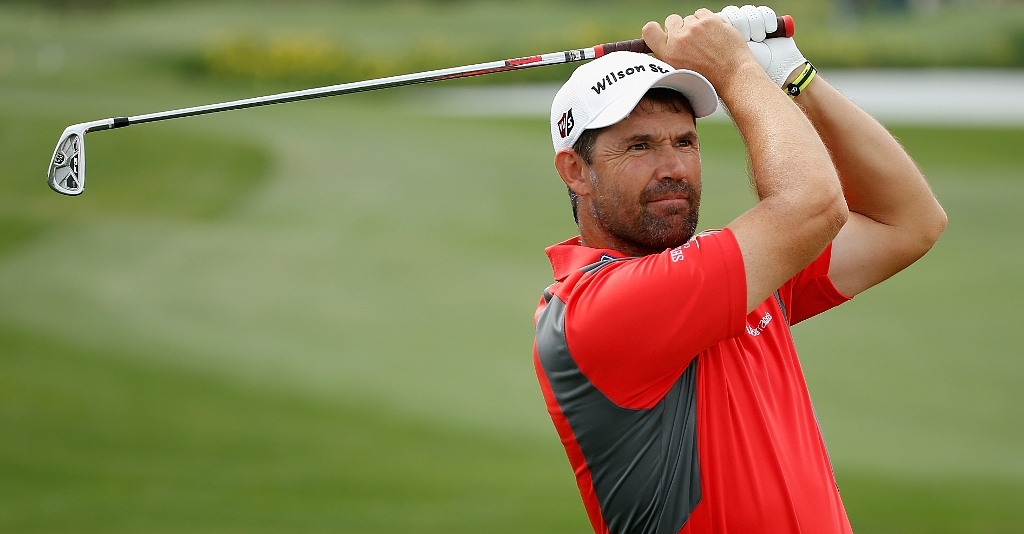 Chris Wood has stretched his lead to four to stay firmly on track to a first European Tour win at the Iberdrola Open.
Chris Wood kept himself firmly on track to win his maiden European Tour title at the Iberdrola Open on Saturday when he stretched his overnight lead to four shots heading into Sunday's final round.
The lanky Englishman shot a 1-under 69 in Saturday's 3rd round to take his total to a 9-under 201 total at the par 70 Pula Golf Club on the Spanish island of Mallorca and is four shots clear of one of the European Tour's most respected stalwarts in Darren Clarke, who shot a level-par 70, and Shane Lowry, who came storming into contention with a blistering 63 that matched the course record set by Frenchman Grégory Bourdy in the opening round.
Surprisingly, Europe's current Ryder Cup captain Jose Maria Olalazabal, who was unable to prepare for this tournament because of his need to attend Wednesday's funeral of his great friend and compatriot Seve Ballesteros, is only one shot further back in sole possession of 4th place after shooting an excellent 4-under 66.
The fact that Olazabal designed this course may well have had something to do with the quality of his performance.
Bourdy is a further shot back in a three-way tie with Brits Scott Jaimeson and David Lynn with Thomas Aiken, South Africa's winner of last week's Spanish Open a shot further back at 3-under and six off the pace.
Wood started with a confident birdie and added eight solid pars before picking up another shot at the 10th to go to 10 under.
On a windy day when low scores were the exception rather than the norm, he gave a shot back at 14 and avoided another bogey with a nerveless 10-foot putt at 16.
He did miss a chance to go five clear when he failed to convert a sublime tee-shot that finished six feet from the pin at the last, but with the kind of lead he has, he would hardly been kicking himself.
In fact he was more than happy with his day.
"I have extended my lead by one which is good, but it was pretty tough today and I thought that I played pretty well and didn't really get the rewards I deserved," he told the media afterwards.
"A lot of my birdie chances stayed out, but overall it was a good day.
"I felt I was pretty flawless on the front nine today so I just need to do what I have been doing and hole a couple of more putts and I should be alright. It's pretty solid at the moment.
"I was eager to get going and I will be the same again tomorrow. I would be ready to go again now if I had to. Tomorrow could be a big day for me, but I need to try and treat it like any other round of golf."
Clarke got off to a horror start with two bogeys in his first three holes, but he fought back to six under with his third birdie of the day at 13 before dropping another shot at the final hole.
"I played nicely all day again," he said. "I played great and kept giving myself chance after chance but found myself with a very cold putter.
"I was disappointed at the last because I thought I had hit a great shot all over the flag and it turned out to be the worst place I could have missed it.
"Misread the first putt and misread the second putt but that's the game. The forecast for tomorrow is for strong winds so hopefully I can play the way I have been and the putter warms up a bit."
When asked about his former teammate Olazábal's charge onto the leaderboard Clarke joked: "He should be – it's his course!
"It is always nice to see Chema up there and play well. He has been through an awful lot last week and this week so it's nice to see him contending."
Olazábal had a bogey at the second but put that behind him with five birdies – an approach to five feet at the seventh and a 20 foot putt at the 12th among the highlights.
"It's been an extraordinary day on the greens," said The Ryder Cup Captain. "I holed many putts and that reflects on the scores.
"I am really happy, four under par is a great score, but I know that I need to keep working.
"I don't remember putting so well in such a long time – I made 23 putts, there aren't many putt days like today.
"If you play well, everything will come back. My goal is hit the ball well and if I can do that, results will come. Tomorrow I will go out there and fight like every day."
The 24 year old Lowry – who burst onto the scene when he captured the Irish Open as an amateur in 2009 – carded six birdies, one bogey and an eagle at the par five sixth.
"It was one of those day when it all happened quickly and I was off and running," he said. "I was speaking to my coach last night and was saying that we have one of those courses here where you have to stay patient and plot your way round and hopefully the birdies will come.
"That's exactly what's happened over the first two rounds and then today I got off to a great start and was four under through six holes."
Bourdy recovered from the disappointment of his second round 77 with a 67 that leaves him sharing fifth place with England's David Lynn and Scotland's Scott Jamieson.
TOP 10 LEADERBOARD>
201 Chris Wood 67 65 69
205 Shane Lowry 72 70 63, Darren Clarke 65 70 70
206 Jose-Maria Olazabal (Spa) 71 69 66
207 Gregory Bourdy (Fra) 63 77 67, David Lynn 68 68 71, Scott Jamieson 67 71 69
208 Thomas Aiken (RSA) 70 72 66, Alastair Forsyth 68 72 68