Why all eyes were on Walton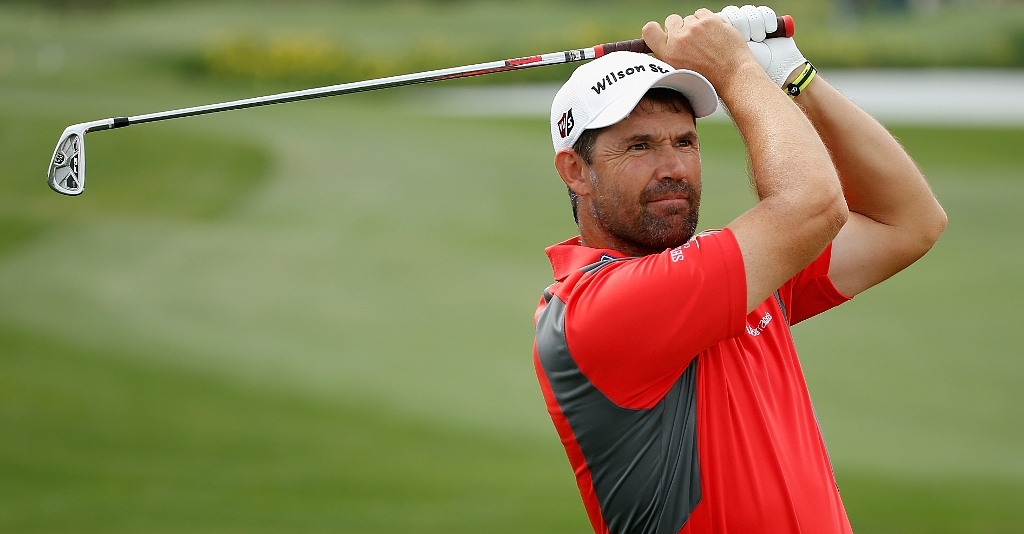 Golf365 has been looking back at great games from recent Ryder Cup matches. Mark Garrod reports:
Golf2365 have been looking back at great games from recent Ryder Cup matches.Fifteen years ago ii was all eyes on Ireland's Philip Walton.
Irish golfers have played a massive part in Europe's glory days in the Ryder Cup.
At Muirfield Village in 1987 Eamonn Darcy beat Ben Crenshaw on the final green to pave the way for the first victory on American soil.
Two years later Ronan Rafferty and Christy O'Connor Jnr were last-hole winners at The Belfry as Europe retained the trophy in a 14-14 draw.
In 2002, back at the same Sutton Coldfield venue, Paul McGinley's putt on the 18th won the cup back, two years later in Detroit McGinley and Harrington completed a record-breaking rout of the Americans and in 2004 on home soil at The K Club, only a month after his wife had died, Darren Clarke was the unbeaten hero of a repeat performance.
To that list you can also add Philip Walton in 1995 at Oak Hill – and, unlike all the others, everything depended on him.
If he failed to win Europe would failed.
On the opening two days of the match Walton had played only once, losing in the Saturday morning foursomes with Ian Woosnam against Loren Robert and Peter Jacobson.
Europe trailed by two points entering the singles following the dramatic chip-in by Corey Pavin – this year's United States captain, of course – and the two rookies, Walton and Per-Ulrik Johansson, were put out last.
Walton was up against Jay Haas and Johansson faced Phil Mickelson, with both knowing that two things could happen. The Americans might be celebrating victory before their games came to the closing stretch or everything might hinge on one or both of them.
It proved to be the latter – and Walton was the one in the hot-seat.
He led by three with three to play, but Haas holed a bunker shot to win the 16th and then won the 17th as well with a par to a bogey.
"There's pressure like you don't know," said Walton. "It's not fair on a human being really.
"It wasn't until I missed the putt on the 17th that I thought 'this is it'.
"Walking to the next tee Sam Torrance gave me a terrible whack on the arse when I was not expecting it. It woke me up. I forgot what he said – just 'Come on Phil' or something.
"Jay teed off first and hit a terrible shot into the trees left.
"My normal shot was a low little fade, but with all the people leaning over the ropes I would have had to aim it just over their heads to find the fairway.
"I couldn't bring myself to do that, so it was inevitable I'd go right. I might have killed somebody otherwise.
"Jay had no chance to reach the green from where he was and my five-wood came up in the rough just short of the green (he actually nearly stepped on it).
"I only needed a half and after his third shot (it finished around 40 feet from the flag) it looked likely a bogey five was going to be good enough for the half I needed.
"I chipped up to about 12 feet and after he missed I rolled mine up dead. That was it and the first thing I think of is Bernard (Gallacher, Europe's captain) picking me up on the 18th green.
"I blame him for some of the back trouble I've had since!
"It's a tough week – the toughest. But very enjoyable when you come out on top.
"You need a strong heart for it. That pressure is unreal – I remember Bernhard Langer missing that putt in 1991 (at Kiawah Island) and then winning a tournament the following week. Only a German could do that – mentality.
"It didn't go too well for me afterwards. I played OK in '96, but in '97 it started to go downhill big-time. Disastrous."
Walton lost his European tour card, got it back at the qualifying school, but then fell off the circuit again.
But nobody can take away what the 48-year-old did at Oak Hill in 1995, though. Once a Ryder Cup hero always a Ryder Cup hero.