Westwood wins China Challenge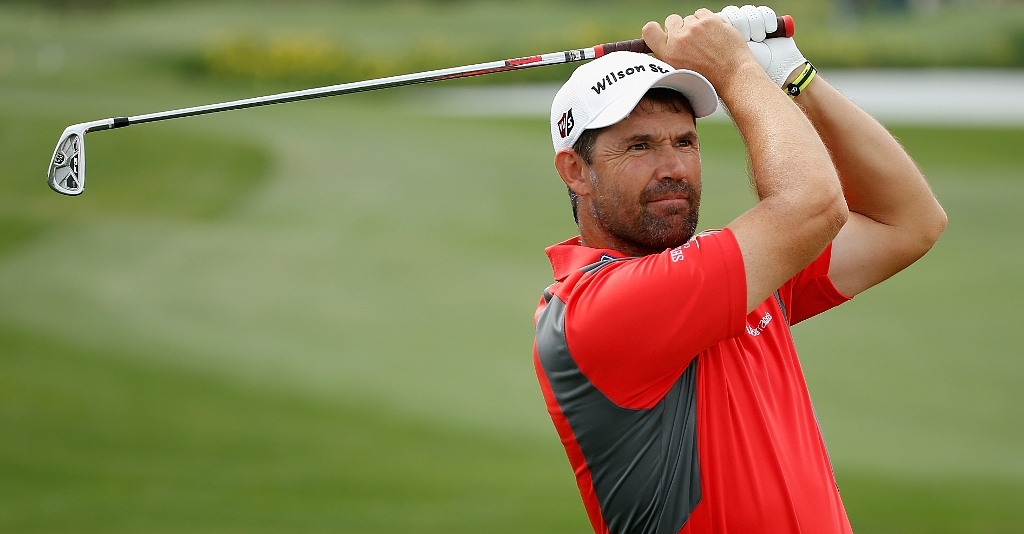 Lee Westwood beat Liang Wen-chong in a playoff to win the seven-day, seven-city Shui On Land China Golf Challenge.
World number two Lee Westwood continued his love affair with Asia by holing a 12-foot birdie putt to beat Liang Wen-chong on the first hole of a playoff for the seven-day, seven-city Shui On Land China Golf Challenge, the sport's most innovative event.
The duo parred the day's two holes at Caesars Golf in Macau to record an 18-hole total of two-under 71, one ahead of Ian Poulter, who birdied the 356-yard, par-four 18th. US Open champion Rory McIlroy, the world number three, finished six-over after a unique event that featured 5,600 kilometres of flights across the east, north, west and south of China.
Westwood and Liang replayed the 18th for the playoff and both found the rough with their tee-shots. The Chinese number one hit his approach long into the spectators at the back of the green and chipped close before Westwood capped off a long week with a long putt, then celebrated with 10-year-old Nathan Han, his caddy for the day.
"I think I do well in Asia because I just adapt well. I adapt to the grasses and I adapt the culture and the food. Playing world golf is all about adapting," said Westwood, 38, who has twice been world number one in the last 12 months.
"I've really enjoyed playing with Liang this week. I know him as I've played with him many times, but this week we've been living in each other's pockets and spending a lot of time together, so you get to learn a bit more. He's got a great sense of humour and likes a practical joke. He got me a couple of beauties and I got him back, and I think that has been one of the nicest parts of the week. That's what drew me to it, really."
Westwood said the Shui On Land China Golf Challenge achieved its ambitions of raising the profile of golf in the country after earlier stopping in Shanghai, Zhengzhou, Beijing, Dalian, Chongqing and Dongguan.
"It has been a bit of a whirlwind tour, very different, very interesting, very tiring. Well worth coming. I think a lot of people have benefited from it. There has been a lot of autograph signing, so I think my right wrist is going to need physio for about a week now," the Englishman joked.
"Hopefully this will add to the growth of golf in this country. It's all about raising the profile of golf in China. It gets people involved who don't usually get to see world-class professional golf up close."
Liang, who led after day three before Westwood joined him on top of the leaderboard on Saturday, was proud of his performance and also in his role as host.
"It has been a great tournament and I'm happy I was able to get into the playoff with Lee. I did my best and although I lost, it was by the smallest margin. I've been able to play with three world-class players and seen how they act, how they talk, how they walk, and this will help elevate me to the next level," Liang said.
"At first, I was a little shy because of my English ability, even though I've played with them all in different tours. All three players are very different. Ian Poulter looks very cool on TV but in person he's actually very warm and easy going, the same with Rory. They're very kind and passionate about what they're doing.
"I've played with Lee many, many times, but now he's on a different level and is now world number two, yet he hasn't changed. He's still the same, nice person in private. It has been a real pleasure to be with these guys the whole week."
Vincent Lo, chairman of Shui On Land, was delighted that the players enjoyed such a unique format and praised how popular the tournament had been both in China and internationally.
"The Shui On Land China Golf Challenge is a first for golf and a first for China. We've all been through an amazing journey this week, seeing new cities, making new friends, enjoying new cultures," Lo said.
"It has been great to see how Lee, Ian, A-chong and Rory have played such incredible golf on the course and been such gracious gentlemen off it. After all, this is more than a golf tournament. This is sport, travel, business, pleasure, culture, lifestyle and entertainment all in one."
The players concluded a long week with a pro-am then headed back to The Venetian for an indoor clinic and a lavish gala dinner, having arrived in Macau on Saturday afternoon via a helicopter ride from Shenzhen.
Since Monday, the players have competed at Tomson Golf Club in Shanghai, Jinsha Lake Golf Club in Zhengzhou, Topwin Golf and Country Club and Jade Island International Golf Club in Beijing, the 36-hole Red Flag Valley in Dalian, Sun Kingdom Golf Club in Chongqing and Long Island Golf and Country Club in Dongguan.