Westwood winning desert duel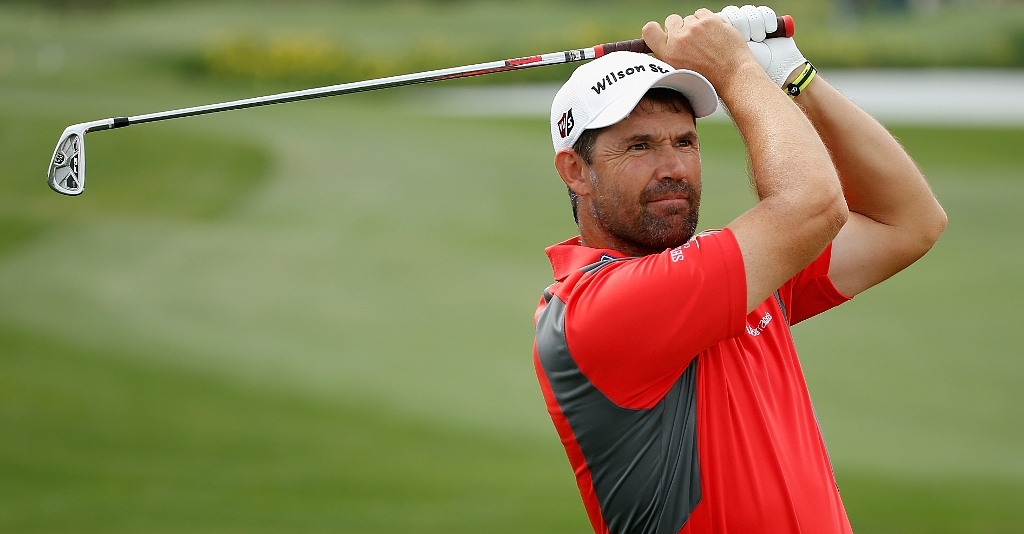 Lee Westwood oozed confidence in the desert on Saturday, knowing that he is just one round away from a £1.6million jackpot.
Lee Westwood simply oozed confidence in the desert on Saturday, knowing that he is just one solid round away from a £1.6million jackpot.
Rory McIlroy had just made Westwood's task easier both in the Dubai World Championship and their battle to be Europe's number one this season by bogeying the last three holes in nightmare fashion.
It makes the 36-year-old from Worksop a massive favourite for a spectacular – and lucrative – double and a reclaiming of the Tour crown he last held nine years ago.
He leads the tournament by two from fellow Englishman Ross McGowan, one of only two players to match his 66 on the day, and is five clear of McIlroy.
"I've had the highs, I've had the lows (he slumped outside the world's top 250 in 2002) and I am back on a high. I'm enjoying it," stated Westwood.
"This is as good as I feel like I've swung it almost all year and when I was winning a lot – in the last century! – I had this kind of attitude.
"I would not be outwardly cocky, but I am just being more confident. I've had 30 wins and I think I've finished tournaments off more than anybody else on the leaderboard.
"I don't mind putting myself up there to be shot at. You back your ability."
There is more to it than that, of course, but apart from a new policy of looking at scoreboards while he is out on the Greg Norman-designed Earth course he says he has no wish to reveal what might be viewed as his X-factor.
"There's nothing too secretive or illegal I'm doing, but why talk about it? It's of nobody's importance apart from Billy (his caddie Billy Foster) and mine.
"I'm paying no attention to the Race to Dubai (money list). All I am concerned about is this tournament.
"I've told you that all week and I'm proving that's the way to go about things."
McIlroy was six under par himself for the day after birdies on the 14th and 15th, the holes he had three-putted for costly bogeys 24 hours earlier.
That put him in a share of the lead with Westwood, but only for a minute.
The world number five made an 18-footer for a matching birdie at the 14th and then the Northern Ireland youngster, who brought a £114,000 Order of Merit lead into the deciding event, imploded.
McIlroy was unlucky on the 16th when he got a flyer from the rough and hit a wedge an amazing 170 yards.
It went over the green and although it stopped inches from the lake he chipped 15 feet past – after taking off his right shoe and sock and rolling up a trouser leg – and missed the putt back.
Trying to become the youngest Tour number one since Seve Ballesteros in 1976, the 20-year-old then three-putted the short 17th.
But most criminally of all his third shot to the 620-yard last came up short in the water and a six went on his card.
"It just a bad shot," he said after signing for a 69 and 10 under total, the same as Padraig Harrington and Swede Alexander Noren.
"I got myself in the position I wanted to be in. After that finish I've left myself an uphill task.
"But I've still got a shot a shot to win this – I feel a low round is in me and I feel it's necessary. The guys ahead of me are playing well."
McIlroy will be encouraged by what happened in his last two tournaments.
In Shanghai a fortnight ago he closed with a course record-equalling 63 for a share of third spot and at the Hong Hong Open last week it was a 64 to be runner-up.
He would take either of those scores here, but whether it be enough remains to be seen.
McGowan is a member of the same stable and only last month he captured his first Tour win in Madrid – and shot a round of 60 in the process.
"Lee and I got into a good rhythm early on and kept it going all day," he said.
"I think Madrid taught me a lot. I was seven shots clear there and it's tough to keep your concentration, but once you've done it a couple of times it's not really anything to worry about.
"I always saw myself reaching the top of the game. It's just one step at a time, just keep going past the milestones and we'll get there in the end."
Noren, whose first victory was in Switzerland in September, shot 67 to move from 12th to joint third, while Harrington had a second successive 69, but this time finished with a birdie rather than a double bogey.
German Martin Kaymer and Ross Fisher look out of the money list race after rounds of 72 and 70 respectively.
They are in a tie for 36th on two under, but just to have a chance Kaymer has to finish in the top four and Fisher either first or second.