WESTWOOD EYES MAJOR GLORY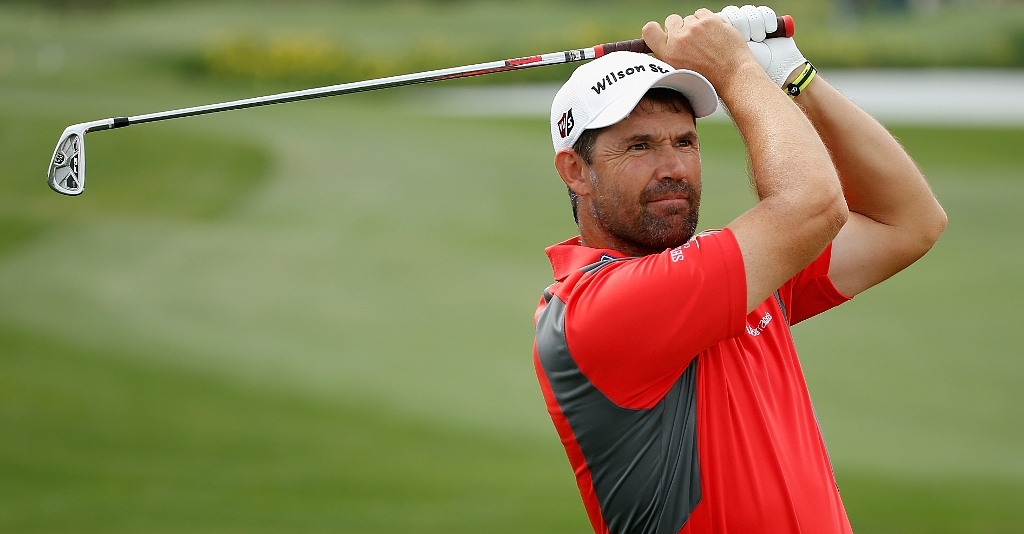 Lee Westwood says he feels "closer to a major than ever before" as he prepares for next month's US Masters at Augusta.
If 2007 was the year Lee Westwood returned to winning ways – he collected two titles on the European Tour – the Englishman is hoping that 2008 will be the year he goes one step further and wins a Major.
Talking at this week's launch of the Financial Times Anglo Irish Bank Business Championships he spoke of a fresh start fuelled by a fitness campaign that has helped him lose six inches from his waistline.
With his core stability strengthened Westwood is hitting the ball further than ever before and has greater control of his swing. Little wonder he has rediscovered his love of the game.
"I feel closer to a major than ever before," he said after teeing off the Business Championships. "I like all the venues this year. I'm ready for a second career."
Here, Westwood discusses his hopes for 2008 in more detail with Golf365's Matt Cooper.
G365: You ended last year in great form: one win and another seven top ten finishes from your last nine starts. That was reminiscent of the good old days so you must be feeling confident?
LEE LEE WESTWOOD: And then I started this year with three more top tens which was all down to the fitness training. With the British weather I couldn't get in much practice over the winter but because I was so fit – doing two, three hours gym-work a day – I was able to continue in the same confident mood I finished 2007.
G365: Only three weeks to Augusta. What are your plans ahead of the first major of the year?
LEE WESTWOOD I play Bay Hill next week. Last time I played there I finished fifth. I like the course. In fact I like Florida so I'm looking forward to Doral the week after that as well.
G365: We all know Augusta is tough, but give us a little insight into how tough
LEE WESTWOOD Well, I'm looking forward to it because it is the sort of test we play golf for but there is no getting away from the fact that it is five hours of brain battering. If a score starts to slip away from you, it is difficult to apply the brakes. There is no let-up: it's the ultimate challenge.
G365: Last year you got off to a bad start with a 79 and then stated that "only six or seven players have a chance of winning."
LEE WESTWOOD I didn't putt well in the first round. If you don't putt well, you just don't score.
G365: And yet only two players outscored you in rounds two and three.
LEE WESTWOOD I'm always confident ahead of playing there. It's a special place and, like you say, I can score there. You've got to know which areas of the green to hit. Then you've got to hit those areas. Easier said than done.
G365: Does Zach Johnson's win change your mind about the narrow list of potential champions?
LEE WESTWOOD It will be interesting to see what happens this year. There's definitely a way to play Augusta. I'm a naturally aggressive player, but I'll need to rein it in.
G365: Johnson played short of every par five, taking water out of the equation. Will you be following that strategy?
LEE WESTWOOD Playing short doesn't necessarily take the water out of play at Augusta! I don't think I'll be playing short. The key is to keep mistakes off the scorecard. If you gave me par on every hole I'd take it, but you don't stand on the first tee aiming to par every hole. Golf doesn't work like that.
G365: Moving on to the US Open at Torrey Pines near San Diego: your two best finishes in that event have come in California.
LEE WESTWOOD Have they? Oh yeah!
G365: Fifth at Pebble Beach, seventh at Olympia.
LEE WESTWOOD On the other hand I've played Torrey Pines once and missed the cut. Good layout though.
G365: And – like Pebble Beach – it's another course on the Californian cliff-tops. Are they similar challenges?
LEE WESTWOOD I do play well in California. But I don't necessarily look for correlations. It's not like I can only putt on one type of grass. I like them all – Poa, Bent, Bermuda. I've played well in Florida and California. I even putt well in Asia so that's not a problem.
G365: You should have good vibes ahead of the USPGA as well.
LEE WESTWOOD Yeah – Oakland Hills. I liked the course; it really fitted my eye.
G365: You got four and a half points there in the 2004 Ryder Cup. Together with Darren Clarke you also defeated Tiger Woods and Phil Mickelson.
LEE WESTWOOD Nice memories. It suited me. In fact all four major venues are courses I like this year.
G365: So you're confident of a strong effort in the Open at Birkdale?
LEE WESTWOOD I hope so. I did okay in 1998 and I certainly like the way it sets up. I do have some decent Open form and Birkdale suits me. I've played my best Open golf at Troon, but I could repeat that at Birkdale.
G365: It's a traditional course and you seem to save you best golf for those.
LEE WESTWOOD Well, I've won on new courses as well, but, yeah, I do like the classics. I won on the short set-up at Aloha last year which was quite traditional, but I've won on long courses as well. Course form doesn't matter to me as much as the run I'm in. Look at the Belfry – I had no form there until winning. But I think that might have had something to do with it being played in September for the first time.
G365: Talking of the Belfry, this is a Ryder Cup year. Have you spoken to Nick Faldo much?
LEE WESTWOOD I've had a chat, but it's important not to be too focused on something that happens at the end of the year. That said, when we were at the World Matchplay last month the European lads got together for dinner. There were about twenty of us. Most had already played in the Ryder Cup but it was good for two or three who hadn't to experience a bit of the atmosphere.
G365: Do you think the Americans will be stronger this year?
LEE WESTWOOD I think they will be. I chatted to Justin Leonard in Scottsdale and he seemed to think that the changes to their selection policy would be a good thing – they've got four picks and the points system will select players on form. He was up for it. They want to win. We're not the only ones who lift their game – you see more shots go close to the pin in Ryder Cup week than any other week of the year.
G365: Someone mentioned earlier today that Sergio Garcia's form was a worry.
LEE WESTWOOD I don't think so. Form is temporary, class is permanent.
G365: Sam Torrance once said that about another player [Westwood himself, ahead of the 2002 Ryder Cup].
LEE WESTWOOD Must be where I heard it. It's true!
G365: Finally, Lee, a few words about Rory McIlroy. You share the same agent, have you played with him yet?
LEE WESTWOOD We played together at the Dunhill. He's got everything. Drives the ball well, putts well, chips brilliantly. But he's mature as well. He double-bogied at the Dunhill but he just didn't panic. He's very good.