Westwood battles back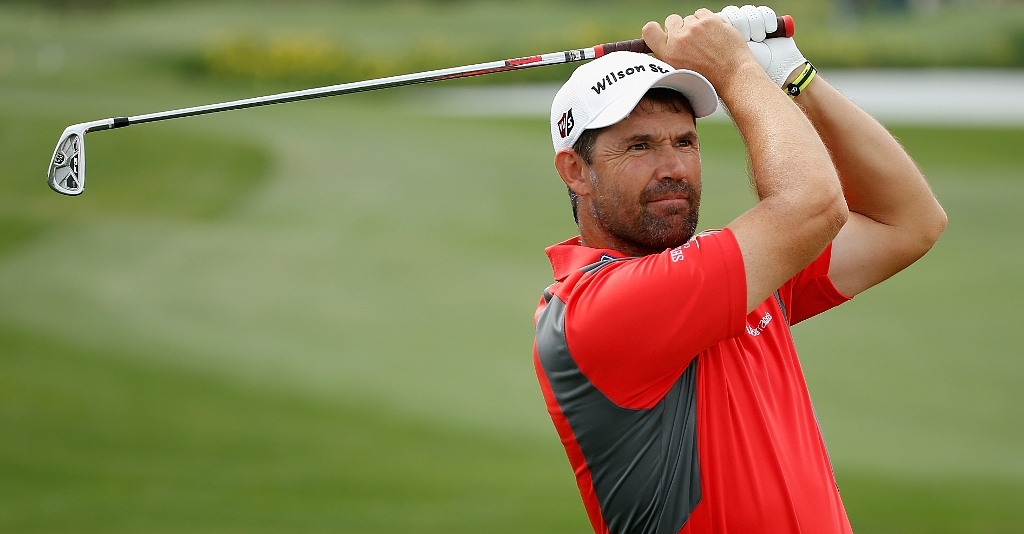 Lee Westwood could be celebrating his rise to number one in the world come Sunday night.
St Andrews, the Home of Golf, could tomorrow see Lee Westwood crowned as the new world number one – and little-known John Parry as the shock winner of one of Europe's richest events.
Westwood, needing a first or second-place finish in the Dunhill Links Championship to end the latest five-year reign of Tiger Woods, made light of his aching leg to fire a spectacular 66 at Carnoustie today.
It lifted the 37-year-old – close to pulling out on Thursday night – all the way from 32nd place to joint fifth on eight under par.
"I think everybody playing out here would love to be able to say they are the best player in the world – anybody who plays professional sport," said Westwood.
"I think it would be the high point of my career without a doubt. We all know how much hard work goes into it, so it's the accolade where you look on the list and you're right at the top and it says number one. (It) obviously it means a lot."
But Westwood is still five behind world number 177 Parry, who two weeks after his first European Tour success is now 18 holes away from a £502,000 jackpot.
Although he was four ahead overnight and five clear at one stage, the 23-year-old from Harrogate was happy enough to shoot a 71, also at Carnoustie, and he goes into the final round two in front of German Martin Kaymer and Spaniard Alvaro Quiros.
"I would have taken level par around here – it's a tough course and it was windy," commented Parry, who had never had a top-eight finish on the circuit until his win.
"It was just a grind out there today and it will be nice to go back to St Andrews. I'm just going to take the same mindset as I had in Paris into the last round."
Kaymer, despite finishing with a bogey like Parry, is probably the favourite for the trophy.
The US PGA champion leads this season's money list and has won his last two tournaments – three if you count Europe's triumph at Celtic Manor on Monday.
He and big-hitting Quiros both had 68s, while over at Kingsbarns Danny Willett – a team-mate of Parry and Rory McIlroy in the 2007 Walker Cup – moved into fourth spot on nine under with a 67.
Westwood's was the round of the day, however, and given both the weather conditions and his own physical condition it was a remarkable effort.
He sounded on the point of withdrawing after his opening 70 at Kingsbarns on Thursday.
Told he was not likely to damage his leg further by playing on, however, he added a 72 on the Old Course and today grabbed seven birdies on what is regarded as comfortably the toughest of the three courses used for the celebrity pro-am.
Westwood is still feeling his leg – "I last about nine holes before it starts getting sore," he commented – and rates himself only 50-50 to defend the Portugal Masters title next week.
Because of how the world rankings work he would be guaranteed the world number one spot if he misses that, but getting fit is his priority.
"My main priority is to get into shape for The Masters at Augusta next April," he added.
"What I don't want to do is keep going around in circles and have to rehab it all the time.
"I want to get back to it being 100% if I can. I got it back to a state where I could play the Ryder Cup, but I needed to take time off after that to finish the recuperation and I've not allowed myself to do that."
He would not be the first to go to number one without first winning a major – Ian Woosnam, Fred Couples and David Duval all did it.
Playing partner Ernie Els, one of four players who have knocked Woods off top spot during his career, commented: "Lee drove it beautifully, his irons were good, his whole game is there.
"I can't see any reason why he can't win tomorrow. And to go to number one would be a wonderful achievement if he can do it."
Monday's match-winning hero Graeme McDowell bogeyed his last two holes to slip seven behind Parry and on Westwood stated: "I would love to see him get to number one.
"I think it would cap what's been a great year for European golf. I fully believe he's the number one form-wise and if it was not for the injury he would be there already. I truly believe that.
"It would be huge for European golf (especially as Westwood is not going to join the US Tour next season). It's been a dominating year for us and that would really underscore it."
Padraig Harrington is seven under after a three-putt bogey on the last.
He thought Westwood might be distracted by the chance to overtake Woods. Then he saw his 66 and added: "Obviously he's just proved me wrong."
Colin Montgomerie did what three of his Ryder Cup team failed to do – make the cut at the Dunhill Links Championship.
Montgomerie, resuming a playing career that has seen him crash to 425th in the world rankings, squeezed through to the final round at St Andrews with a third successive 72 and a level-par aggregate of 216, 13 adrift of leader John Parry.
But Italian brothers Francesco and Edoardo Molinari and Swede Peter Hanson, who formed part of Europe's successful team at Celtic Manor last weekend, bowed out of the event.