Wentworth Notebook: Friday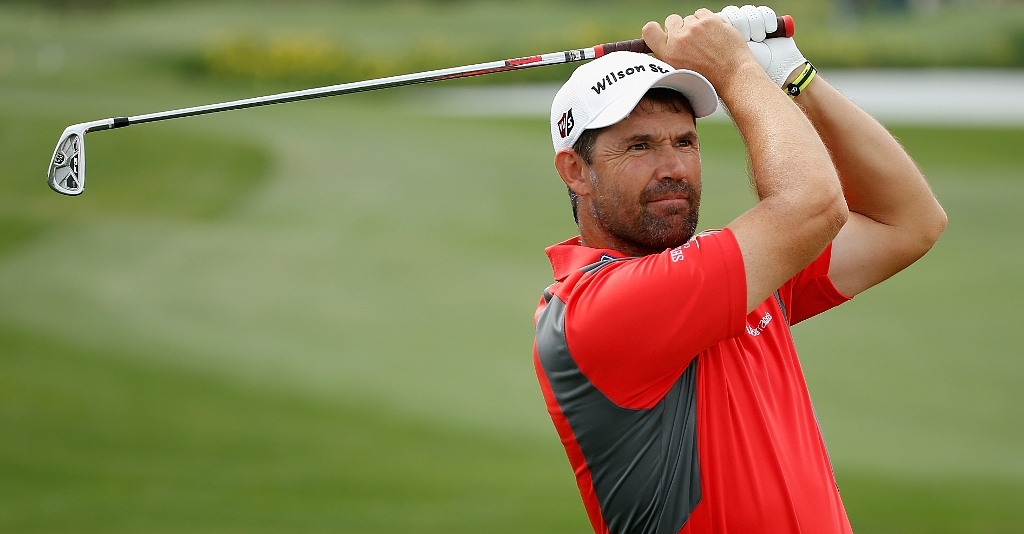 Our Matt Cooper is at Wentworth for the European Tour's flagship event. Check out the latest news from on and off the course.
Matt Cooper is at Wentworth all week, walking the fairways and driving range, on the lookout for all the on- and off-the course stories and information. If you've got a player you want him to check out, or any questions to ask, email him at: golf365matt@hotmail.co.uk
5.30pm
Daly News
After his round of 71 John Daly entered the press room and was every bit as entertaining as his outfits.
Talking about his weekend trousers, he said: "Saturday's are a little flowery. I've got a solid pair for Sunday. They always say it takes a man to wear pink."
About the big crowds following him: "Yesterday was phenomenal. I keep them on their toes. They don't know where I'm going to go or what I'm going to do. Hell, I don't know."
But best of all, on the welcome the European Tour has given him: "I'm like Jesus, I love you all."
Aiken Breakin' Heart
Sarah has emailed from Johannesburg, asking after Thomas Aiken, "one of the best young players in South Africa."
The news is good for Sarah – Aiken shot a brilliant 67 to move to five under par after 36 holes.
Asked afterwards to talk about his good start to 2009, he said: "I've been working really hard … and I always believe that hard work pays off eventually. I've won seven times on the Sunshine Tour so I know what it's like to win."
About the course this week he added: "You sometimes take your medicine off the tee and sacrifice hitting a long iron into a small green just to keep it on the short stuff rather than hit it into one of those dreaded bunkers."
He also had something interesting to say about winning. "I don't think you ever find a win," he said. "I think it finds you. You really need things to go your way."
Proud father
I met a very proud father from the Canary Islands today. Senor Cabrera Bello was not able to see son Rafael make the cut, but the disappointment was tempered by the fact that his daughter Emma had shot 72 in Munich which, added to her first round 67, left her in the top five at the halfway stage of the German Open.
In an era of competitive dads it was refreshing to see his relaxed attitude to Rafael's struggles today – but perhaps he was able to reflect on the four top six finishes which have seen him establish a reputation as one of the Tour's finest young players.
Tip update
I caught up with Paul Casey just in time to find him buried in the bushes on the 17th hole. One hack, one large crash of ball on bark and one bogey later I was wishing I had left him to finish his round without my support. He still looks in the good position, holding a two shot lead.
Soren Kjeldsen and Marc Warren are also looking strong, and Anders Hansen knows how to go low on Saturday and Sunday, so I'm looking forward to the weekend.
Nice Guy David
Sometimes you hear stories of how the superstars of world sport can't help behaving like Prima Donnas, but one man who hasn't fallen into that trap is England's David Howell.
I was told a story today of how he tried a Stoats Porridge Bar from the bag of Paul McGinley and rather liked it. He contacted Stoats, asked if he could get some and was duly delivered a box of them. So far, so typical. But Howell then wrote Stoats a hand-written thank you note and, without being asked, added the porridge bars to the 'In The Bag' section on his website.
It's nice to hear that some players make a bit of an effort.
Wentworth wow factor
If you've never been to Wentworth to watch golf you really shouldn't delay. These days it is all to common to be fleeced by the sporting authorities when you have the cheek to support their event by purchasing an expensive ticket.
But at Wentworth the parking is free (not an expensive addition), the programme and draw sheet are complimentary and a shuttle bus whisks you around the course when your feet get tired (also no charge). As if that weren't enough, the course offers great viewing and is a complete pleasure to walk.
As an added extra, the shuttle bus offers a tantalising glimpse into the life of the rich and famous, allowing you the chance to peer over hedges and fences at the opulent houses and gardens on the estate.
As one of my fellow passengers noted, observing the busy building work going on around the course: "Not much of a credit crunch round here."
Don't cry for me Argentina
I bumped into a businessman from Buenos Aires on the 17th fairway this afternoon. Jaime is in London for work purposes but felt compelled to come and support his fellow countrymen as they attempt to add another title to their growing haul.
"Golf is becoming very popular back home," he told me. "Angel Cabrera is a hero and we had parades for him when he won the Green Jacket. But we hope Andres Romero and Tano Goya will also win majors. The future is good."
Argentine golf has a very strong domestic tour and it is churning out young, hungry and aggressive players. "I have been to see them," Jaime told me. "When Cabrera came back from Augusta the crowds were big for a tournament in Argentina. It is good news and it will get even better, I think."
Jaime wasn't quite so pleased when Romero dropped six shots in three holes, but he was still hopeful of a good finish. "I will be back on Sunday," he told me. "Viva Romero!"
11.00am
Sense of occasion
Earlier in the day, Matt Cooper had written: The Friday morning sunshine has brought the crowds out and put smiles on everyone's faces. There is a real sense of occasion in the air and yet, despite apparently perfect conditions, plenty of players continue to struggle.
I walked the course this morning following the best of the morning groups. Young guns Alvaro Quiros, Martin Kaymer and Andres Romero impressed – long, straight and relatively comfortable on the greens.
But the only other early starter to thrive was 'The Mechanic' a.k.a. Miguel Angel Jimenez. He is less elegant and lacks the short game skills of his compatriot and playing partner Jose Maria Olazabal. And he is not as long or free-swinging as his other partner Angel Cabrera. But he is scoring better than both and that's what matters.
Not quite falling apart at the Siems
'Thorpy' emailed in requesting a player report on Marcel Siem so I caught up with him around the turn. The pony-tailed long-hitter was a little on the wild side off the tee, slashing his drive on the ninth into the trees.
Nor was it the first time – according to the lad carrying his three-ball scoreboard he had to chip out sideways on the fifth and was regularly getting himself into trouble with the driver.
His approach play, however, was solid, his putting excellent and he wasn't displaying the wild moods that sometimes grip him.
The scoreboard carrier confirmed this was typical of his entire front nine. I left him after he hit a fine drive down the 12th fairway. The