US held to 3-all on "crazy" day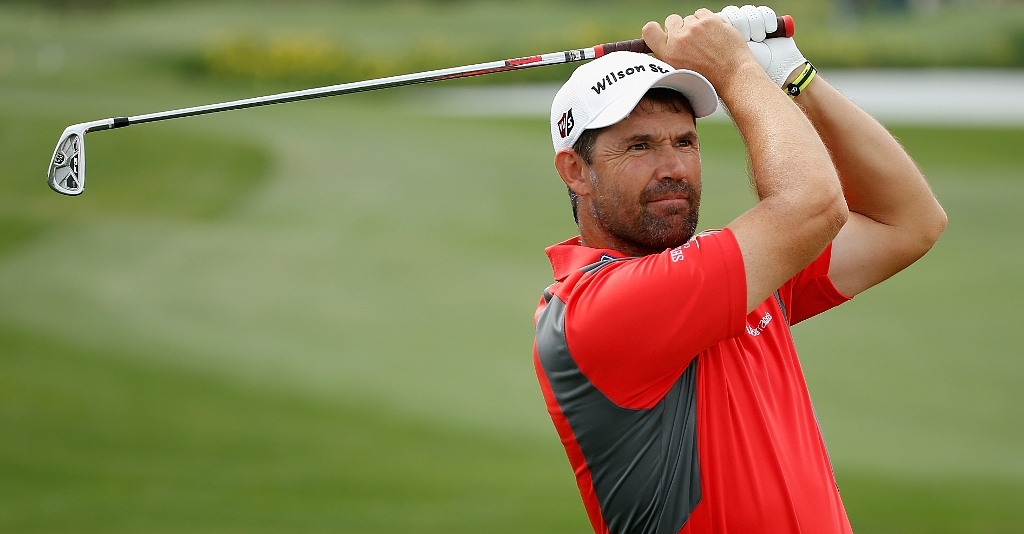 A searing Northerly wind enabled Royal Melbourne to bare vicious teeth on Friday, as the Internationals squared the fourballs.
A searing Northerly wind enabled Royal Melbourne to bare some vicious teeth on Friday, as the Internationals squared the fourballs, but allowed the USA to hang on grimly to their two-point overall lead.
Fred Couples's Americans started with a 4-2 lead and held on, this time when rock-hard greens combined with the endless wind to make putting a nightmare, to a 3-all result in Friday's opening round of betterball golf and finished the day at 7-5 heading into Saturdays rounds of morning foursomes and afternoon fourballs.
But Greg Norman's men, stung by Thursday's disappointing result, didn't make things easy for the Americans who had to fight off a late charge by the Internationaels to keep their lead.
Phil Mickelson, who teamed up with Jim Furyk again to edge Australia's Adam Scott and Korea's Kim Kyung-tae 2&1 for the pair's second win, described the conditions as being "crazy".
"This was a case where we're trying to read the wind on the putts," the four-times major champion said in a greenside interview. "I hit a couple of good putts that didn't go in and it kind of affected my confidence."
After stumbling under the pressure in Thursday's opening foursomes, the Internationals showed a large measure of courage and tenacity to grind out three tense victories and level the day's score at its end.
Australia's Aaron Baddeley, in particular, earned some redemption following his meltdown at the 18th tee on Thursday, cooly sinking the winning putt on the last after carrying his for-once wayward playing partner Jason Day to a one-up victory over Tiger Woods and Dustin Johnson in what was Tiger's second defeat of the tournament following his crushing 7 and 6 loss to Adam Scott and KJ Choi on Thursday when he partnered Steve Stricker in what was previously an unbeaten combination at the President's Cup in 2009.
"Thursday was very disappointing, even though we still got a half," Baddeley said.
"But it was great to bounce back today and like Jason said, we are a team and I feel like we feed well off each other and we get on great out there."
Geoff Ogilvy, now wearing a moustache, also held his nerve superbly when nailed in the winner on the 18th against Bill Haas and Nick Watney after both he and South Korean KJ Choi had greatly impressed with their work off the tee.
Couples had split up Woods and partner Stricker after their implosion and in the case of Stricker, playing in his first completive golf after being sidelined for more than a month with a neck injury, it worked.
Stricker watched his playing partner Matt Kuchar notch four birdies in his first 12 holes to give their country's fifth pairing a crushing 4 and 3 victory over Australia's Robert Allenby and South Korea's YE Yang, neither of whom has yet to play in a winning pairing.
Kuchar's round featured one of the day's highlights – he drained an astonishing 40-feet putt from the apron of the 12th which edged a greenside bunker before drawing a huge roar from a packed gallery when it finally dropped into the cup.
Presidents Cup rookies Bubba Watson and Webb Simpson made it two wins in a row over South Africa's Ernie Els and Japan's Ryo Ishikawa whom they also beat in Thursday's foursomes, this time clinching a narrow 2&1 victory on the 17th.
"Yes, I do, he's doing good right now, I'm riding his coat-tails pretty good right now so that's how we got two Ws (wins) out of it," said Watson when asked whether he would like to be paired with Simpson, one of the US PGA Tour's most improved players of 2011.
Retief Goosen, who never looked happy during Thursday's defeat with Allenby, was a different man playing with Masters champion Charl Schwartzel on Friday.
He always looked calm and composed as the South African combination took early control of their match against Thursday winners, Hunter Mahan and David Toms and went on to win 2 and 1.
Couples and Norman both said were happy with their teams' performances in the conditions, which saw wide-eyed players often show sheer amazement at some of the things that wind and the rock-hard greens did to their putts and approach shots.
"I'm proud of all of these guys," said Couples.
"We hung in there, we won three points, we did not lose any ground … I like where we sit."
Friday's fourball results
Webb Simpson/Bubba Watson bt Ernie Els (Rsa)/Ryo Ishikawa (Jpn) 2/1
Dustin Johnson/Tiger Woods lost to Jason Day (Aus)/Aaron Baddeley (Aus) 1 down
Phil Mickelson/Jim Furyk bt Adam Scott (Aus)/Kyung-Tae Kim (Kor) 2/1
Bill Haas/Nick Watney lost to K J Choi (Kor)/Geoff Ogilvy (Aus) 1 down
Matt Kuchar/Steve Stricker bt Robert Allenby (Aus)/Y.E. Yang (Kor) 4/3
Hunter Mahan/David Toms lost to Charl Schwartzel (Rsa)/Retief Goosen (Rsa) 2/1
USA 3, International Team 3
Overall lead after two rounds:
USA 7, International Team 5