Twitter Talk: Golfing gossip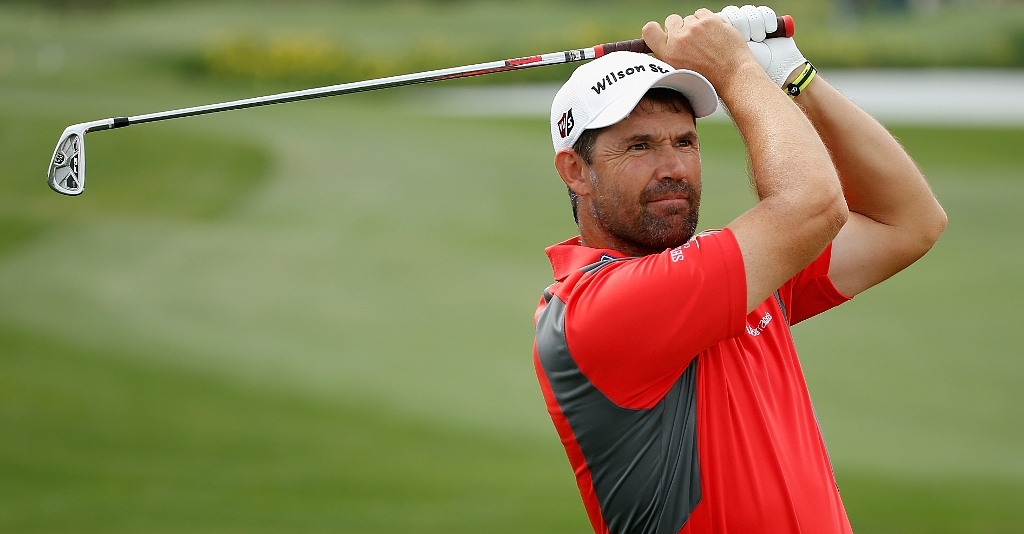 A feud involving Ian Poulter, some gossip from the Presidents Cup hopefuls and Michelle Wie's off to the Olympics!
So what have the top golfers been saying on Twitter this week?
There's only place to start – the feud involving Ian Poulter (Ianjamespoulter – follwers 699,026).
It was nicely documented by UK golf blogger Andy Wool (@akw144) who concluded that: "it's a bit of a 'how not to' for celebs on Twitter. Enjoyable none the less…"
Not surprisingly, it starts during an Arsenal game (Poulter is a big Gunners fan) although, at the time, Poulter's tweet seems pretty innocuous.
'What a amazing 20 yard volley from Fabregas' he says, only to draw this reply from RTOAD:
'wasn't really amazing was it you slippery wannabee piece of SH*T'
A cleary irked Poulter responds 'who is the wannabee with 51 friends your looking a little light, grow up, or shall I just say grow. Novice.'
And, as the feud escalates, Poulter points out just how popular he is: '692,692 followers know what i mean. shame you dont. silly boy grow up.'
RTOAD hits back: 'please jump out of your own arse and don't insult my intelligence you ignorant, simple, dense little man.'
And so it goes on. Real head in the hands stuff if you're Poulter's PR people, with the Vic Reeves catchphrase "You wouldn't let it lie" springing to mind.
However, Poulter being Poulter he'll probably take the positives. More publicity and hence another step towards his stated aim of getting 1million followers.
For full transcript of the feud, check Andy's blog.
Michelle Wie (themichellewie – followers 10,202) has had a tough time from the press and indeed fellow players over the years but she changed opinions at the recent Solheim Cup and comes across on Twitter as both intelligent and charming.
Here's a couple from the last few days:
'So I'm a huge klutz. I resprained my ankle on the way to lunch and then I burnt my finger when I spilt hot tea on it.'
'I need bubble wrap for my body….'
'Now off to Copenhagen to do the final push for golf to be in the olympics!!!' (Michelle, along with Padraig Harrington, is off to participate in golf's final presentation of its Olympic bid to International Olympic Committee members in Copenhagen on Friday – full story.
And what about those heading off to play in the Presidents Cup in San Francisco this week?
Disappointingly, only a handful use Twitter (pull your finger out Tiger!), although some of those bound for San Francisco are the most entertaining users of social media.
We'll start with the daddy, Stewart Cink (stewartcink – followers 967,258):
'went by to see butch for three hours on the way to Prez Cup in SanFran.'
'played there today. Very good track and best greens I've ever putted.
'Text from Bubba Watson: "Can you Twitter that I am on Twitter?" @bubbawatson. Resourceful..'
USPGA champion YE Yang (Y_E_Yang – followers 601) is fast gaining a reputation as one of the most excitable tweeters around.
'the greens are the best I have ever seen. the tees have better grass condition then most greens ive seen, they have 158 rds per year – ha!!'
'arrived at SF. checked into the Fairmont Hotel. the site of "the Rock" filming. don't see any yellow ferraris. hotel is very posh'
'the weather here and the scenery in Northern Cali is just magnificent. Mike Wier, Geoff Ogilvy and Goosen. T Clark all checked in.'
'i am officially excited. AJ says the course is cool.'
Hunter Mahan (Hunter Mahan – followers 737) played some great golf in the Ryder Cup last year and appears to be in giddy mood heading to San Francisco.
'On the plane ready to go to San Fransisco!! Can't wait for In n out, MJ, and the presidents cup!!!'
'In San Fran playing Harding park, in great shape can't wait till Thursday!!'
'Just played golf with Michael Jordan!!! Couldn't have had more fun!!'
If you want dry wit then turn to Geoff Ogilvy (geoffogilvy – followers 7,062).
'We are having dinner with a shark tonight'
'The view from team dinner tonight' (click through to picture of Golden Gate Bridge)
'And this is the view from the room. Just a reminder where the shark may send us if we misbehave' (Geoff puts up a picture of Alcatraz).
Just before publishing this article, I've just noticed that the latest tweet in my list is from Natalie Gulbis (natalie_gulbis – followers 28,560)
It reads: 'Me and the morning Bagpiper'. Pardon? You'll just have to look it up yourselves!