Top 10: Padraig edged Tiger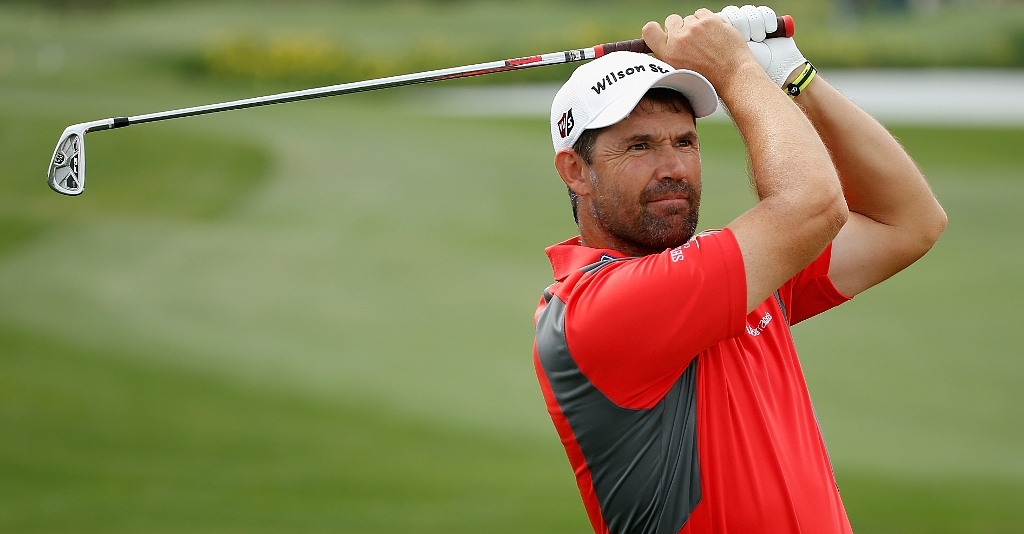 Tiger Woods, as always, was seldom out of the headlines, but 2008 could hardly be called another 'Year of the Tiger'.
Tiger Woods, as always, was seldom out of the headlines, but 2008 could hardly be called another 'Year of the Tiger".
Not with Padraig Harrington taking advantage of Tiger's injury-enforced absence in the magnificent way he did.
And because of this, Golf365 has had no hesitation in installing Harrington at the top of our list of golf's Top 10 male performers in 2008.
Ireland's newest sporting icon stepped up to the plate at Royal Birkdale Golf Club in Southport, Lancashire, England, in July to defend the coveted Open Title he'd won in 2007 and then, against all expectations and to the delight of a Europe grown tired of watching Americans and the occasional South African or Australian winning this hard-to-come-by title, Harrington did it for a second successive time.
But if that wasn't enough, he went out, just three weeks later to face the best golfers the world could throw at him in the final major of the year, The PGA Championship, at Oakland Hills Country Club in Michigan, USA and despite almost withdrawing with a painful twinge in his upper torso midway through the event, he astounded the world once more by becoming the first European since Scotland's Tommy Armour in 1930 to carry off another American-dominated title.
On the basis of these heroics he was quit rightly named the player of the year on both the US PGA and European Tours, but there will always be speculation that things might have been so different if Woods had been able to contest The Open and the PGA.
This almost certainly because of the utterly dominant way in which the American World No 1 had started his year.
In 2007 he had won nine events on the trot and after winning his first four tournaments in a row, it was not altogether surprising when he suggested on his official website that winning the Grand Slam in 2008 (all four majors in the same year) was "entirely within reason."
It was not to be. His string of victories ended abruptly at WGC-CA Championship at Doral and his Grand Slam hopes were destroyed by Trevor Immelman at the opening major of the year, the Masters.
Only Woods and a few close friends and associates knew how bad his left knee was at the start of the 2008 season and that this was because He had ruptured the knee's anterior cruciate ligament in July 2007 while running.
But a swing change he and coach Hank Haney had cooked up to take pressure off the knee was working so well that after those early wins his plan was to have the knee fully repaired after the PGA
But problems at Augusta where he was to finish second to Immelman forced him to undergo arthroscopic surgery two days after the Masters and that sidelined him right up until the US Open at Torrey Pines with no warm-up curtain raisers.
Worse still he had to endure the incredible pain of playing on a leg with two stress fractures in his tibia, and on a knee in which his femur, tibia and fibula constantly ground against each other, bone on bone.
He winced and grimaced almost every time he swung his clubs as most photos of his US Open heroics will testify to, but amazingly he went on to beat Rocco Mediate in a play-off to claim his 14th major before finally heading back to hospital just a day or two later
"Really, there is no way I should have won," he said with the same humility that was evident when he praised Harrington's choice as Player of the Year on the US PGA Tour.
Harrington and Woods were clearly the men we'll remember most when we look back on 2008, but not by any stretch of the imagination were they the only heroes.
There were a good many others, not the least of them being veteran Vijay Singh, who, just when the world was beginning to think he had had his day and would need to wait the three-or four years it would take him to qualify for the senior Tour before he won again, got back on the winning track.
So successful was he in fact that with the first two (the Barclays and the Deutsche Bank Championship) of the four play-off titles among his three US PGA Tour triumphs in 2008, he had already clinched the $10 000 FedExCup retirement bonanza before the play-off finale, The Tour Championship.
He only needed to finish this limited event without a cut to go home to a Christmas break with a bag-load of 2008 prize money that amounted to more than $18 million.
And while on the Fed-Ex Cup, we should not forget the other major highlight it produced.
The Colombian young gun Camilo Villegas finally turned huge potential into extraordinary ability by winning each of the last two play-off events, the BMW Championship and the Tour Championship.
Indeed when the US PGA Tour ended it was with great expectations of Villegas and the cocky young American find of the season Anthony Kim, also a multi-title winner in 2008 and one of America's major heroes in their 16.5-11.6 fight-back Ryder Cup victory at Valhalla Golf Club in Louisville.
An irritatingly aggressive competitor to European observers but a star to the Americans, Kim took on Europe's No 1 golfer Sergio Garcia in the lead-off singles match of a very tight fight, but without a sweat, easily trounced the Spaniard to set off the final-day US charge to victory.
There were other American Ryder Cup heroes, Kentucky home-favourite Kenny Perry among them, but perhaps the man that stood head and shoulders above the rest in this year's trans-Atlantic match-play battle was the US captain Paul Azinger.
His battle strategy was superb, starting by ensuring the course played to the American strengths while simultaneously convincing the media that Nick Faldo's defending champions from Europe were earmarked as the big favourites to win again.
Going on from there he seemed to pick better doubles combinations and a better singles line-up than Faldo and then sent them out with more fire in their bellies than Faldo's men.
Finally he enlisted the American public as motivating praise-singers for his 12-man team, but as concentration-wreckers for the invading Europeans.
One man who was not unsettled by all this Ryder Cup psychology was the Swedish giant Robert Karlsson, who after Harrington, was to become the next biggest European star of 2009 and the last winner of the European Order of Merit crown before it is transformed into the Race To Dubai in 2009.
That Karlsson was able to holds his head up high after, and in spite of, Europe's Ryder Cup defeat, may have been because he came into the event in a rich vein of form.