Top 10 Golfers on social media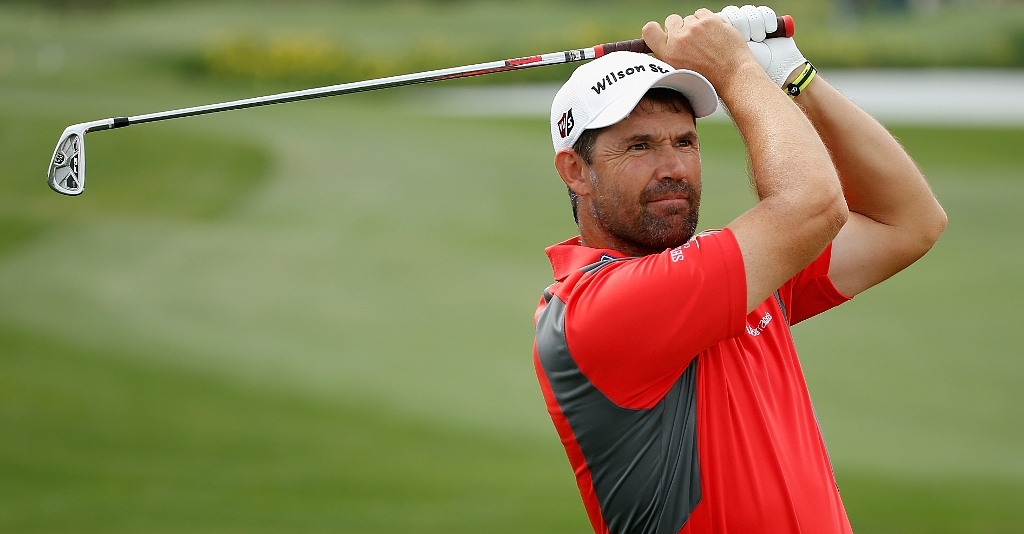 Ahead of this year's Ryder Cup at Hazeltine in Minnesota, which players should you be following for the best in golf media?
Number 10: Sergio Garcia
The Spanish superstar known as El Nino sneaks on to the list at number ten with a total of 546,580 followers, with over 425,000 of those being on Twitter.
Born in Castellon, the 36-year-old has an impressive 11 European Tour wins to complement the eight he accrued on the PGA Tour circuit. Sadly, Garcia was always the bridesmaid and never the bride, finishing second four times in his major tournament career.
So happy about how well the Valderrama Spanish Open hosted by my foundation went! Thanks @GarethBale11 for visiting! pic.twitter.com/h3SzRQFLHa

— Sergio Garcia (@TheSergioGarcia) April 17, 2016
Sergio's Twitter account (@TheSergioGarcia) is very pleasing on the eye, and is a perfect example of how to use social media to promote your brand. There are several pictures of him and his wife all lovey-dovey with various celebrities, plus plenty of images documenting his sporting ventures around the world. He even posts every tweet in Spanish and English! Good job Sir.
Number 9: John Daly
John Daly cracks the top ten of the list with a combined following of 571,308 people including over 445,000 Twitter followers and 126,210 Facebook likes.
The 49-year-old turned professional back in 1987, and has five PGA Tour wins to his name in addition to three European Tour victories. He cemented his place as one of the brightest talents in the sport back in 1991, winning the PGA Tour Rookie of the Year, and won Comeback Player of the Year in 2004.
Tryin to navigate this @Snapchat & keepin up with #technology #AmItheonlySeniorOnSnaphat #picvideofun #Pga_JohnDaly pic.twitter.com/RF4CVdZo0v

— John Daly (@PGA_JohnDaly) March 23, 2016
Going by the handle @PGA_JohnDaly, it is clear that the 'Wild Thing' is attempting to engage with the younger generation. He even has a snapchat too, and donned the hashtag '#AmITheOnlySeniorOnSnapchat', in which he posts pictures with 'beach babes'.
Number 8: Lee Westwood
The first Brit on the list comes in the form of Westy, the Worksop-born sultan of the gold swing. Despite not having a Facebook page, he still has a following of over 805,000 on his Twitter handle @WestwoodLee.
Westwood also has 23 European Tour wins, tied for the eighth most in history, and came second at the recent Masters Tournament at Augusta. He first burst onto the scene in 1997, winning the Volvo Scandinavian Masters, and has since put the small area of Nottinghamshire firmly on the map.
What a healthy pair of ears I've been given!%uD83D%uDE02 https://t.co/5l1RRhhhlJ

— Lee Westwood (@WestwoodLee) April 16, 2016
Lee has a Twitter account that mirrors his cheeky personality; engaging with fellow pros in banterous exchanges and retweeting support. Only downside: lots of brand plugging. Otherwise, top stuff.
Number 7: Graeme McDowell
Graeme McDowell comes in at an impressive number seven on the list with a following of 873,200, including over 720,000 on Twitter.
'G-Mac' sprung to fame when he won the 2010 U.S. Open at Pebble Beach, which ended a 40-year drought of having no European winners of the competition. The Northern Irishman has a combined 13 PGA and European Tour wins at just 36-years-old.
>>memories

RT @pcaseysafc Testing a new app with a throwback pic of @Graeme_McDowell on his way to US Open win! pic.twitter.com/CshIcEh0YK

— Graeme McDowell (@Graeme_McDowell) April 14, 2016
Mr McDowell definitely runs the best Twitter account (@Graeme_McDowell) of the list so far, having Q&A sessions with fans using the hashtag '#askGMac' and posts regular pictures at events and the other things that golf people do.
Number 6: Stewart Cink
The impressively named Stewart Ernest Cink is next on the list and is the first golfer to crack 1,000,000 followers on social media, with over 1.1 million Twitter followers.
Born in Alabama, the 42-year-old has not had a vast wealth of success, but his 2009 Open win in Scotland was enough to catapult him into star status. A consistent player, he has appeared in the top 10 of the Official World Golf Rankings for over 40 weeks between 2004 and 2009.
I may not be very high in most @PGATOUR stats this season but I bet I'm near the top in parking violations! pic.twitter.com/53XnBPXamO

— Stewart Cink (@stewartcink) April 25, 2016
Cink has a pretty good Twitter account in all honesty, and has the rather self-explanatory handle @StewartCink. He doesn't tweet all that often, but there are some funny pictures and good bits of fan engagement. His profile picture is him with a burger and fries smiling delightfully, so what's not to like?
Number 5: Rickie Fowler
Rickie Yutaka Fowler only turned professional in 2009, making his following of 1,134,071 on Twitter all the more impressive.
The California-born 27-year-old spent 37 weeks ranked as the number one amateur golfer, and reached a new high earlier this year when he was placed fourth in the Official Golf World Rankings. He hasn't yet won a major championship, coming second in both the US Open and The Open Championship, but there is plenty of time yet.
#SB2K16 @JordanSpieth @JustinThomas34 @SmylieKaufman10 appreciate the support @Casamigos pic.twitter.com/R1drwspfXH

— Rickie Fowler (@RickieFowler) April 20, 2016
Fowler updates his Twitter page (@RickieFowler) fairly frequently; not hourly or even daily, but the content is interesting. Plenty of pictures and retweets of related content, but Rickie could gain a few more marks for a bit of fan interaction.
Number 4: Bubba Watson
Ah, Bubba. Known as one of the most eccentric characters in golf, it is no surprise to see him crack the top five of this list with a combined following of almost two million.
In addition to being one of the boldest dressers, the Bagdad-born (that's without a 'h', in Florida) lefty is one of the most likeable people in the sport. He famously won the Masters in 2012 and 2014, shedding a few tears in the process. His story in itself is worth a read; a true fairytale of the sport.
#GenzonGolfClub #nitegolf #ShenzhenIntl pic.twitter.com/vetxVI9byJ

— bubba watson (@bubbawatson) April 22, 2016
Most of his following comes from his Twitter page (@bubbawatson, with over 1.2 million), and it is a real candidate for the best account so far on the list. Bubba often posts videos of himself playing golf, documenting his travels and keeping fans updates. Plus, his avatar is a caricature of himself, so that's pretty cool too.
Number 3: Ian Poulter
The second and also the highest ranking Englishman on the list comes in the form of Ian Poulter, who has the small matter of over 2.2 million followers on his account @IanJamesPoulter.
Boys will be boys… @tomsstory football banter. And a little side wager on who can hoop it first.. pic.twitter.com/exXu4FJnsp

— Ian Poulter (@IanJamesPoulter) April 19, 2016
Poulter has 12 European Tour wins and now currently resides in Orlando, a far cry from his roots in Hitchin, Hertfordshire. Sadly, Ian hasn't yet won a major championship, his best result being second place in the 2008 Open Championship.
However, his social media is a pure winner. 'Poults' updates his Twitter page several times a day with pictures, and interacts with other professionals in an expectedly banterous manner.
Number 2: Rory McIlroy
Rory McIlroy has been the face of British golf in recent times, and the Northern Irishman's rise to stratospheric sporting fame is evidenced by having over a million Facebook likes and almost three million Twitter followers.
Aged just 26, 'Wee Mac' has accrued a staggering four major wins already. His first was the 2011 US Open, which he followed up with two PGA Championship wins (2012 and 2014) and an Open Championship win in Liverpool in 2014.
After seeing all these snapchats over the last few days… Maybe I should have taken @RickieFowler up on the invite! pic.twitter.com/6vWoFV9LlU

— Rory Mcilroy (@McIlroyRory) April 22, 2016
Rory tweets from the handle @McIlroyRory, and has a mixture of content including photos, news and occasional reminders of his love for the Gunners. He was born in Hollywood (albeit the County Down one) and seems destined to be a star.
Number 1: Tiger Woods
Tiger Woods quite simply IS golf. His off-course antics leave a lot to be desired, but everything about the exposure of the sport in the 21st century ultimately boils down to his dominance. With a following of almost nine million, he trumps everyone on the list comfortably.
Given the excellent birth name 'Eldrick', the Tiger has dominated the sport since turning pro in 1996. He has 14 major championship wins, with three victories in both the US Open and Open Championship, plus four wins in each of the Masters Tournament and PGA Championship. His last one came in 2008, however though his 79 PGA Tour wins ensure he will be part of the fabric of the sport for decades to come.
I was lucky to have met and witnessed the most talented entertainer in history. Rest in peace my brotha. pic.twitter.com/ZXB5BfBVMS

— Tiger Woods (@TigerWoods) April 22, 2016
Unfortunately, Woods is somewhat in the wilderness when it comes to his Twitter account. That said, he posts something a bit different from most, essentially monologuing his life experiences and tweeting about fellow professionals rather than spamming with pictures of where he is on holiday every week.
That wraps up the list of the top ten most followed golfers, now all that's left is to give them all a follow and pick a favourite ahead of the Ryder Cup this year!