Tiger top, but watch Sergio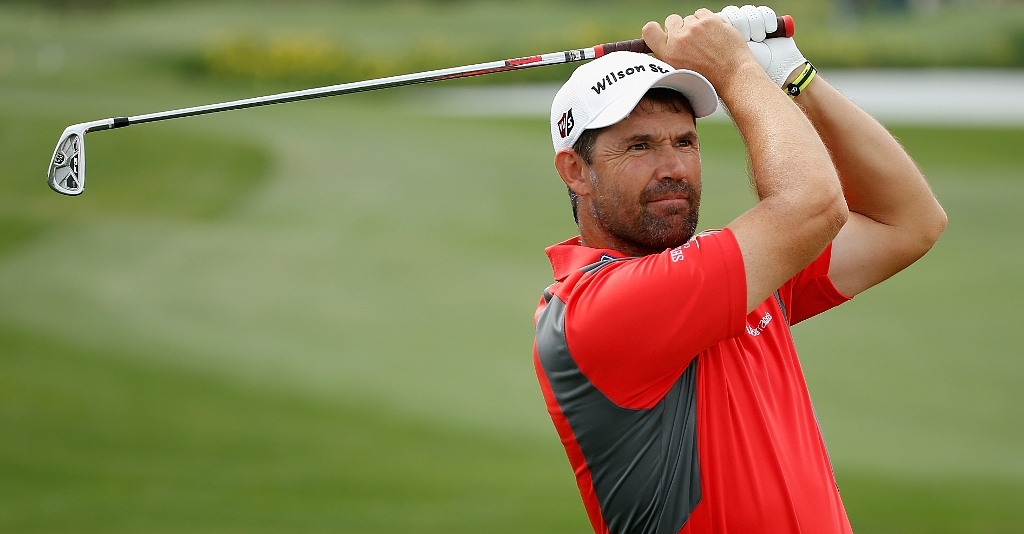 Sergio Garcia may still be a bridge too far from winning the FedEx Cup this year, but he has certainly put his stamp on the Cup's upcoming Playoffs.
He made sure of that with his impressive victory in Monday's rain-delayed final round of the Wyndham Championship.
The highly talented 32-year-old Spaniard produced some of his finest vintage golf in the 14 holes he needed to complete the final round, the highlight of his run being birdies at 15, 16 and 17 that took him clear of the field and looked to have set him up for a runaway, four-shot victory.
In the end it wasn't quite as substantial as that. Tim Clark's amazing monster putt at 18 and a Garcia bogey at the last which didn't really matter, saw a late, two-shot swing reduce his victory margin to just two.
A slightly disappointing finish, yes, but in winning as he did, Garcia climbed up 69 rungs on the FedEx Cup standings into 33rd place and, judged on the quality of golf he is playing right now and his new, positive mind set, this certainly won't be the end of his charge as US golf gathers a head of steam and launches itself into it's four-tournament, FedEx Cup Playoff climax starting with this week's The Barclays at Bethpage Park's ultra-tough Black Course.
The problem he faces if wants to walk away with the multi-million bonanza that will go to this year's compiler of the most number of points in The Barclays and the three events that follow it, the Deutsche Bank Championship at TPC Boston, the BMW Championship at Crooked Stick, and The Tour Championship at Eastlake, is the large points gap that currently separates him from FedEx table-topper Tiger Woods and close pursuers like World No 1 Rory McIlroy, 2012 PGA Tour stand-out Jason Dufner, back-in-form Zach Johnson and reigning Masters Champion Bubba Watson.
He trails Woods by 1,334 points, Dufner by 1175, McIlroy by 1157 and Johnson and Watson by 1084 and 842 respectively – and that's just for starters because right behind them come the likes of high-flying Carl Pettersson, 2011 PGA champion Keegan Bradley, 2012 US Ryder Cup qualifiers Matt Kuchar and Steve Stricker and Ernie Els, last month's winner of The Open Championship.
Garcia shouldn't have too much trouble staying in the Play-offs race as the field reduces from the 125 who'll start The Barclay's to the 100 that will go forward to the Deutche Bank, the 70 to the BMW and the 30 who will finally contest the Tour Championship, but catching and surpassing a high-class posse like the one I have just mentioned will take four weeks of sensational golf that, I have to say, looks beyond the capacity of anyone in Garcia's position right now.
But that doesn't mean of course, that the new-look Garcia we saw hitting his driver long and straight – he averaged more than 300 yards, despite the soft, rain-soaked fairways at Sedgefield Country Club on Sunday – striking his irons with exquisite skill and wielding his putter with greater feel than we've seen for some time, won't be a strong contender for one or even more Playoff titles in the course of the next month.
"A lot of the things that I did last year really helped a lot," Garcia said of his win on Sunday. "The way I played the US Open and then the way I played in Germany to get myself into the British Open, the way I finished the year in Europe and at the end of the day, I know how much they mean to me."
Garcia might also remember that after his last win on the US Tour – in The Players in 2008 – he had an exciting run in the Play-offs, finishing second at The Barclays, joint 5th at the Deutche and second again in the Tour Championship
So yes, if he can keep his momentum going he might well be one of the men to watch at The Barclays where he'll tee-off on Thursday against the bulk of the World's best golfers including a still struggling Padraig Harrington who, at No 62 in the FedEx Cup standings, is fighting for his Ryder Cup life as he bids against the likes of Ian Poulter and Nicolas Colsaerts for one of European skipper Jose Maria Olazabal's two wild-card picks.
Heading the big gun brigade at The Barclays, Rory McIlroy will, of course, be oozing confidence after his masterful win at the PGA Championship earlier this month and after a break last week to spend time with his tennis star girl-friend Caroline Wozniacki, he may well have shed the emotional baggage that so often comes with winning a major and will come out again with all of his guns blazing
But like everyone else hoping to win leg-one of the FedEx Cup Playoffs this week, McIlroy is going to have to first get past The Tiger who not only can claim to be the US PGA Tour's only three-time winner so far this year and it's only two time winner of the FedEx Cup, but also to have already been a big winner at Bethpage Black, this in the US Open in 2002.
He had not fully recovered from knee surgery when the US Open was next hosted by Bethpage Black in 2009. Ironically, Lucas Glover, who beat Phil Mickelson to win the title, will not be playing this week. He missed the 125-man cut.
Tiger, on his day, is still a force to be reckoned with, but he doesn't have his day as often as he used to and if he is unable to bring his A Game to the table for all four rounds this week, there are a host of other hungry antagonist apart from McIlroy, who are waiting to step in and claim this week's swag, one of these men being the in-form Carl Pettersson.
Pettersson, who tied for third at the PGA Championship, didn't win this week at Sedgfield, but he did finish fourth and moved to No 7 on the FedEx standings as he kept his momentum going.
So don't count him out – and you can say the same about the back-in-form South African, Tim Clark, who made the second largest move in the FedEx standings on Sunday, rocketing from No. 109 to 54th with his second place finish at the Wyndham.
"Five weeks ago, I wasn't even in the Playoffs," Clark said afterwards. "I had to play some decent golf going in and now that I've hit my stride I've moved up.
"It's a big thing. But when you're playing good golf, you can really make a move. I'm excited about the next few weeks," he added.
It might be worth taking a note of what he said.
Jimmy Walker, also a strong finisher on Sunday, is another hitherto middle-of-the-road golfer worth keeping an eye on. The lanky American is clearly benifitting from his link-up with his new coach, Butch Harmon, and now at 43rd in the FedEx standings, he has every reason to set his sights on making the final 30 at the Tour Championship
"That's the goal, top 30," he says. "Kind of the golden ticket out there. It tends to pretty much take care of everything. That's the goal. Keep hitting it good and I think it's attainable."
Jason Dufner, who currently sits in second place behind Tiger, only 159 points back, definitely won't be the winner this week, but that's only because this suddenly-dangerous golfing predator isn't playing.
He has decided that a break rather than playing will be more beneficial to his long term plans for the Playoff and the Ryder Cup that will follow it.
The weather this week?
According to reliable golfweather.com, there'll be very little wind and hardly any rain at Bethpage Park this week.
The wind will increase from about 5 mph on Thursday, Friday and Saturday to a maximum of 8 mph on Sunday and there is only a 30% chance of some light rain at around midday on Friday.
This, of course, will take away some of unforgiving Bethpage Black's sharpest teeth and open up the contest to a wider variety of contestants – although there is the contrasting view that Tiger plays his best golf when the wind isn't blowing too hard and this week's weather will be right up his ally.
We'll soon see.The FedEx standings:
To give you a better idea of the huge array of golfing stars who have gathered to contest the FedEx Playoff series, here is the list of he 125 who qualified for this week's Barclays and how they stand points wise:
1 Tiger Woods 2,269
2 Jason Dufner 2,110
3 Rory McIlroy 2,092
4 Zach Johnson 2,019
5 Bubba Watson 1,777
6 Hunter Mahan 1,739
7 Carl Pettersson 1,691
8 Keegan Bradley 1,670
9 Matt Kuchar 1,600
10 Steve Stricker 1,456
11 Ernie Els 1,447 822
12 Justin Rose 1,426
13 Webb Simpson 1,424
14 Phil Mickelson 1,373
15 Scott Piercy 1,304
16 Luke Donald 1,294
17 Jim Furyk 1,284
18 Rickie Fowler 1,246
19 Brandt Snedeker 1,194
20 Johnson Wagner 1,181
21 Bill Haas 1,181
22 Kyle Stanley 1,177
23 Bo Van Pelt 1,175
24 Robert Garrigus 1,155
25 John Huh 1,123
1,14626 Dustin Johnson 1,097
27 Graeme McDowell 1,037
28 Marc Leishman 1,003
29 Ben Curtis 997
30 Mark Wilson 986
31 Martin Laird 976
32 Adam Scott 966
33 Sergio Garcia 935
34 Louis Oosthuizen 928
35 Bud Cauley 902
36 Charlie Wi 901
37 John Senden 867
38 Kevin Na 866
39 Ben Crane 849
40 Seung-Yul Noh 827
41 Brendon de Jonge 815
42 Ken Duke 776
43 Jimmy Walker 763
44 Ryan Palmer 745
45 Spencer Levin 735
46 John Rollins 732
47 Jonathan Byrd 732
48 Brian Davis 728
49 Nick Watney 726
50 D.A. Points 714
51 Lee Westwood 713
52 J.J. Henry 713
53 Matt Every 711
54 Tim Clark 707
55 Ian Poulter 698
56 Cameron Tringale 689
57 Vijay Singh 669
58 Jeff Overton 667
59 Charles Howell III 666
60 Troy Matteson 662
61 Ted Potter Jr 647
62 Padraig Harrington 646
63 Sean O'Hair 644
64 Ryan Moore 635
65 Aaron Baddeley 635
66 Michael Thompson 634
67 Charley Hoffman 628
68 Geoff Ogilvy 624
69 David Toms 623
70 Kevin Stadler 620
71 Sang-Moon Bae 604
72 Pat Perez 603
73 Rory Sabbatini 602
74 William McGirt 602
75 Blake Adams 599
76 George McNeill 599
77 K.J. Choi 597
78 Greg Chalmers 589
79 Dicky Pride 586
80 Chris Kirk 574
81 John Merrick 572
82 J.B. Holmes 568
83 Daniel Summerhays 567
84 Greg Owen 556
85 Martin Flores 556
86 Scott Stallings 554
87 Harris English 549
88 John Mallinger 543
89 Will Claxton 530
90 Charl Schwartzel 519
91 Chad Campbell 517
92 Tom Gillis 511
93 Andres Romero 506
94 Josh Teater 506
95 Fredrik Jacobson 500
96 Bryce Molder 495
97 Brian Harman 493
98 Ricky Barnes 489
99 Chris Stroud 484
100 Roberto Castro 477
101 Jonas Blixt 470
102 Tommy Gainey 464
103 Bob Estes 458
104 Kevin Chappell 447
105 Davis Love III 443
106 Graham DeLaet 441
107 Jeff Maggert 433
108 David Hearn 432
109 Kevin Streelman 424
110 Brian Gay 424
111 Gary Christian 422
112 Robert Allenby 417
113 Jason Day 417
114 Trevor Immelman 411
115 James Driscoll 408
116 Rod Pampling 398
117 Henrik Stenson 394
118 Troy Kelly 394
119 Billy Mayfair 393
120 Colt Knost 390
121 Harrison Frazar 387
122 Jerry Kelly 385
123 Boo Weekley 365
124 Heath Slocum 365
125 Jason Bohn 363