Tiger roars back in Abu Dhabi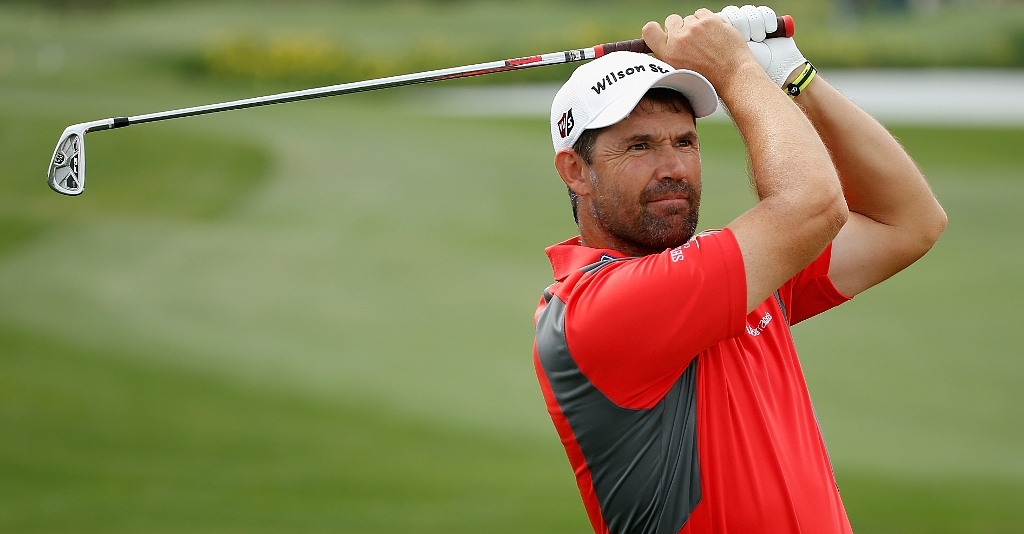 Tiger Woods will take a share of the lead into Sunday's final round of the Abu Dhabi HSBC Championship.
A resurgent Tiger Woods is back on the winning track.
He will take a share of the lead into Sunday's final round of the Abu Dhabi HSBC Championship after posting a sizzling 6-under 66 on Saturday.
He was ice-cool for most of the round, was accurate and generally error free with his woods and irons and chipped and putted with a wonderful feel for the greens as he moved into a position to win his first full-field event in the more than two years since his life was plunged into chaos by sensational reports that he had been cheating on his wife.
Woods won the limited-field Chevron World Challenge against 18 invited opponents in December, but he hasn't had a full-field victory since November, 2009, when he won the Australian Masters.
The American hit 10 of 14 fairways and 16 greens in regulation and needed 30 putts in what was yet another display here at the Abu Dhabi Golf Club of super solid golf that has leaked only two bogies in three rounds, and, taking his marvelous record as a hard-to-catch front-runner into account, Robert Rock, the Englishman who shared the third round lead with him at 11-under, and the rest of the stellar chasing pack are going to have to pull something special out of the bag to catch, match and beat him.
World No 3 Rory Mcllroy, who for the first time this week, found himself trailing Woods, shot a 4-under 68 to be tied for third with Swede Peter Hanson, Scot Paul Lawrie and Italian Francesco Molinari at 9-under.
A further stroke back were the South African duo of George Coetzee (65) and James Kingston (67), Frenchman Jean-Baptiste Gonnet (69) and overnight leader Thorbjorn Olesen of Denmark (71).
World No 1 Luke Donald, who played with Woods and McIloy in the first two rounds, has fallen out of the complicated equation at the top pf a packed leaderboard and, way down the field at level-par after posting a third round 1-over 73, the Englishman's winning hopes have come and gone
Woods, meanwhile, was playing such confident, controlled golf as he completed his second bogey-free round in three days, that he is looking like a really good bet
"I played well today." said the 36-year-old Woods afterwards. "I'm not doing a lot of things right, but not doing a lot of things wrong either. Just very consistent. Things are progressing.
"There are a ton of guys with a chance to win. We have not separated ourselves from the field. I need to go out there and put together a solid round of golf."
The lead changed hands several times on a day of perfect playing conditions which allowed for low-scoring on Abu Dhabi's normally unforgiving National Course.
Kingston, Gonnet, Hanson and Rock all took command of the lead at one stage or another, but it was Woods and Rock who came through at the end
Woods's six-under 66 was his best tournament score since he shot the same number in the second round of last year's Masters, but it was while playing at Augusta National that Woods picked up the leg injury that was to sideline him for most of last season.
For McIlroy, his playing partner for a third straight day, Saturday was something of a frustrating one that saw too many shots not quite go where they were meant to and too many putts slide past the hole and it all had the Northern Irishman muttering: "It would be nice to eliminate the mistakes tomorrow and have a good round."
Rock, ranked 117th in the world, birdied the last two holes to draw level with Woods and will play alongside the American for the first time in Sunday's finale.
Was he worried about being paired with a man who could go from 25th to No 11 in the World if he wins on Sunday?
Not at all. Indeed he was looking foward to the experience.
"How many chances will I get to do that? I want to at least say that I've done it once. I think I'll be all right," he said.
If Hanson can play the stunning golf he did on Saturday, the Swede might yet be the man to stop Woods from breaking his winless drought.
Hanson didn't put a foot wrong as he went from just missing the cut on Friday to shooting four birdies on each of the front and back nines in a flawless, best-of-the-day 8-under 64 that rocketed him into the front of the chasing pack.
More of this could sweep him to the title.
TOP 10 LEADERBOARD:
(Gbr and Ire unless stated, par 72)
205 Robert Rock 69 70 66, Tiger Woods (USA) 70 69 66
207 Francesco Molinari (Ita) 74 67 66, Peter Hanson (Swe) 74 69 64, Rory McIlroy 67 72 68, Paul Lawrie 70 69 68
208 Jean-Baptiste Gonnet (Fra) 68 71 69, James Kingston (Rsa) 72 69 67, Thorbjorn Olesen (Den) 70 67 71, George Coetzee (Rsa) 71 72 65