Tiger on top again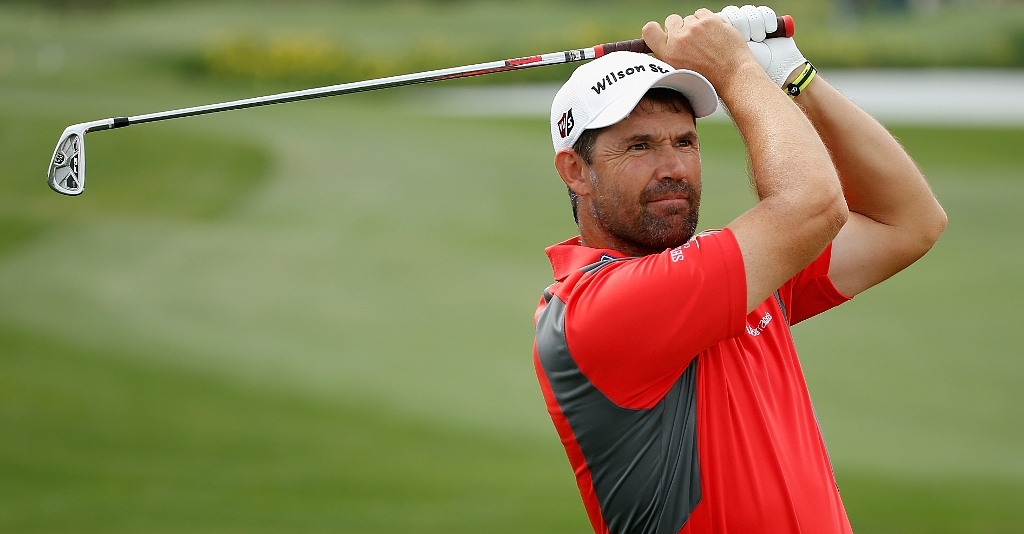 Tournament host Tiger Woods saw off defending champion Anthony Kim and Hunter Mahan to win the AT&T National.
Tournament host Tiger Woods saw off defending champion Anthony Kim and held off a last-round charge from Hunter Mahan to win the AT&T National at Congressional Country Club.
Woods collected his third victory of the year having won Arnold Palmer's event at Bay Hill in March and Jack Nicklaus's Memorial last month, by winning his own tournament by one stroke from Mahan with a final-round, three-under-par 67.
Mahan had earlier shot a 62 that matched Kim's course-record round from Thursday and took the American to 12 under but Woods moved in front with a birdie at the 16th and held onto his lead down the final stretch.
"It was a long week, but I got the win," Woods said. "I just felt that today starting out with looking at the pin locations that I felt like if I shot something under par it would be good enough, but it wouldn't have been.
"What Hunter did today was pretty impressive. I certainly didn't see that score out there. He went out there and put so much pressure on both AK and I.
"I think he was done when we were on 12, so six holes to go, and at the time I was tied for the lead. It was just like, you can go either way. You can win the tournament or you can lose the tournament from here.
"Just got to keep plodding along and hopefully maybe sneak one or two birdies coming in and get the title."
It was Woods' 68th PGA Tour win, moving him to within five of Nicklaus, and the champion said it had been different to his two previous victories this year.
"Today was different because Hunter posted so early, and you're in a position where you can lose a golf tournament, sitting that far back with that many holes to go.
"Granted, you can also win it, but also, you have more of an opportunity to go both ways. That puts a lot more heat on you, and on a golf course like this where birdies are hard to come by, that really puts a lot of heat on you.
"To play well and to have made birdies at the right time at Arnold's tournament and then to play well and make birdies on the last couple holes at Jack's tournament and then make a big putt today at 16, those really give you a lot of confidence because I could have easily lost those tournaments, like I did a couple other events this year.
"I was in position to win the events going into the Sunday and I didn't get it done. But I have gotten it done a few times, as well."
Woods finished at 13 under, a shot ahead of Mahan with Kim, having shot a 71 to finish third on nine under par, although the outgoing champion was philosophical in defeat.
"I know I'll be knocking at the door again, it's just a matter of time," Kim said. "I've gotten a lot better, stayed a lot more patient than I used to. So it's only a matter of time.
"I learned that if you have a birdie putt, you'd better make it, especially on the last day.
"Tiger obviously wins for a reason. He makes the putts when he needs to. Unfortunately they didn't drop for me today. They'll drop."
Bryce Molder finished in fourth place on eight under with US Open champion Lucas Glover, level for the day, and Brandt Snedeker, who shot a 67, tied for fifth at seven under.
Vijay Singh had showed that low scoring was possible with six birdies in his first 13 holes before two bogeys left the Fijian with a 66 to finish at six under for the tournament, tied for seventh with New Zealand rookie Danny Lee and Americans Jim Furyk and Cameron Beckman.
Justin Rose of England finished with a 69 to close at four under for a share of 16th, his first top-20 finish since the Masters, while Sweden's Daniel Chopra closed with a 71 to finish at three under in a tie for 20th.
England's Brian Davis and Martin Laird of Scotland posted a final-round 75 and 74 respectively, both men finishing on 11 over par for the tournament.
All the final round scores & totals in the USPGA Tour AT&T National, Congressional G & CC, Bethesda, Maryland, United States of America.
(USA unless stated, par 70):
267 Tiger Woods 64 66 70 67
268 Hunter Mahan 69 69 68 62
271 Anthony Kim 62 70 68 71
272 Bryce Molder 64 70 70 68
273 Lucas Glover 69 66 68 70, Brandt Snedeker 68 70 68 67
274 Danny Lee (Nzl) 68 67 69 70, Vijay Singh (Fij) 70 68 70 66, Jim Furyk 66 67 69 72, Cameron Beckman 68 67 66 73
275 Michael Allen 67 69 65 74, Matt Bettencourt 70 71 66 68, Ryan Moore 69 66 69 71, Fred Couples 72 67 68 68, Kevin Streelman 70 67 71 67
276 Justin Rose (Eng) 67 71 69 69, Davis Love III 69 67 70 70, Cliff Kresge 70 67 67 72, Stuart Appleby (Aus) 66 69 70 71
277 Rodney Pampling (Aus) 67 64 71 75, Daniel Chopra (Swe) 66 68 72 71
278 Ryan Palmer 69 67 71 71, Ryuji Imada (Jpn) 69 69 66 74, Y.E. Yang (Kor) 67 71 70 70
279 Aaron Baddeley (Aus) 72 68 69 70, Robert Garrigus 70 68 69 72, Marc Leishman (Aus) 70 71 67 71, Nick O'Hern (Aus) 71 70 71 67, Mark Wilson 70 67 70 72, Steve Elkington (Aus) 65 73 71 70
280 D.A. Points 64 70 72 74, Charles Warren 73 67 69 71, George McNeill 70 66 69 75, Tim Petrovic 68 71 69 72
281 Scott McCarron 72 65 73 71, Sean O'Hair 69 72 68 72, Joe Ogilvie 69 72 73 67, Webb Simpson 74 67 72 68, Nicholas Thompson 71 70 72 68
282 Steve Marino 73 65 68 76, Dean Wilson 69 69 72 72, Steve Flesch 69 72 71 70, James Nitties (Aus) 71 67 70 74
283 J J Henry 76 66 69 72, John Senden (Aus) 71 70 72 70, Chris DiMarco 70 72 74 67, Jason Bohn 72 70 67 74
284 Charley Hoffman 71 69 68 76, Jason Dufner 72 69 71 72, Mike Weir (Can) 71 71 72 70, Boo Weekley 67 69 69 79, Ted Purdy 73 66 69 76, Chez Reavie 70 71 70 73
285 Nathan Green (Aus) 71 71 66 77, Jeff Quinney 69 73 71 72, Bo Van Pelt 69 72 71 73, David Mathis 71 71 74 69, Harrison Frazar 69 70 74 72, Rocco Mediate 70 69 72 74, Peter Lonard (Aus) 70 70 72 73
287 Michael Letzig 68 74 74 71, Bill Lunde 70 68 71 78, Paul Goydos 73 68 74 72
288 Chris Stroud 74 67 75 72, Marc Turnesa 71 69 80 68
289 Nick Watney 70 72 72 75, Ricky Barnes 70 72 75 72, Notah Begay III 70 72 72 75, Troy Matteson 69 71 77 72
290 Kevin Stadler 69 73 75 73, Bart Bryant 68 72 73 77, Matt Hill 71 69 75 75
291 Brian Davis (Eng) 70 72 74 75, Jeff Maggert 72 70 77 72, Martin Laird (Sco) 70 71 76 74
292 James Driscoll 70 70 80 72