THE TIGER'S A'CHANGING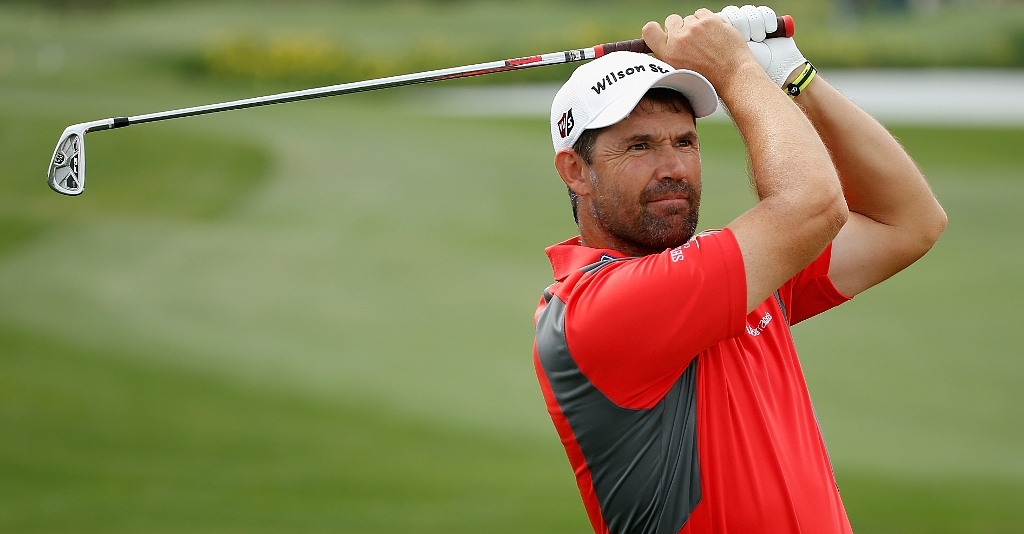 Tiger Woods has loosened a lot. He's smiling a lot more, groaning a lot more and punching the air a whole lot harder than I have ever seen him do before.
Tiger Woods has loosened a lot. He's smiling a lot more, groaning a lot more and punching the air a whole lot harder than I have ever seen him do before.
The stoney-faced robot we had become accustomed to seems to have discovered a way of letting off steam and enjoying himself without wearing his heart on his sleeve – or losing any of that legendary focus.
In short he seems to have become a much nicer guy, perhaps because of the softening influence of a wife and child, and this impression has been backed up by people like Irishman Damien McGrane, who played alongside Tiger for two rounds at Dubai last week and was pleasantly surprised to find the World No 1 much more friendly and encouraging than he had ever imagined,
Says McGrane in a report published elsewhere on this site: "The two days with Tiger were good. He is no more difficult to play with than anyone else; and he is very encouraging on the course.
"It was nice to play with him, he is a good guy and unless you play with him you wouldn't realise it. But it took it out of me playing with him twice."
In other words the World No 1 is no longer the intense, isolated antagonist whose massive focus and seeming hostility has destroyed the demeanor of so many of his playing partners – including some pretty ambitious 'Young Turks' like Sergio Garcia, Justin Rose and Paul Casey.
But he's not quite ready to become the 'nice guy who comes second'.
I nearly said he's left that role to big and amiable Ernie Els, but that might have been unfair.
Ernie took a bold risk when he went for the green on the par five 18th with his second shot on Sunday and seemed to be on track to a birdie that would have forced a play-off with Tiger or even an eagle that would have given him victory outright when a cruel gust of wing got up and caught his ball as it edged above the grandstand surrounding the green.
Was it shades of the shot that cost him the Dunhill Championship at Leopard Creek in his home country last year when he also dumped his ball in the water in front of the 18th green and lost an event he could have won with a cautious par?
No, this one was different. At the Dunhill he was reckless. There was no need for heroics. He could have laid up and won in a canter
At the Desert Classic he was a shot behind, not two of three ahead. He had nothing much to lose and everything to gain by being bold and in fact was applauded for his bravery by Tiger himself who admitted that a similar gust of wind in the third round on Saturday had also caused his second shot at the green to come up short and plop down into the water.
Said Tiger: "People don't realise how hard that wind blows above that grandstand. If you just upshoot it just a touch, that wind will just smoke it and that's what happened to me yesterday.
"I only had 235 and a 3-wood to the front edge. That's not a number that I'm ever worried about carrying, and I came up, what, 15 yards short easy."
For a while on Thursday when Tiger's game disintegrated a little and he slipped four shots behind Ernie, I and many others, I'm sure, thought, 'Oh well so the man is human after all'.
He might have been for just a few hours, but that was all, for he confounded us all on Sunday when he came out smoking with three birdies in just four holes and then slaughtered the Emirates course on the back nine with another six birdies that took him back to the top of the leaderboard and once more put him back in the superhuman bracket in what he truly believes is the greatest form of his life.
Right now its hard to argue that one – and here are just a few statistics to prove it.
– Tiger plays most of his golf on the US PGA Tour, but incredibly Sunday's victory was his 34th in his 80 starts in European Tour events which significantly include the four majors and the four World Golf Championship events.
– His victory in the Dubai Desert Classic was his second and he is now 80-under par for the 20 rounds he has played at the Emirates course, having broken par in 18 of his 20 rounds
– He is only the second player after Ernie Els (1994, 2002 and 2005) to claim multiple Dubai Desert Classic titles
– His first round 65 on Thursday equalled the lowest first round by any winner on the 2008 European Tour season to date
– The Dubai Desert Classic is the ninth different European Tour event in which he has recorded multiple victories.
– His four-shot, final-round winning comeback is the largest in Dubai Desert Classic history, beating the three shots of José Maria Olazábal in 1998 and Robert-Jan Derksen in 2003
– The win maintained his 100% record in 2008 – he has played two and won two, the first at the Buick Invitational last week
– His victory this week was the second by an American on the 2008 European Tour, Phil Mickelson having won at the HSBC Champions late last year.
– it was also the fourth by an American in the Dubai Desert Classic – Woods in 2006 and 2008, Fred Couples in 1995 and Mark O'Meara in 2004
– It was also his 82nd victory as a professional and puts him right up there with the greats of old like Sam Snead, Ben Hogan and Jack Nicklaus.
– His 11-point lead on the World Ranking list is more than the number of points separating World No 2 Phil Mickelson and the man in possession of the 1000th rung on the ranking list.
Though Tiger bestrode the Emirates golf course like a Colossus on Sunday, it didn't dim the light shining on Germany's newest golfing hero, Martin Kaymer.
The youngster hasn't quite come out of nowhere. He was, after all the European Tour's Rookie of the Year in 2007, but he's hit this year's tour running.
After victory in Abu Dhabi two weeks ago and Sunday's runner-up spot, he has aleady rocketed to No 21 in the World Rankings list and No 5 in the European Ryder Cup standings.
Better watch the space he's moving in.