The Taj is Derksen's Indian motivation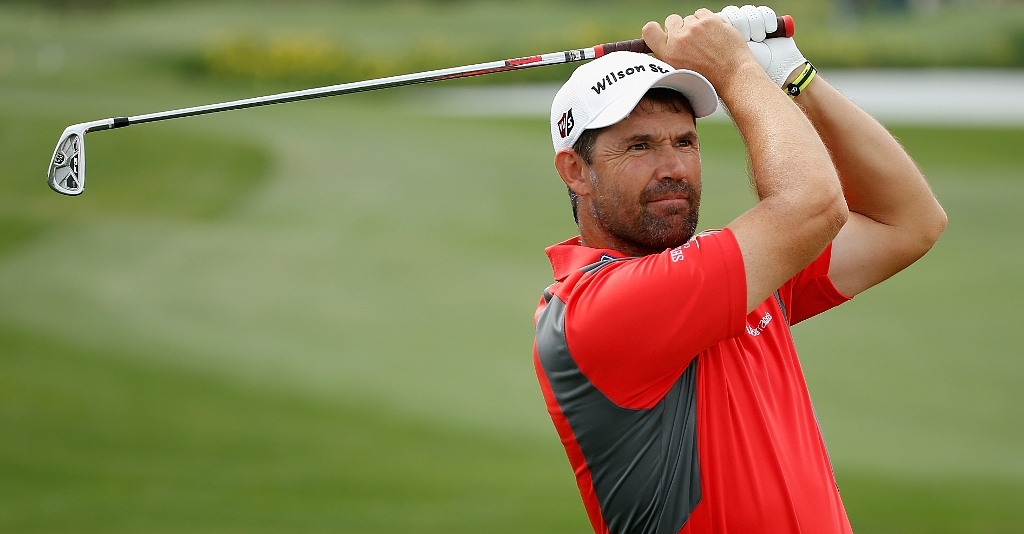 Robert-Jan Derksen has set the clubhouse target with a 6-under 66 in the fog-delayed Avantha Masters.
Robert-Jan Derksen set the clubhouse target with a 6-under 66 in Thursday fog-delayed first round of the Avantha Masters at the DLF Golf and Country Club in New Delhi – and then disclosed that he plans to take the trophy to India's most famous landmark if he wins on Sunday.
"I've got a bet with my caddie that if we win this week we'll take the trophy to the Taj Mahal, but I need to win first, of course," said the 37 year old leader of an event being co-sanctioned by the European and Asian Tours..
"I've never been there and I think this is a great occasion to make that happen."
Derksen started his round a little slowly on the back nine when he missed good birdie opportunities on his first two holes, but he tightened his focus and got some momentum going with a ten foot birdie putt on the tenth.
He pencilled in further birdies at the 12th, 17th and 18th going out and nailed two more birdie putts at the third and sixth holes coming home before he wrapped up his scoring at the 9th (his last) with yet another one, this time from 18 feet.
Derksen, a two-time European Tour winner, only broke 70 twice on the recent four-tournament Desert Swing and put this week's improvement down to work he has been doing on the greens.
"It was good. It was a bit of a wait this morning, but it was worth the wait," said Derksen, referring to fog which delayed the tee-off by three-and-a-half hours.
"I played steady, drove it nicely…I think that's important on this course. Putting was much better than the last few weeks. I've struggled a little bit with that, but today it was much better.
"I think on these greens you need to be more patient, I think I was very patient today. I've worked hard on my putting the last few days."
Derksen, renowned for the colourful, broad-striped shirts he almost always wears, holds a one shot lead over Argentina's Julio Zapata and England's Mark Foster, who were tied with unheralded Australian Darren Beck – although that may not be the case when Fog-delayed first round is completed on Friday morning.
Beck will still have five holes to play when roughly half the field returns at 0715 local time on Friday to complete their first
The second round tee times have, meanwhile, been pushed back two hours and 20 minutes to cater for the late finishers.
Zapata, a recent graduate of the Challenge Tour, is seeking a first top-ten finish on The European Tour, and the 34 year old made a positive start with an eagle at the par five sixth and four birdies on the way in.
Foster has not won on The European Tour since 2003, but the 35 year old led for much of the day after shooting an eagle two at the 15th and six birdies as against three bogies.
Amongst the group on four under are and home favourite Jeev Milkha Singh and last year's runner-up Richard Finch, who birdied his last two holes in a bogey-free round. .
Singh was two over par after seven holes and a trip in to the water, but he pulled himself together and came storming back with four birdies and a closing eagle on the par five ninth to move firmly in contention.
Derksen's compatriot Maarten Lafeber, who like Foster recorded his only European Tour title eight years ago, had a hole in one at the par three 11th to win the keys to a Volvo XC60 and move into the lead with another four birdies on his front nine.
Unfortunately he allowed three bogeys to creep into his score over his last seven holes and after briefly sharing the lead, slipped down the leaderboard with an eventual 69.
Recalling the hole-in-one, he said: "It was 160 metres with the wind coming in a little bit off the right.
"I hit a punchy, three-quarter six iron. I aimed a little right of the pin to allow the wind to bring it in and hit it perfectly. It was going straight for the flag but we couldn't tell if it was in or just very close. We were all looking and wondering until the crowd started clapping and jumping around so then we knew that it was in.
"I have had a few on Tour but I have never won a car. I had won at the Volvo Scandinavian Masters one year but didn't win a car, then I had one at the K Club in Ireland and won a weekend at the K Club and now I have this one and I finally won the car."