The Shark's back in the hunt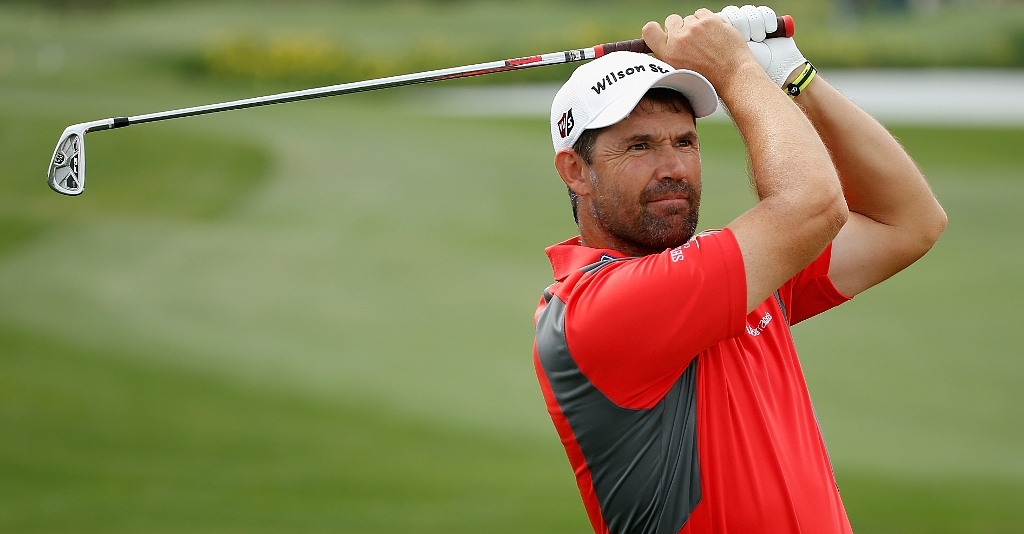 An in-form Greg Norman shot a 6-under 66 on Thursday to tie for the lead after the first round of the US Senior Open.
An in-form Greg Norman shot a 6-under 66 on Thursday to tie for the lead after the first round of the US Senior Open.
But the former long-time World No 1 could well have taken sole possession of the lead at the Crooked Stick Golf Club in Carmel, Indiana, had he not followed his four straight birdies on the front nine with a bogey at the last.
As it is, his opening 6-under 66 has put the Australian legend into a four-way tie at the top with Americans Joey Sindelar, Dan Forsman and amateur Tim Jackson.
Another American, Andy Bean, and South Africa's Fulton Allem were one shot back at 67.
Jackson highlighted the first round by setting a record for the lowest score ever posted in this event by an amateur – and, what's more, he did it in his Champions Tour debut.
But Norman, looking a lot like his old self, stole the show and drew the galleries with some blistering, trademark drives and a string of swashbuckling birdies.
If the man they call 'The Great White Shark', wanted to show the world again why he was once the best golfer on the Globe, he certainly did.
"I played well today and the golf course was ready to be had. The conditions were perfect," said 54-year-old Norman. "The greens were just receptive enough to be aggressive with the shots if you wanted to play 'em."
Norman and his Champions Tour colleagues had no problems playing on a cool, relatively calm day. Those atop the leaderboard made it look easy on the 7,316-yard course, the longest in US Senior Open history.
Norman and Bean briefly flirted with 7-under, but both promptly slipped back with bogeys on their very next holes.
Bean, in fact finished with two bogeys on his last three holes for his 67.
Sindelar posted three birdies on each nine in his bogey-free round. Forsman, who started at No. 10, was also faultless, posting 4 of his six bogies on his front nine.
Jackson, a real estate developer, meanwhile, stormed home with five birdies on his back nine and, indeed, could have stunned thye field by taking the overnight lead had he managed to hole a 10-foot birdie putt on the last hole.
It stopped right on the lip but he was over the moon anyway.
"This will be something we'll talk about for a long time, I'm sure," a beaming Jackson said afterwards.
It was certainly a day of records.
The leaders' 66s set a competitive course record, the previous lowest score being the 67 John Daly shot on his way to winning the US PGA Championship in 1991
ALL THE FIRST ROUND SCORES
(USA unless stated, par 72):
66 Joey Sindelar, Dan Forsman, Tim Jackson, Greg Norman
67 Andy Bean, Fulton Allem (Rsa)
68 Brad Bryant, Bruce Vaughan, Loren Roberts, John Harris, Scott Simpson, Tom Lehman, Fred Funk
69 Jeff Sluman
70 Scott Hoch, Mike Goodes, Bob Tway, Mark O'Meara, Robin Freeman, Mark Wiebe, Jay Haas, Allen Doyle, Larry Nelson, Tim Simpson
71 Tom Watson, Joe Ozaki (Jpn), Bob Gilder, Don Pooley, Jerry Courville, Jim Thorpe, Dana Quigley, David Eger, Tsukasa Watanabe (Jpn), Mike Borich, Bobby Wadkins
72 Denis Watson (Zim), Gene Jones, Jeff Coston, David Edwards, Donnie Hammond, Lonnie Nielsen, Bobby Heins, Russ Cochran, R.W. Eaks, David Lundstrom, Bert Atkinson, Stephen Sharpe, Graham Banister, Ian Woosnam (Wal), Olin Browne, Kim Young
73 Steve Haskins, Bernhard Langer (Ger), Tom Jenkins, Keith Fergus, Bryan Norton, Ronnie Black, Steve Thomas, Hal Sutton, Jeff Dillard, Michael Reid, John Cook, Mark McNulty (Ice), Larry Mize, George Zahringer, Eduardo Romero (Arg)
74 Bob Kearney, Paul Trittler, John Ross, Bruce Fleisher, Jon Stanley, Scott Mahlberg, Chris Tucker, Chip Beck, Nobumitsu Yuhara (Jpn), Hajime Meshiai (Jpn), John Howson, Don Reese
75 Gil Morgan, Kevin null Marion, Russell Davis (Eng), Lanny Wadkins, Wayne Levi, Bruce Lietzke, Christoffer Lange, Jim Woodward, Kemp Richardson, Mouse Bruner, Donald Crump, Randy Nichols, John Ward, Glenn Mullian, Craig Stadler, Ed Humenik, John Wilson, Vicente Fernandez (Arg), Jerry Pate, Steven Veriato, Dave Eichelberger
76 Scott Morris, Juan Quiros (Spa), Lindy Miller, Tom Carey, Steve Rogers, Jeff Thomsen, Gordon J Brand (Eng), Peter Jacobsen, John McGough, Danny Green, Jim Dent, Craig Steckowych, Javier Sanchez, Scott Davis, John Rushnell (Can)
77 Curt Schnell, Jack Ferenz, Michael Burke Jnr, Frank Ford, Buddy Marucci, Kenny Knox, Al Weinhold, Mike Barge, Kris Baxter, Thomas Herzan, Mark Johnson, Dave Stockton
78 Gary Hallberg, Dan Bieber, Jeff Klein, Randal Lewis, Tom Kite, Jerry Tucker, Larry Laoretti, Fuzzy Zoeller, Hale Irwin
79 Mo Guttman, Gar Hamilton, Tom Purtzer, Tom Brandes, Randy Cochran, Michael Turner, Daniel Russo
80 Greg Harmon, Glenn Sexton, Karl Stewart
81 Kerry Johnston, Chris Pethley, Trip Long
82 Russell Clark, Bill Sautter, Larry Miller
83 Dennis Webb
84 Kevin Ramsey, Ben Crenshaw
85 Ronald Johnson
88 Dale Douglass