The Guinea Pig: The Mind Coach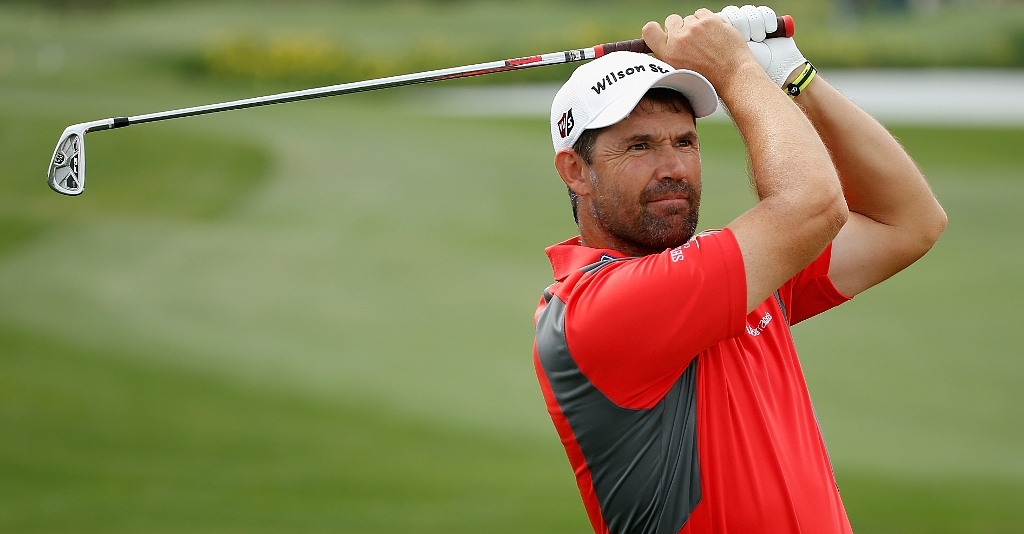 In part one of his journey of golfing discovery Matt Cooper starts a course with Dr Karl Morris – mind coach to the stars of Euro golf.
Matt Cooper, golfer: a hacker playing off 15. Gentleman, we can rebuild him. We have the technology. We have the capability to build the world's first bionic golfer. Matt Cooper will be that golfer. Better than he was before. Longer, straighter, holing more putts.
————-
One week along my journey to golfing nirvana and it's safe to say I can't get the game out of my head. I'm a bit obsessed actually.
I went to the shops at the end of last week and saw a man walking towards me with a putter in his hands. "Hmm," I asked myself. "Wonder what make and model that is?"
As he passed I was able to confirm all the vital details. Manufacturer: Do It All, Model: Dutch hoe, Player endorsement: Alan Titchmarsh.
A few days earlier I was dreaming about golf, specifically a bizarre fantasy about a play-off between Sergio Garcia and Rory McIlroy for the green jacket. In it the clubhouse at Augusta resembled a cowboy-themed pub and the play-off required them to tee-off from the balcony and putt out on the practice green. It concluded with Sergio going berserk and smashing the place up (possibly the least far-fetched aspect of the dream).
I completed the hat-trick on Friday when I found myself absent-mindedly wondering why Paula Creamer wasn't wearing pink today. The answer being that even though she's had a couple of weeks off, the chances of her filling her spare time with a few shifts behind the checkout of a supermarket in the West Midlands are more or less zero (unfortunately).
With all this golfing nonsense floating around my head, it's safe to say that anyone trying to organise my brain had better be well-qualified and well-thought-of.
And, happily for me, he is.
Dr Karl Morris is one of Europe's leading mind coaches whose work has transformed the careers of many of the continent's finest players. Don't take my word for it – take theirs.
Darren Clarke has said: "Karl and I have worked together for over six years and I continue to use his principles and techniques on a daily basis to help my game."
Whilst Clarke's fellow countryman Graeme McDowell wrote: "2008 was my best ever year. I won twice on Tour including the Scottish Open and made my Ryder Cup debut. Karl's Mind Factor has been an invaluable part of my success."
But the tribute I found most revealing came courtesy of Warrington's Philip Archer: "Karl's techniques enabled me to shoot 27 under par and secure card no.2 in the ultimate pressure situation, the European Tour qualifying school. If you want to become the best player you can be, train your golf brain now!"
Somehow Archer's words resonate more than either Clarke's or McDowell's.
All three have a talent way beyond mine, but I can empathise with Archer who six years ago was playing pro-ams in the North-west of England before hooking up with Morris and subsequently competing in the 2007 Seve Trophy.
Truly inspirational stuff: an authentic voyage of golfing discovery.
My own journey began last week when, having revealed my 18-month mission, I sat down to begin my online lessons at GolfMindFactor.com.
I was a little hesitant and wary at first, but essentially I was excited and enthusiastic because I'm no Doubting Thomas when it comes to sports psychology. I've never formally studied it, but I've always been fascinated to watch it at play.
And surely golf is the most masochistic of sports? Each professional tournament resembling a cruel ritual that involves voyeuristically watching players tormented by demons.
The nearest I have come to successful psychology of my own was to realise that if I was distracted by noise on the course, it was my fault. "When you are concentrating you hear," I concluded. "But only when your concentration is poor do you listen."
Not an earth-shattering pearl of wisdom, I agree, but it has cured me of temper tantrums should I ever be disturbed because I now acknowledge my concentration was at fault (rather than some poor schmuck who was having a good time and had better things to do than worry about creating a cocoon of silence for someone 400 yards away to three-putt in).
Having now completed the early sessions of my course, however, I'm beginning to think that my raw effort at psychology had a bit more going for it. It was an unintentional example of me recognising a bad pattern and doing something about building a better way of performing.
For that is a key element to Morris' methods – helping golfers identify their self-imposed limitations.
Morris is less concerned with wild claims about working miracles than with finding out what is stopping each golfer reach his or her potential.
And one of the keys to this is an understanding that the brain is remarkably flexible – it can be re-wired.
But first we have to overcome its dogged love of the familiar. How often have we heard the Albert Einstein quote? "The definition of insanity is doing the same thing over and over again and expecting different results."
I doubt there is one of us who plays golf who cannot think of ten, twenty, thirty examples of us putting (quite literally putting) this into practice.
Some of you will be wondering if these are revelations or simply something we already understand.
And yet that is the point: we know we could do things better but we resolutely, blindly, idiotically continue on our merry and hapless way.
The best means to address this aimlessness is to start living in the present.
Here's a question: how could I best sabotage my exercise in self-improvement?
The answer: if I focussed on the dream of single figures, telling myself that one way or another the fantasy will fall into place.
"When I get a new set of irons that fit me … when I've got a putter that didn't cost less than a tenner … when someone has sorted out my dodgy grip … when I'm not using a discarded (possibly stolen) driver … when, when, when, when, when."
When I stop living in the future I might give myself a chance to achieve my potential in the present.
John Lennon didn't know it, but he once wrote something that encapsulates the lesson I have to learn.
It wasn't "Norwegian Three Wood", "When I Shoot Sixty-Four" or even "The Long and Winding Road Hole".
No, Lennon wrote: "Life is what happens whilst we are busy making plans."
Of course, the layabout probably wrote it in bed at four o'clock in the afternoon but my task is to act as Lennon said rather than as Lennon did.
If I am to live in the present I need to change my behaviour.
I need to stop thinking about what I am going to do, and start doing something concrete in the here and now: three tasks a day, every day, until I'm not thinking about what I'm going to do, but am doing it without even thinking.
Next week:
I'll be learning about the power of belief and building a pre-shot routine.