Stricker in command at AAC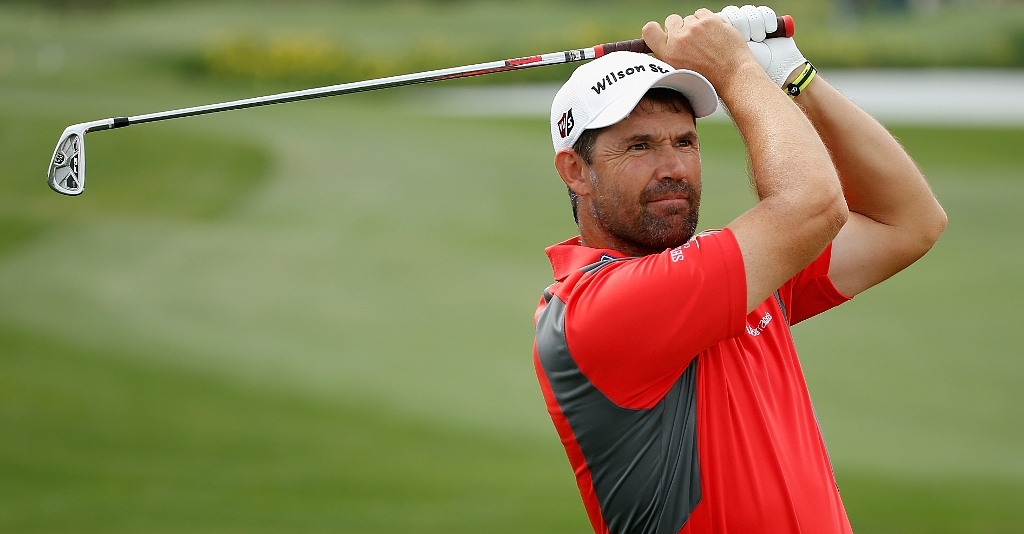 On a day when Tiger Woods imploded with a 77, Steve Stricker got within a whisker of making history at the US PGA .
On a day when Tiger Woods imploded with a 77, Ryder Cup partner Steve Stricker got within a whisker of making first-day history as he took the first round lead at the 93rd US PGA Championship.
Not long after Woods had come off the course fuming because he had not stuck to a game plan that had given him three birdies on his first four holes, Stricker walked away from his missed history-making chance at Atlantic Athletic Club on Thursday hugely encouraged rather than upset.
The 44-year-old American, perhaps goaded by all the talk that the winner of this year's PGA Championship would come from the new band of aggressive,
off-shore young guns who have recently invaded the game, went out and shot an imperious 7-under 63 to match the best score ever shot in a major.
Twenty two other players had already done it, including Greg Norman and Vijay Singh, who have each managed it twice, so when Stricker, who had not missed a beat in his magnificent, bogey-free tour of what is certainly no pushover course, stepped up to putt from 12 feet for a birdie and an historic first-ever 62 in a major at his last hole, the 426-yard par-four 9th, he was set to add a new chapter to the annuls of golf.
It never happened, unfortunately, but Stricker, an 11-time PGA Tour winner, wasn't letting it spoil his joy at shooting his career best round in any major and in taking command of the season's final major which traditionally attracts the strongest field of them all.
"Sometimes when you know it's for something extra special you dig a little deeper, but I can't complain," he said, knowing he'll go into Friday's second round with a two shot lead over fellow American 40-something veteran Jerry Kelly, three shots clear of former winner and blast from the past Shaun Micheel, and four in front of yet another seasoned American Scott Verplank, who shot a 3-under 67 to help the major-famished Americans take back the leaderboard.
Italy's exciting teenaged prospect Matteo Manassero and the in-form Englishman Simon Dyson were the only two Europeans on the Top 10 leaderboard and they were a shot further back in an eight-man tie for fifth at 2-under.
Looking back on that 12 footer that slid by the hole at his last, Stricker said: "I was just trying to make a birdie and finish at eight under, I really was concentrating on the putt. I never thought about the history part of it.
"I wish I would have been able to make that putt to be one better than that group of guys, but 63 is a heck of a start. One round under my belt, I'll take tomorrow as it comes and go from there."
Kelly's 65 matched his lowest ever score in the majors and he too was delighted at being able to occupy the top of the leaderboard with fellow Wisconsin native Stricker.
"We played practice rounds the last couple of days, and we saw that you really didn't need to overpower this golf course and that position was the key," the 44-year-old Kelly said.
"We took a lot of comfort in coming to a longer golf course that you don't really have to explode on every shot."
Not too many players used the word comfort or comfortable, though, when talking about the course after their practice rounds and all noted the toughness of the four closing holes.
But watching Stricker's immaculate display, notably on the feared back nine which he played first after teeing off at the 10th, made Atlantic Athletic Club's Highlands championship course look almost tame as he went out and birdied the 10th, 11th and 12th and yes, the dreaded par-3 dogleg 15th and the equally watery and almost as frightening 18th that had each cost Tiger Woods a double bogey.
Stricker's charge slowed on the so-called easier front nine coming home, but two more birdies with no bogeys in sight were more than enough to put him through to the next round with a strong chance of claiming his first major.
Almost certainly the bravest round of the day came from the newly-crowned US Open champion Rory McIlroy, who carded a level-par 70 despite playing the last 15 holes with an injured right wrist.
The 22-year-old Northern Irishman, one of those off-shore young guns favoured to win the title, struck a tree root on his downswing from the left rough at the par-four third, breaking the club and sending it flying as he injured his forearm and wrist.
However, after receiving medical attention and advice, he continued to play on in discomfort and pain, repeatedly letting his club go with his right hand during his follow throughs and constantly applying an ice pack between shots before he eventually had his right forearm strapped up for extra support.
"If it is the same tomorrow and I know that I'm not going to do any more damage to it, then I'll play," McIlroy said of Friday's second round.
"It's the last major of the year and I've got six or seven months to the Masters, so I might as well try and play through the pain and get it over and done with."
Australian Adam Scott, winner of last week's WGC-Bridgestone Invitational, returned a 69 while British world number one Luke Donald opened with a 70.
However several players struggled on the par-70 layout with its abundance of bunkers and water hazards, especially over the daunting four-hole stretch from the unforgiving par-three 15th.
The day's average score was 73.109 and Japanese teenager Ryo Ishikawa, who came close to becoming the PGA Tour's youngest winner in 100 years at Firestone on Sunday, found water six times on his way to a dispiriting 85.
Earlier, though, the day's spotlight had been firmly shone on world number 30 Woods who is competing in only his second tournament since returning from three months on the sidelines with a knee and Achilles heel injury.
And Woods certainly gave a show of up and down drama that will long be remembered by all except, perhaps himself.
At his first hole, the 10th, he struck a superb approach to 14 feet and then cooly rolled in the curling putt as several fans shouted out: "Get in, get in."
Woods, wearing a bright pink shirt, fisted the air in celebration before another fan yelled: "The Tiger's back."
His hot start seemed to set him off and he next birdied the par-five 12th, where he got up and down from a greenside bunker, and then birdied the par-four 14th, after his brilliant second shot rolled to a stop just four feet from the cup.
At three under after five holes, he was looking set for a big round, but that was where his heroics began and ended, for everything went decidedly down hill after that when his remodelled swing began to unravel and his old bad habits crept back into his game.
He dumped his tee shot into water at the feared par-three 15th on the way to a double-bogey, bogeyed 16 and also double-bogeyed the feared 18th to reach the turn in two-over.
Further bogeys followed at the first, second and fourth before he found sand off the tee at the par-four sixth and water with his second shot on the way to another double