Snedeker joins Atwal at the top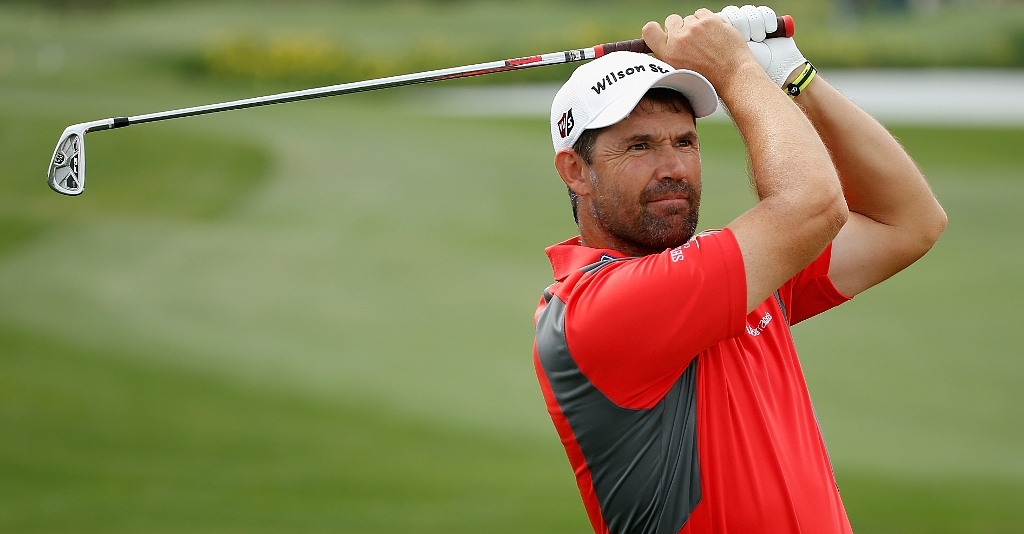 Brandt Snedeker claimed a share of the lead with Arjun Atwal at the Wyndham Championship.
Former winner Brandt Snedeker claimed a share of the lead with surprise-packet Arjun Atwal at the halfway mark of the Wyndham Championship in North Carolina.
Snedeker, the 2007 champion, shot a bogey-free five-under-par 65 in the second round on Friday to draw level with India's Atwal on 12-under at the top of the standings.
Atwal, the world number 450, shot a course-record equalling 61 on Thursday and followed it with a three-under-par 67 to keep his hopes of a maiden PGA Tour title alive.
Ryder Cup hopeful Lucas Glover was a stroke further back alongside fellow Americans John Rollins and Kevin Streelman, who double-bogeyed the par-3 16th to concede the lead late on.
Glover needs a wild card to make the United States' team at Celtic Manor after missing the halfway cut at the US PGA Championship last week and mixed seven birdies with a pair of bogeys to keep his name in the frame.
US captain Corey Pavin names his team on September 7, but Glover denied earning his place was playing on his mind.
"There's no added pressure," last year's US Open winner said.
"Obviously I know what I need to do and that's play well and no different than any other year but Corey knows how bad I want to play and make the team and to do that I got to relax and play good golf and work hard and shoot good scores."
Justin Leonard shot the lowest round of the day after he went around the Sedgefield Country Club in 63 to move into a tie for seventh place on nine-under.
Scotland's Michael Laird led the European charge a shot further back after the 27-year-old carded a round of 65.
Collated second round scores & totals in the USPGA Tour Wyndham Championship, Sedgefield Country Club, Greensboro, United States of America
(USA unless stated, par 70):
128 Arjun Atwal (Ind) 61 67, Brandt Snedeker 63 65
129 John Rollins 64 65, Lucas Glover 64 65, Kevin Streelman 64 65
130 Webb Simpson 66 64
131 Justin Leonard 68 63, Tim Herron 67 64, Boo Weekley 64 67
132 Spencer Levin 65 67, Jeev Milkha Singh (Ind) 64 68, David Toms 64 68, Scott Piercy 66 66, Garrett Willis 66 66, John Mallinger 65 67, Will MacKenzie 68 64, Marc Leishman (Aus) 66 66, Martin Laird (Sco) 67 65, Jonathan Byrd 66 66
133 Jerry Kelly 66 67, Richard S Johnson (Swe) 67 66, Scott McCarron 65 68, Andres Romero (Arg) 66 67, Alex Prugh 69 64
134 Michael Letzig 66 68, Michael Sim (Aus) 66 68, Paul Stankowski 67 67, James Driscoll 67 67, Steve Marino 69 65, Bill Haas 69 65, Fredrik Jacobson (Swe) 67 67, Tim Petrovic 66 68, Glen Day 67 67, Briny Baird 66 68, Jason Gore 65 69, Josh Teater 66 68
135 Brian Stuard 69 66, Omar Uresti 69 66, Jason Dufner 66 69, Robert Garrigus 69 66, John Merrick 68 67, Chris DiMarco 67 68, Mathias Gronberg (Swe) 67 68, Michael Connell 66 69, James Nitties (Aus) 67 68, Mark Wilson 68 67, Aaron Baddeley (Aus) 66 69, Joe Durant 68 67, Daniel Chopra (Swe) 70 65, Chad Collins 68 67, Jay Williamson 65 70, Troy Matteson 68 67
136 Chris Riley 67 69, Aron Price (Aus) 67 69, Garth Mulroy (Rsa) 68 68, Jeff Quinney 66 70, Greg Owen (Eng) 69 67, Blake Adams 65 71, John Daly 68 68, Bob Estes 66 70, Charles Warren 67 69, Kent Jones 66 70, Derek Lamely 70 66, Cameron Beckman 67 69, Jerry Jr. Richardson 70 66, Tom Gillis 69 67, Brett Wetterich 70 66, Skip Kendall 66 70
137 Kris Blanks 69 68, Kirk Triplett 69 68, Kevin Na 66 71, J J Henry 71 66, Trevor Immelman (Rsa) 68 69, Troy Merritt 67 70, Rocco Mediate 70 67, Drew Weaver 67 70, Frank Lickliter II 70 67, D.J. Trahan 69 68
——————The following players failed to make the cut —————–
138 Brian Gay 69 69, Woody Austin 68 70, David Duval 70 68, Brian Duncan 68 70, Roger Tambellini 71 67, Brett Quigley 71 67, Mike Weir (Can) 67 71, Ryuji Imada (Jpn) 69 69, Brent Delahoussaye 70 68, Greg Chalmers (Aus) 71 67, Lee Janzen 70 68, Cameron Percy (Aus) 68 70, Tom Pernice Jnr. 68 70, Brad Faxon 68 70, Jeff Maggert 68 70, Carl Pettersson (Swe) 69 69, Johnson Wagner 73 65, Ryan Moore 68 70
139 Patrick Moore 70 69, Marco Dawson 68 71, John Senden (Aus) 68 71, Davis Love III 68 71, Billy Mayfair 68 71, Brendan Gielow 70 69, Todd Hamilton 70 69, Steve Wheatcroft 69 70, Andrew McLardy (Rsa) 71 68, Chris Tidland 66 73, Jarrod Lyle (Aus) 71 68, Henrik Bjornstad (Nor) 72 67, Dean Wilson 70 69, Roland Thatcher 68 71, Jimmy Walker 73 66
140 Michael Bradley 71 69, Martin Flores 71 69, Mark Brooks 72 68, Jeff Gove 71 69, Chris Smith 69 71, J.P. Hayes 69 71, Brian Harman 68 72, Chris Couch 66 74, Matt Hill (Can) 69 71, Nathan Green (Aus) 69 71, Craig Barlow 66 74, Nicholas Thompson 70 70
141 David Lutterus (Rsa) 73 68, Mathew Goggin (Aus) 72 69, Craig Bowden 72 69, Ted Purdy 72 69, Graham Delaet (Can) 67 74, Vance Veazey 72 69
142 Robert Gamez 72 70, Seung-yul Noh (Kor) 69 73, Joe Ogilvie 74 68, Mark Hensby (Aus) 70 72, Kevin Johnson 68 74, Cliff Kresge 74 68, Brenden Pappas (Rsa) 74 68, Fred Couples 72 70, Alex Cejka (Ger) 72 70, Chris Wilson 68 74, Anthony Kim 70 72, Cameron Tringale 69 73
143 Rodney Pampling (Aus) 73 70, Steve Lowery 69 74, Carlos Franco (Par) 72 71
144 Chris Stroud 68 76, Steve Flesch 73 71, Henrik Stenson (Swe) 69 75
145 Curt Sanders 70 75, George McNeill 69 76
146 Kevin Stadler 70 76, Tanner Kesterson 72 74, Rich Barcelo 76 70
148 Eric Shriver 75 73
149 Greg Kraft 74 75
WD: Jerod Turner 75