Singapore lead WC qualifier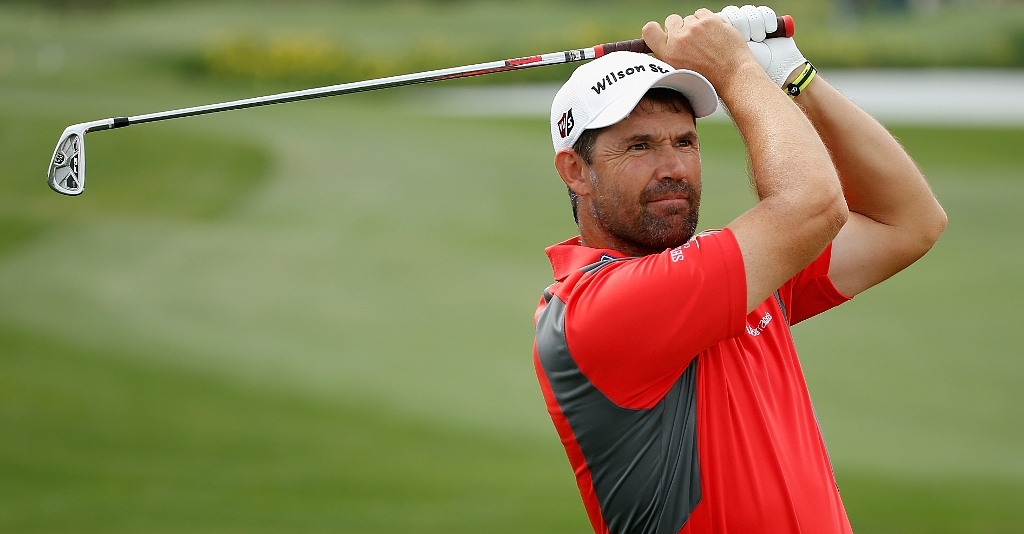 Singapore's Lam Chih Bing and Mardan Mamat were three shots clear after the 2nd round of the World Cup's Asian qualifier.
Lam Chih Bing and Mardan Mamat of Singapore recovered from some early setbacks to fire a one-under-par 70 that was good enough to give them the second round lead at the Omega Mission Hills World Cup Asian qualifier on Thursday.
The duo bogeyed three of their opening four holes, but bounced back superbly in the foursomes format to take their total to 133 and open up a three-shot lead over Indians Gaganjeet Bhullar and Anirban Lahiri at the Seri Selangor Golf Club in Petaling Jaya, Malaysia.
Bhullar and Lahiri, teaming up for the first time, carded a solid 69 for a 136 total to lie in second place while Kim Hyung-sung and Park Sung-joon of Korea are three shots back in third.
The top three teams of the Asian Qualifying will earn their tickets to the elite, year-end Omega Mission Hills World Cup in China in November.
Unheralded Anura Rohana and Mithun Perera of Sri Lanka posted a second consecutive 70 to lie in tied fourth with New Zealand's Michael Hendry and Gareth Paddison on 140.
The Malaysian home favourites Iain Steel and Shaaban Hussin struggled to a 77 in tough scoring conditions and will have an uphill task in chasing down the distant front runners.
Lam and Mardan, who opened on Wednesday with a stunning 63, bogeyed holes one, two and four before recovering with two straight birdies from the fifth hole.
They then had three birdies on holes 10, 12 and 14 against a lone bogey on 11 as they marched into their three-stroke lead.
"We were a bit messy in the first few holes but overall it was okay. We have to keep doing what we have been doing. We are playing very well and our mission is to get the job done," said Mardan, a two-time Asian Tour winner.
Lam was delighted to extend their lead in a difficult round where only four teams were able to go under par.
"We knew this format wasn't easy and we told each other we could get more birdies out there. I told Mardan not to worry (after the early bogeys) and that we would bounce back.
"We were very happy to finish in red," added Lam, who qualified for the World Cup with Mardan at Seri Selangor in 2006 and 2009.
India's Lahiri and Bhullar, in the meantime, endured a mixed round of six birdies against one double bogey and two bogeys.
"You often walk away from a round thinking you could have done better and today was one of those.. Both of us deserved better." said Lahiri, who won his maiden Asian Tour title on home soil earlier this year.
Bhullar, a two-time winner on the Asian Tour, said they were confident of going low in the third round fourball format.
"We made a couple of mistakes yesterday but after playing 36 holes, we are quite comfortable with each other and our yardages. We can go really low in the fourball format," said Bhullar.
A total of 16 teams are vying for the three tee-off slots up for grabs at the Omega Mission Hills World Cup in China from November 24 to 27.
Second round scores:
133 – Singapore (LAM Chih-Bing, Mardan MAMAT) 63,70
136 – India (Gaganjeet BHULLAR, Anirban LAHIRI) 67,9
139 – Korea (KIM Hyung-Sung, PARK Sung-Joon) 70,69
140 – Sri Lanka (Anura ROHANA, Mithun PERERA) 70,70, New Zealand (Michael HENDRY, Gareth PADDISON) 65,75
141 – Malaysia (Iain STEEL, Shaaban HUSSIN) 64,77
143 – Philippines (Mars PUCAY, Antonio LASCUNA) 70,3
144 – Pakistan (Muhammad MUNIR PAK, Mohd Shabbir IQBAL) 68,76
147 – Chinese Taipei (TSENG Hua Yen, LIN Kuan Po) 68,79
148 – Indonesia (Burhan BORA, HARDJITO) 73,75
150 – Myanmar (Zaw MOE, NAY Bala Win Myint) 66,4
151 – Hong Kong (WONG Woon-Man, William FUNG) 73,78
153 – Ghana (Stephen Kwame KLAH, Godwin SAI) 77,76
154 – Vietnam (Michael TRAN, NGUYEN Thai Duong) 76,78
157 – Senegal (Gueye DIADJI, Niang SAMBA) 74,83
161 – Brunei (Pengiran Hassanal, Moksin JINAIDI) 78,83