Sergio's almost there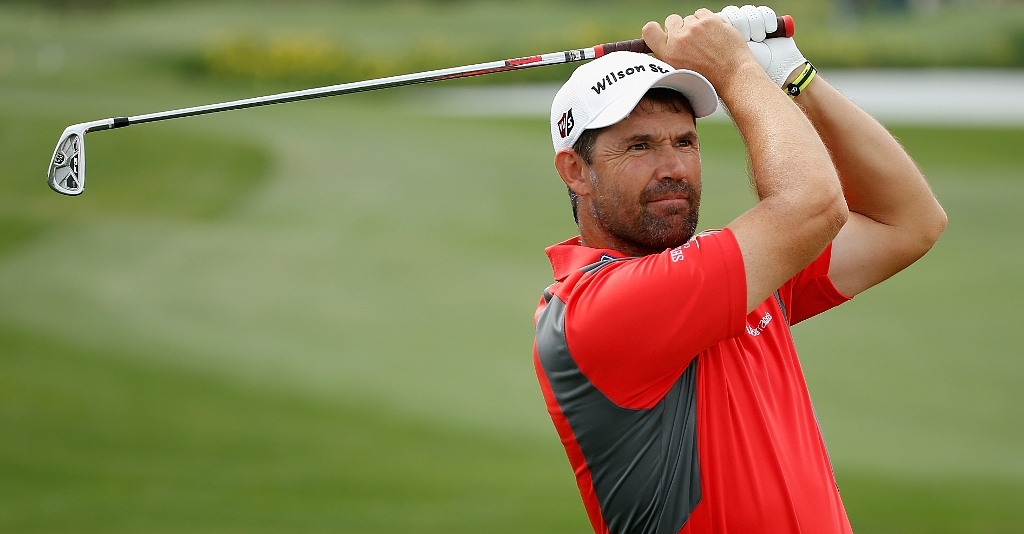 Sergio Garcia is on the brink of crafting a carbon copy of his victory at Sawgrass in 2008 that was so pivotal in earning him one of his five Ryder Cup caps.
The 32-year-old Spaniard's first victory in the USA since then will have to wait until today (Monday) when he needs to complete his final 14 holes at the rain-delayed Wyndham Championship at Sedgefield Country Club in North Carolina.
But if he can hold onto the form that gave him a 66 on Saturday and took his score to 15-under after four holes at a rain-swept Sedgefield on Sunday he is almost certainly going to force himself into the top 10 who, on Monday next week, will be named as the Europe's automatic qualifiers for Jose Maria Olazabal's Ryder Cup team that takes on the USA at Medinah next month.
Garcia, who in his five previous Ryder Cup appearances has been one of Europe's most valuable assets, needs only to finish in the top three at the Wyndham to edge himself into the top 10 at the expense of colourful Englishman Ian Poulter, who only last week snatched 10th place on a standings list that appropriately includes Northern Ireland's new US PGA Champion and world number, Rory McIlroy in the top slot with, Justin Rose, Graeme McDowell, Paul Lawrie, Francesco Molinari, Luke Donald, Lee Westwood, Peter Hanson, Martin Kaymer and Ian Poulter in the next nine places.
In the end, however, it should matter not whether Garcia or Poulter makes it into the team on an automatic qualification, because the one that doesn't can confidently expect to be the first of Jose Maria Olazabal's two wildcard picks.
Poulter, a former WGC Match Play champion, also has an excellent Ryder Cup record.
Olazabal might well have some sleepless nights, however, when it comes to making his second wild card pick.
Belgium's much-improved Nicolas Colsaerts, one of the longest drivers in world golf (right now his European Tour average of 317.1 yards exceeds Bubba Watson's top US PGA Tour average by 1.2 yards), is, at 12th, the next in line on the official standings and looks a good bet.
But will Olazabal leave out Padraig Harrington who right now is languishing in 19th place behind Colsaerts, David Lynn (13th), Rafael Cabrera-Bello (14th), Gonzalo Fernandez-Castano (15th), Thomas Bjorn (16th), Marcel Siem (17th) and Simon Dyson (18th).
Harrington, it seems, is still in the picture, but Olazabal has made it clear that the Irish icon's immediate Ryder Cup future will depended on him whisking up something "extraordinary" at this week's Barclays Championship.
Colin Montgomerie preferred a struggling Harrington ahead of in-form players like Justin Rose for the last Ryder Cup at Celtic Manor two years ago and although his European team won the battle against the US, Harrington's sub-par performance earned Montgomerie a fair amount of criticism
One of the men that is higher placed on the standings than Harrington, but who is not likely to come into the wildcard picture is Bjorn.
The Danish veteran has already been selected as one of Olzabal's four vice-captains.
Northern Ireland's Darren Clarke and Ireland's Paul McGinley who, together with Olazabal and Bjorn, proved to be a winning vice-captain combination for Montgomerie in his triumph at Celtic Manor, are the other two named so far.
Making his vice-captain's announcement Olazabal, who played in seven Ryder Cup matches between 1987 and 2006 and was a Vice Captain in 2008 and 2010, said: "I could not be more delighted than to have Thomas, Darren and Paul as Vice Captains, especially as we bonded so well in supporting Colin Montgomerie in 2010.
"All three are world class golfers with tremendous experience of playing in The Ryder Cup which is absolutely invaluable.
"For me to have these guys, all great friends, by my side is fantastic. I know, like me, they will now be counting down the days to Medinah with one aim – to return home with the Cup.
"Thomas, Darren and Paul all share a special spirit and love for the game and they have the respect and admiration of everyone in golf. Their passion, commitment and desire to win will encourage everyone in the team room and for me it is so important to have guys you know, guys you can trust, guys familiar with this contest because The Ryder Cup is unique.
"My own experiences as a Vice Captain in 2008 and 2010 taught me that you need a lot of help in the Ryder Cup week. You need eyes, extra eyes to follow the players in the practice rounds so you can gather as much information as you can about how everyone is playing.
"Then it is important to have each match watched because you have to hand in your pairings for the afternoon matches when the players are still out on the course. That means it is essential to have all the information you can get before you put those pairings down on paper.
"I am confident my Vice Captains will make sure that is the case and I will name the fourth one at the August 27 Conference when I announce my two (wildcard) picks.
"This Ryder Cup, like so many in the past, will come down to who shows the most character under pressure. It is certain to be close, but I am confident we have the players to bring the Cup back home with us, and to have Thomas, Darren and Paul already on-side in Team Europe is a massive boost."