R-Mac, Quiros share Masters lead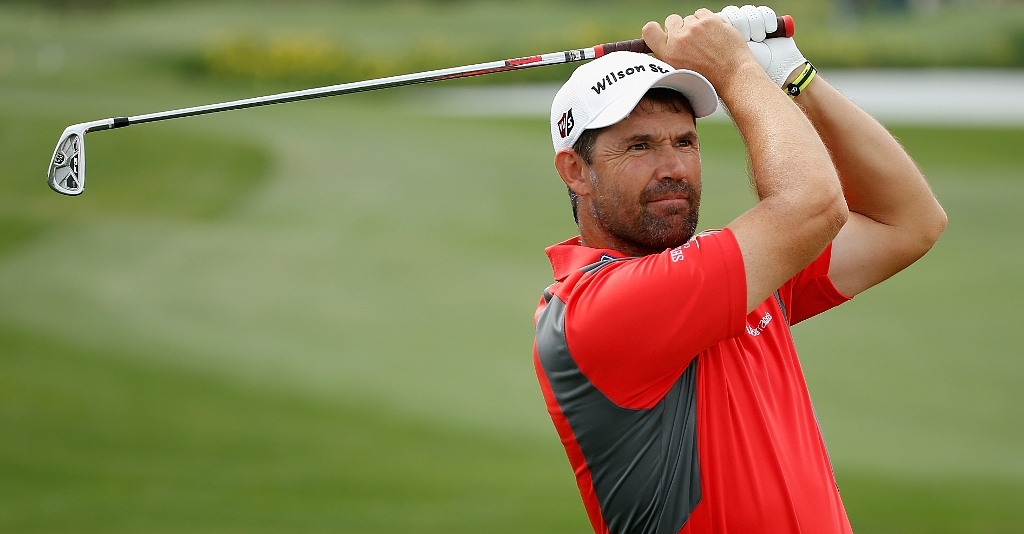 Rory McIlroy isn't wasting any time in staking his claim for this year's 75th Masters at Augusta National Golf Club.
Rory McIlroy isn't wasting any time in making his claim for this year's 75th Masters at Augusta National Golf Club
The highly-talented, 21-year-old from Northern Ireland opened his challenge for Phil Mickelson's title with a sizzling 7-under 65 in the first round on a fine, sunny, Thursday morning in Georgia – but he's not alone.
Sharing the lead after storming home in the final group of big-hitting blasters is Spanish star Alvaro Quiros, who also shot a 7-under 65, in his case with 8 birdies, including one each on the last two holes, and a bogey at the 14th.
Quiros looked a little shell-shocked after his superb first round which was all of 10 shots better than any of his previous rounds at Augusta National.
McIlroy and Quiros lead the Korean pair of YE Yang, a former US PGA Champion, and KJ Choi by two shots and the American duo of Matt Kuchar and Ricky Barnes by three.
Ryder Cup team-mates Ross Fisher of England and Sergio Garcia of Spain are a shot further back on 3-under in a seven-strong log-jam of players that also includes former Masters winner Trevor Immelman and fellow South African Charl Schwartzel.
Two-time US Open winner and twice a Masters runner-up Retief Goosen, who had led at one stage of the morning at 5-under after sparking his round with only the 5th birdie at the par four first in the 75-year history of The Masters, had dropped back after bogies on Amen Corner and three more on the last three holes and finished with a disappointing 2-under 70
But getting back to McIlroy, strong starts are nothing new to him.
Last year he shot a blistering 63 in the first round of the Open at St. Andrews and then went on to finish third – just as he was to do in the final round of the US PGA Championship a few weeks later.
McIlroy wrecked his winning chances with a second round 80 at St Andrews, but on Thursday, speaking after his flawless 65, McIlroy said he now feels better prepared to deal with adversity.
"At the time, it was very disappointing," he said of that second-round collapse at St. Andrews. "But looking back, it was probably very valuable in my progression as a golfer.
"I hope it will help me," he said. "I have that experience to draw on, especially being in a similar position to last year at St. Andrews.
"I feel like I'm better prepared to tee off in the second round of a major with the lead."
McIlroy took advantage of near perfect conditions for scoring, with the Augusta National course drenched in sunshine and only a gentle breeze blowing.
His round got going at the par-five second with the first of three straight birdies, with more coming at the ninth, 11th, 14th and 15th holes.
"I trusted everything," McIlroy said. "I trusted where I wanted to hit the ball. That's the key around here.
"With some of these pins, you can get tentative and try to guide it in there. You just have to pick your targets and trust your swing. I was very happy with the way I did that."
McIlroy also thought he could have made an even better score.
"I would take 65 all day long, but it could have been lower," he said, citing a missed birdie chance at the 18th.
"It's a great start to the tournament. I felt that my game has been good all season. I feel very comfortable with my game and it was nice to see a few putts drop in and hopefully I can build on it."
Trying to get his game back to what it used to be, the former World No 1 and now No 7, Tiger Woods, made the turn with a 1-under 35, and went on to make a relatively uninspired three-birdie two-bogey 1-under 71.
Woods is in the midst of the longest run of his career without a win – 20 events in 17 months – but his great record at Augusta National, where he has won four Masters titles, is preventing many from writing him off, though his performance on Thursday will hardly have inspired them
Defending champion Phil Mickelson, the favourite ahead of Woods for the first time since 1999, also had a sluggish start and at two-under after a costly lone bogey at 18, he might just be a little too far back to retain his title and move to the top of The World Ranking list for the first time..
Mickelson told the media afterwards: "A 70 is just okay. I didn't shoot myself out of it, but I didn't make up the ground I wanted."
Woods also thought he was still in it at "only six back".
He said: "You have trust it now – we're in a major championship and it's full systems go,"
World No 2 Lee Westwood, who had the big setback of a six on the long eighth after "over-hooking" his second, had to settle for a 72 and again was not happy with his putting.
"It's how my game is at the moment," he said. "If you can't hole it out from four feet, you're going to struggle, aren't you?"
Padraig Harrington's 77 matched his worst-ever round on the course and he commented: "I nearly pulled out before I started.
"I haven't even come close to swinging the club (decently). I wanted to pull out, but I wouldn't – that's just my nature.
"But it wasn't much fun."
Martin Kaymer was even worse off. He was confused about how to play the course and despondent about his first round.
He is heading for a fourth successive missed cut in the event and his 78 – the same as 1991 winner Ian Woosnam's – represented a new low.
England's Ross Fisher shares seventh spot after a 69, but from two under after 14 holes, Ian Poulter dropped four shots in the last four for a 74 – the same as Scottish debutante Martin Laird and US Open champion Graeme McDowell, who three-putted four times in six holes at the start of the back nine.
Paul Casey had a 70, 53-year-old Sandy Lyle and Justin Rose 73s and Luke Donald, who carried the curse of winning the eve-of-tournament par three competition into the main event, returned a 72 including a birdie-eagle-birdie burst from the 14th.
Kaymer said: "Every day that I played here was a tough day so far – maybe one day it will work out.
"There's some golf courses that suit you and some they just don't, but obviously it's frustrating if you never play well.
"I think that maybe I've got to sit down with Bernhard Langer later and ask him. He won here twice."
Golf greats Jack Nicklaus and Palmer kicked off the first day of the 75th Masters by hitting the traditional ceremonial tee shots.
There was still a chill in the air when the 81-year-old Palmer hit a little fade that stayed on the fairway. The 71-year-old Nicklaus went next, ripping one right down the middle about 30 yards past his older longtime rival.
"I guess it's still kind of fun to lop it off the first tee and be part of a great event," Nicklaus said. "People enjoy it. It's Augusta's way of honoring its past champions and people such as Arnold and myself. It's really quite nice they allow us to do this."