Quiros in command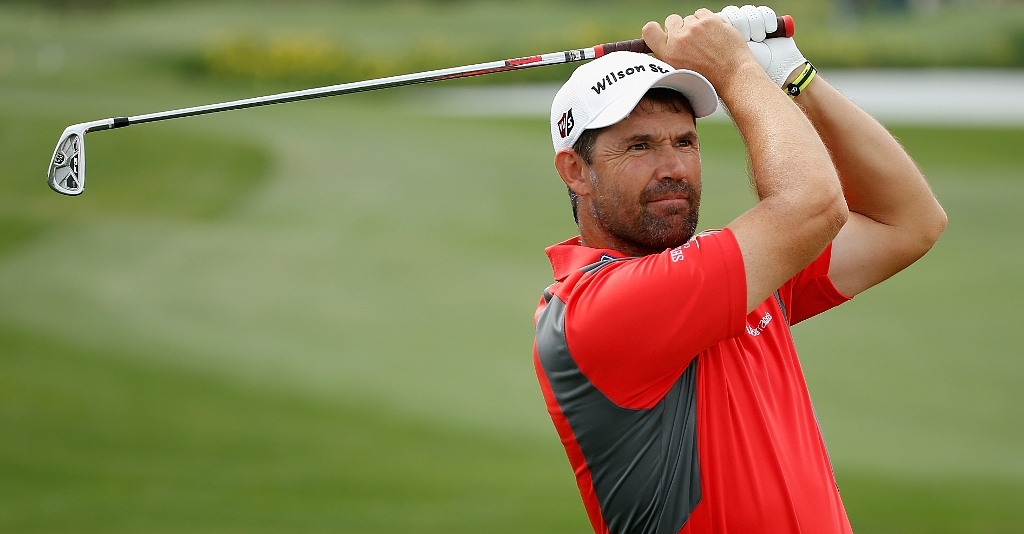 A late stumble from Rory McIlroy helped put Alvaro Quiros firmly in command at the Dubai World Championship on Friday.
A late stumble from Rory McIlroy helped put Alvaro Quiros firmly in command at the Dubai World Championship on Friday.
The big-hitting Spaniard leads by all of four shots heading into Saturday's third round after he added a superb course record-equalling, eight-under-par 64 to his opening 68 to finish on 12 under par for the tournament.
Even as Quiros was hitting a near-perfect second shot to the par-five 18th to set up an eagle putt which he subsequently converted, McIlroy, his closest challenger, suddenly lost his way, closing with consecutive bogeys at 17 and 18 after looking totally in control of his game up till that point, rolling in four birdies and dropping only one shot.
At the par-three 17, McIlroy left a chip short of the green for his second bogey of the day and then his drive on 18 found the water. His (now) third shot landed in the rough next to the green and he could not get up and down from there to make his par.
The end result was a second-round one-under-par 71, which leaves him on seven under par, tied for third, but five shots adrift of an in-form Quiros.
McIlroy has been suffering from a virus for the past few weeks and has now been told he may have been dealing with dengue fever, transmitted by a mosquito bite and fatal in less than one per cent of all cases.
"It could have been a number of things and I'm going to see a doctor again tomorrow before deciding whether to go to Thailand next week," he said.
"To be honest, I'm ready for the season to be done and looking forward to putting the clubs away."
McIlroy is also now only three shots clear of Luke Donald, his main rival for the Race to Dubai crown this week.
After another less than stellar start to his round on Friday, Donald came back nicely, carding a four-under-par 68 that included three consecutive closing birdies and moved him to four under, into a tie for 12th and in a much stronger position with an eye towards the top-9 finish he requires to hang on to the top spot on the European Tour money list.
"Just personally in terms of my mental approach, that was huge," said Donald.
"It would be foolish of me to rely on him (McIlroy) not winning. I know what's at stake and it's a big deal to me.
"I was frustrated out there. I tried to stay patient, but it's tough. I want to finish off what I came here to do and those last three brought a smile to my face.
"There's certainly a lot of pressure. I'm still making a few mistakes – maybe because of what's at stake. When there's a lot on the line you feel more nervous, but sometimes it's a good thing."
Leader Quiros enjoyed the best round of the day by some margin, a bogey-free 64 that featured three birdies on the front nine and three more plus the closing eagle on the back.
"Obviously they are fighting for The Race to Dubai final top position, but we are playing here to try and ruin the party," said Quiros.
"They are not the only important people in the golf tournament."
Overnight leader Peter Hanson had a topsy-turvy round, though a birdie on the final hole at least lifted him to second place on eight under and an even-par 72 for the day.
McIlroy is tied for third with England's Robert Rock, who added a 69 to his opening 68, on seven under, while an excellent 66 from Paul Casey lifted him into a tie for fifth a further shot back alongside Scot Paul Lawrie, who started well enough but slipped up badly coming home with three bogeys in his final four holes to eventually sign for a one-over 73.
Five players are tied for seventh on five under, seven shots off Quiros' pace – South Africans Louis Oosthuizen (67) and Jaco van Zyl (70), Spaniard Pablo Larrazabal (68), Italian Francesco Molinari (68) and Ireland's Shane Lowry (70).
Next comes Donald on four under, tied with Sweden's Johan Edfors (68), another South African Charl Schwartzel (71) and another Spaniard Sergio Garcia, who failed to build on his excellent first round with a disappointing 73.
Lee Westwood lies on two under after a 69 alongside fellow Englishman Ian Poulter (69) and Northern Ireland's Graeme McDowell (71).