Quinney, Gainey lead big guns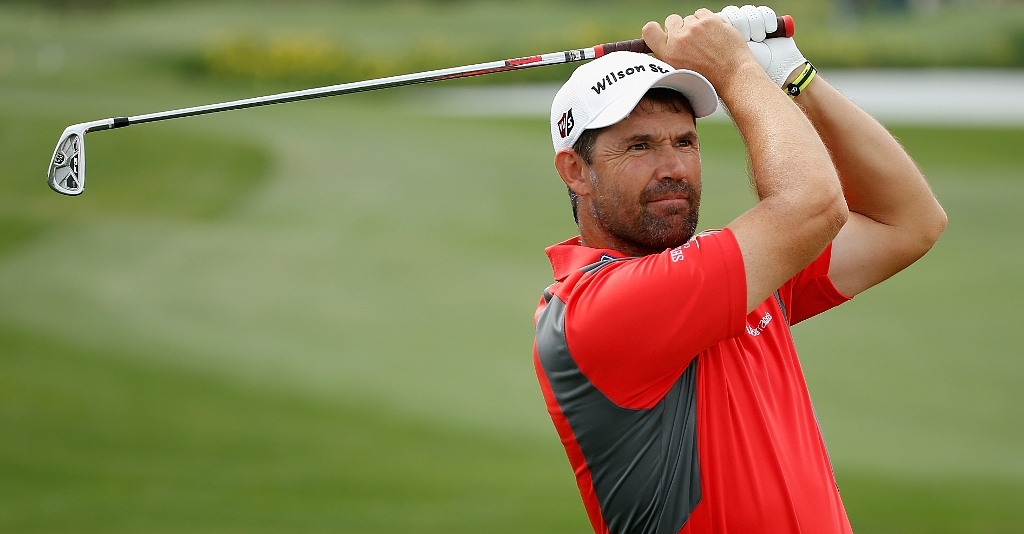 Jeff Quinney and Tommy Gainey outscored the big guns in Thursday's first round of the Wyndham Championship.
Jeff Quinney and Tommy Gainey shared the lead with 7-under 63s after Thursday's first round of the Wyndham Championship, but the spotlight was firmly fixed on the battle of the big guns raging behind them.
The Wyndham, being played at a hot and humid Sedgefield Country Club in Greensboro, North Carolina, this week, is the 2011 season's last of the regular US PGA Tour stops and a bunch of golf's biggest names, including major winners Ernie Els, Padraig Harrington, Angel Cabrera, Vijay Singh and Jim Furyk, as well as the English Ryder Cup star Paul Casey, are hoping to use the event to pick up enough points to earn a last-gasp entry into the FedEx play-offs starting with The Barclays next week.
Quinney, chasing his first title, grabbed the lead early in the day, thanks largely to a fine run of five birdies from the 12th and hung onto it until late-finishing compatriot Gainey joined him with a bogey-free round that included five birdies and an eagle at the long 5th.
A year ago, Quinney got close, but not close enough, to making the FedEx Cup field, finishing in 126th place, and short of the end of season play-offs by three points.
This year he has arrived here in 215th place in the FedExCup standings and needs a win, and the 500 points that accompany it, to make it into The Barclays next week.
"I'm in a position right now where I've only played 11 events this year and haven't made a great go of it," Quinney told the media afterwards. "The only chance I get in the playoffs is probably winning this week, so you just push all your chips in and this is what I got."
The front-runners are one shot clear of Stuart Appleby, one of Australian's best known golfers, who also kept his score bogeyless on his way to a 6-under 64 that included an eagle at the 5th.
The Aussie, in turn, is one shot in front of a distinguished group of nine players tied for fourth after opening with five under 65s.
They include Casey, the big South African Ernie Els, Fijian veteran Vijay Singh and American Jim Furyk, whose round included two eagles on his first nine.
Casey, who was ranked 147th on the FedEx Cup standings at the start of the tournament and needs to get below the 125 mark to qualify, believes that his lowly FedEx Cup placing is benefitting him here.
"I've got nothing to lose this week so I'm trying to put myself in a position to win this golf event. I believe I've got to be top four to seal a place for next week but that there might also be top-10 situations, depending on what other guys do.
"But I don't need to get too far ahead, don't need to start thinking about that on a Thursday. For me it's focusing on today and I did a very good job of that, actually. I didn't get too caught up in sort of worrying about FedEx stuff."
Behind them a dozen-strong log-jam of players signed for four-under 66s including Jason Dufner, who lost in a play-off at the PGA Championship last week after leading by five shots with just four holes to play.
Cabrera struggled through a see-saw day of good and bad, mixing an eagle and five birdies with four bogeys in his three-under 67 while Harrington's hopes of qualifying suffered even more as his game continued to splutter on his way to a one-under 69 that has left him trailing the leaders by six shots.
Els, who has been struggling with his putting all season, but was in a much stronger position than Harrington and could afford to be more optimistic, said: "You think about it (the FedExCup playoffs); it's one of the reasons why I'm here; you want to get in.
"My playoffs have started this week because if I don't play well this week I'm not advancing."
Arjun Atwal, who became the first player from India to triumph on the PGA Tour when he won the Wyndham Championship last year, got the defence of his title off to a disappointing start with a three-over 73.
TOP 10 LEADERBOARD
63 Jeff Quinney (USA), Tommy Gainey (USA)
64 Stuart Appleby (Aus)
65 Paul Casey (Eng), Carl Pettersson (Swe), Ernie Els (RSA), Jason Bohn (USA), Jimmy Walker (USA), Tim Herron (USA), Lee Janzen (USA), Jim Furyk (USA), Vijay Singh (Fiji), George McNeill (USA)