Que limps ahead in Malaysia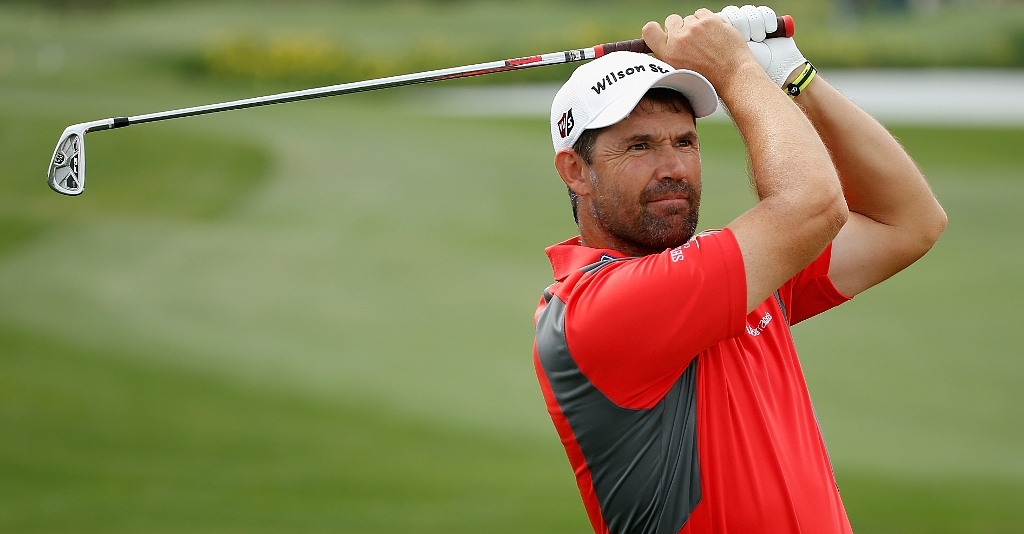 A limping Angelo Que charged into a one-shot lead after the third round of the Worldwide Holdings Selangor Master.
A limping Angelo Que of the Philippines charged into a one-shot lead after the third round of the Worldwide Holdings Selangor Masters in Malaysia on Friday but no fewer than 10 players have a realistic shot at the title.
Que, chasing a third Asian Tour victory, overcame a sluggish start before storming home with a three-under-par 68 and a five-under-par 208 total in the RM1.2 million (US$300,000) event.
Playing partners Chris Rodgers of England and countryman Juvic Pagunsan led the chasing pack with matching 69s at the tricky Seri Selangor Golf Club while Malaysia's Airil Rizman (72), Filipino Jay Bayron (70), Thai duo Chawalit Plaphol (69) and Namchoak Tantipokakul (71) and Australians Scott Barr (72) and Brad Smith (72) were a further shot back on 210.
The 31-year-old Que has been struggling with blisters on both feet all week but sprung to life on his inward nine with four birdies over a five-hole stretch to pull clear of the field.
He credited a hot putter for his lead. "I was just happy with the way I putted. I've been putting well the past few days and hopefully I can keep it up. Putting is my weakness and I've worked on it and it's worked so far," said Que, who needed only 23 putts.
Like the first two rounds, he started poorly with two bogeys in his opening four holes but showed his resolve to get back into the round. A birdie on five sparked the comeback before he birdied three in a row at the turn followed by another birdie on 14 where he rolled in a snaky 30-footer.
Unlike many, Que was happy to endure another weather delay this afternoon which disrupted play for over an hour. "The delay is good for me as I get to rest my feet. Hopefully tomorrow, it won't hurt so bad," said the Filipino, whose last triumph was the 2008 Philippine Open.
"A one shot lead is nothing here. One bad hole will take it all away. It'll be great to win. I haven't won in two years and winning one more would be something else. Three is a charm."
Rodgers, bidding for a second Asian Tour victory since his 2006 success at the Pakistan Open, stayed in the title hunt with a round that included four birdies. "I played steadily. I didn't make any mistakes and that's the main thing. I'm just not doing anything wrong. I'm very confident for tomorrow. If I continue to play like how I did the past three rounds, I would stand a fair chance. I certainly won't feel nervous," he said.
Sweet-swinging Pagunsan, who has two top-threes in his last two starts, was delighted he knocked in a 20-foot birdie putt on the last hole to draw closer to his countryman. "I really needed the putt on the last. There are many players on three under and it's possible for one of them to shoot a low number. I feel great, I feel comfortable. Confidence is really high," said the Filipino, who is searching for a second career win.
For a long while, the 23-year-old Namchoak, one of Thailand's emerging players, was on top the leaderboard until a costly double bogey on the 16th hole. But he remained upbeat of his chances for a career breakthrough on the Asian Tour, the region's elite circuit.
"I'm a bit disappointed. The weather delays disrupted my routine. When we came back, I bogeyed the 11th hole. It's tough to get your routine and feel back with the restarts. But I'm in fairly good form and two shots is nothing here," said Namchoak, who has posted three top-20s this season.
After two sleepless nights where he went to bed with the lead, Airil was somewhat relieved to slip back into a share of fourth place, two back after a round which included a triple bogey and two birdies.
"I don't think I've had enough sleep the last two days. Now that I'm two back, there's less pressure and maybe I can have a good sleep tonight!" said the Malaysian, who holds one win in Asia.
"It would have been a great round if it wasn't for the seven on the fourth hole. I really miscued everything there. But it's just a tough golf course. I was grinding on every hole."