Q&As WITH TIGER'S PURSUERS IN CHIEF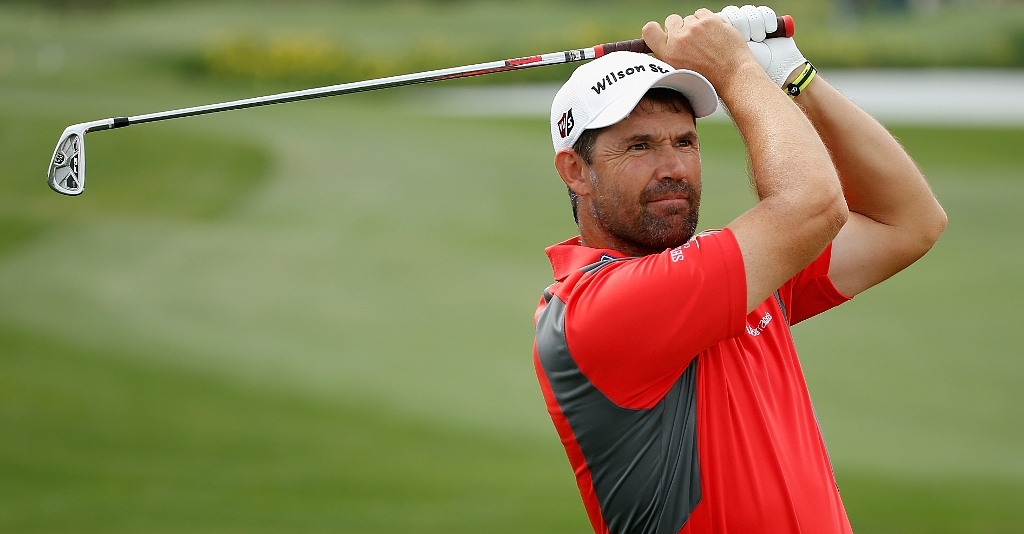 And here's what Martin Kaymer, who finished 2nd in Dubai on Sunday, and Ernie Els and Louis Oosthuizen, who shared 3rd place, said afterwards
Here's what German young gun Martin Kaymer, who finished 2nd to Tiger Woods in the Dubai Desert Classic on Sunday, and South Africans Ernie Els and Louis Oosthuizen, who shared third place, said afterwards
MARTIN KAYMER (67 73 69 66 = 13-under 275)
QUESTION What did you hit for the eagle?
MARTIN KAYMER: 3-iron.
QUESTION From what distance?
MARTIN KAYMER: 218 metres.
QUESTION So when you had that shot in your mind, you were going for the eagle?
MARTIN KAYMER: Yeah, of course. I want to win.
QUESTION But there was no defence in that shot?
MARTIN KAYMER: I thought eagle or bogey. I was not thinking about par.
QUESTION Great way to finish.
MARTIN KAYMER: It was a good shot, pure golf shot, yeah.
QUESTION And a second after winning in Abu Dhabi would be a fantastic three weeks for you, wouldn't it?
MARTIN KAYMER: Last week I didn't make the cut but there were a lot of things after the win so I was a little confused on Monday and Tuesday.
But it was really good that I had the weekend off, actually, that I could think about different stuff, and especially the win, it gave me a lot of confidence for the whole season.
QUESTION Interesting to see now where you've moved up in the World Rankings.
MARTIN KAYMER: Really looking forward to go to the Match Play now. I had a good three weeks so far. I was practising a lot when I was in America in the winter, so I was expecting that I'm playing okay. But of course, I was never expecting that I would win the tournament.
QUESTION How do you feel seeing your name up there?
MARTIN KAYMER: It was so much fun to play with Ernie. He was so relaxed, very nice to me. We talked a little bit. It was just a nice golf yesterday. That was actually the best golfer I've had the last two years.
QUESTION Further step on getting to Kentucky in September, too.
MARTIN KAYMER: I'm not looking so far down. I heard it from my manager that I can play in Augusta now, so that's unbelievable, too.
QUESTION How does that feel?
MARTIN KAYMER: I don't know yet. I mean, it was always a dream and now I can play there.
QUESTION Will you play a few rounds before you get there, too?
MARTIN KAYMER: I don't know yet. I just finished. I don't know, just try to fix my thoughts now.
ERNIE ELS (68 72 65 71 = 12-under 276)
QUESTION Reaction?
ERNIE ELS: A little disappointing.
QUESTION What were you thinking on the last?
ERNIE ELS: What happened before that, I mean, I played really good the front nine. I finished 2-under on the front nine but it could have been 4- or 5-under.
And then that unfortunate break on 10, hit it into the bank and I thought it wasn't plugged but it was plugged because I chipped it at least with a topspin and I made five.
11, hit it just through the green and got it out to about four feet and missed that. That was a big miss. Then I missed 12, my 5-iron to the right. I hit a great shot from there and missed another 5-footer.
So those two putts really cost me the tournament in the end, yeah, because I played really solid coming in.
The second shot on 18, it was right where I had it, but I could see the gust got it in the air and it didn't have much of a chance in the end there. It was really right at it. You know, that's it.
QUESTION 3-wood on the last?
ERNIE ELS: I had 240 to the last. I mean, it's very much in my range. But the gust, as I said, there's a gust that came up and caught it.
LOUIS OOSTHUIZEN 73 69 69 65 = 12-under 276)
QUESTION A fantastic round of golf but obviously disappointed to bogey the last, what happened there on the third shot?
LOUIS OOSTHUIZEN: Yeah, as I stood over the shot, I felt a little breeze into myself, and yesterday, that distance, I had exactly the same distance. I think I hit it just slightly thin, and I could have got clear with that bunker shot but there was not a lot of sand in it. I thought if I could get it just like a yard further, might release down and give myself a chance for par, but yeah, it happens.
QUESTION Starting six shots behind, at what point did you think you had a run at it?
LOUIS OOSTHUIZEN: My eagle, I had a great second shot in there, and I holed a 15-footer for eagle, and after that, I thought I'm hitting very well and hit it six foot on 11, missed the putt. Made three good birdies, and from there, yeah, I always thought I had a chance getting to 13, and I was really, really relaxed out there, Dyson and myself had a nice laugh.
Yeah, it was good. Slightly disappointed maybe on the 18th, but it happens.
QUESTION What will you do next, because it's not over, obviously.
LOUIS OOSTHUIZEN: Yeah, going to the players' lounge I think and sit around and see what happens.
QUESTION You really got that one going.
LOUIS OOSTHUIZEN: Yeah, I still missed one or two putts. Played really nicely, yeah.
QUESTION What was the second shot at 18?
LOUIS OOSTHUIZEN: 5-iron. I had about 189 metres to the front.
QUESTION Did you ever a figure in your head before you set out, thinking, hang on —
LOUIS OOSTHUIZEN: I thought to be honest starting at 5-under, I thought if I could get myself to 19, I might finish Top-5 or something. I was hitting it well yesterday and I hit it well the second round. And I got it going at 10 and then 12, 13, 14 obviously and missed a short one on 15. Just hit it through the break.
Yeah, I'm quite happy with the way I played. I haven't been in this situation a lot of times, especially with woods playing and Ernie playing.
QUESTION Where does this rate in your career considering the situation?
LOUIS OOSTHUIZEN: At the moment, one of the best. Hopefully, well, there's a lot of golf still to be played and there is a lot of birdie holes out there. So I don't think it will be good enough. I think 4-under on the last would have done it but I'll stay around and see.