Q&A WITH MARK CALCAVECCHIA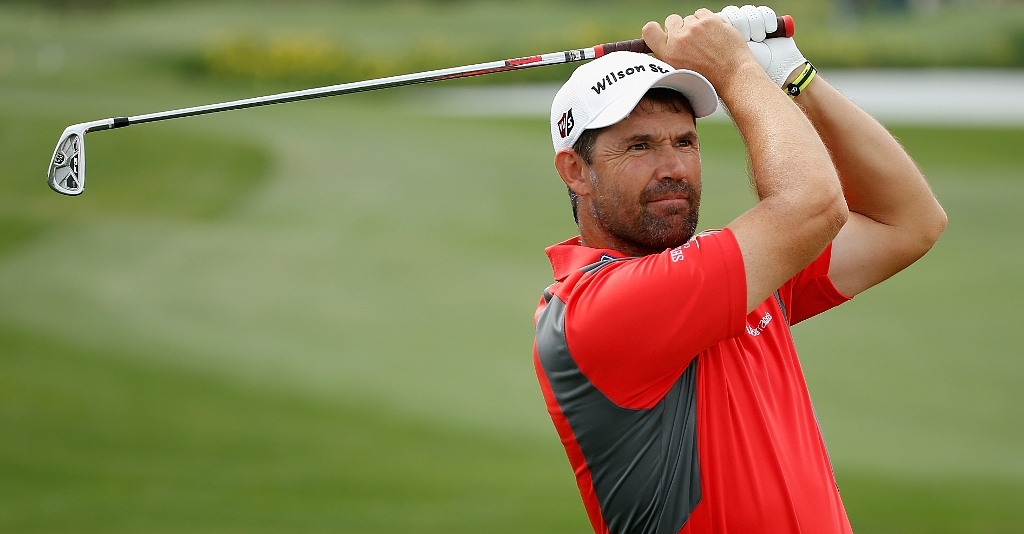 Mark Calcavecchia, leader of the Zurich Classic, talkes to the press after the second round of the USPGA event in New Orleans.
JOAN v.T. ALEXANDER: Thank you, Mark, for joining us for a few minutes here in the media center at the Zurich Classic of New Orleans. Another solid round, no bogeys yet this week. Maybe just talk a little bit about the conditions out there, if it was any different from yesterday, and then what you did well out there today.
MARK CALCAVECCHIA: Well, it's a miracle I don't have any bogeys yet (laughter), considering some of the places I hit it today. I made about four unbelievable pars, and then a 30-footer at the last. You know, it doesn't happen very often, but I believe I shot about the lowest score humanly possible today, considering the places I was.
But I thought the course played a little bit tougher today. The wind was a little bit stronger, and I just didn't swing it as well as yesterday for whatever reason. I did hit some good shots obviously, but you know, that's what makes this course good, I think. You do have bail-out areas and you can salvage a par from some pretty bad spots, so it's fun to play.
Q. Can you tell us some of the highlights of your round where you had a bad shot followed by a great shot I guess is what you're saying?
MARK CALCAVECCHIA: Well, my first one was on No. 6 where I yanked a 3-wood and it somehow didn't kick in the water, and then I hit it in the front bunker but with a horrible lie and a bad stance and I chunked that out about 15 feet short and made that. That was one of them.
No. 8, just a horrendous break, I buried it in the side of the lip. I was standing a foot above it, didn't even know if I could get it out, hacked it out in the fairway 100 yards from the pin, hit that in there and made an eight-footer for par.
15, hooked a 5-iron over left of the green, hit a semi-sh*tty chip about 15 feet by, and made a 12-footer for par on 17 and a 30-footer on 18. So it could have easily been a 74 for sure.
Q. Would you describe it as scuffling or scrambling?
MARK CALCAVECCHIA: Yeah, I guess it was pretty much a good scrambling day. I scrounged out a good score is what I did. A lot of times you play great and don't shoot 69 and other times you don't play so good and shoot 69. Luckily that was the case for me today.
Q. How about the 30-foot putt on your last?
MARK CALCAVECCHIA: Well, I got a great read from Troy Matteson. We were on pretty much the same line. Obviously I had a feeling I was either going to make it or come real close because I just saw how it broke up the hill, and sure enough, went right in the middle. I didn't even have to line it up. I didn't even walk to the other side. I watched him putt and put my ball down and hit it. I mean, I knew what it was going to do, so I got the read, and it fell in. That was nice.
Q. To what do you owe your, I guess, resurgence? You're having a great year. Any one thing?
MARK CALCAVECCHIA: Well, what I've been working on, when I do work (laughter), which isn't a whole lot, is just really two or three things. I'm not – this year I haven't been confused with ten different swing thoughts and going through a dozen drivers. I love my driver, I've had it since last October, you know, and obviously when putts go in, that helps.
But it's been a fairly simple process is what I'm trying to get at, I guess, and when I execute, I usually hit a good shot. I'm not totally confused with what I'm trying to do on the golf course, and that's about it.
Q. Are you telling me you're staying out of your way finally?
MARK CALCAVECCHIA: Well, that's part of it. My attitude has been pretty good. I don't think I've gotten as down on myself this year as I have in the past. I still get mad, but I think I've done a real good job of having a level head this year. Like The Masters and last week, I could have easily turned those tied for 20th and 23rd into 40ths or 50ths like I have in the past by losing it a little bit and getting a little pissed off and doing some stupid things. I think I'm just a little bit – maybe I'm wising up a little.
Q. Are you maturing?
MARK CALCAVECCHIA: Could be. Well, no (laughter). I'll never mature.
Q. How about mellowing?
MARK CALCAVECCHIA: I'll be a kid until I'm dead.
Q. The second round in Tampa, would you say that's been indicative of your year in a sense, the way it just kind of developed?
MARK CALCAVECCHIA: Yeah, you could say that. You know, that kind of turned things around when I started making some putts that day, when I put that putter in the bag, and obviously the next day was unbelievable.
It's easy to hang tough and have a good attitude when things are going well for you. It's not rocket science. Everybody thinks we have the all-time world's greatest life out here. That's because all they see is guys winning tournaments and making putts on TV. They don't see guys missing four straight cuts by a shot and ready to pull their hair out and kick their car door in and just go berserk. Granted, we do have a – playing golf for a living is awesome, but there's a lot of downside to it that people don't see.
Anyway, what I'm trying to get at, right now I'm on an upside and I'm enjoying things and feeling pretty relaxed out there for the most part, and I think it's showing in my scores.
Q. You went to the course thinking you were packing it in that day?
MARK CALCAVECCHIA: Yeah, I was packed. Brenda was packed and I told her to have all the shit down by the side door and the van pulled over there and we were going to hit the road the second I got done at Innisbrook, but that didn't happen.
Q. I don't want to use the word lucky, but you said it could have been a 74. Would you characterise it as a lucky day?
MARK CALCAVECCHIA: Well, no. It could have been a 74, but the fact that I made those miraculous pars was more skill than luck. The putts were all right in the middle, and some of the up-and-downs a full wedge, and some of the places I was, about as good as I could do to get it 10 or 12 feet.
It kind of reminded me of one Tiger Woods, who seems to make every ten-foot par putt he looks at when he needs to. It was kind of a Tiger-like round today. I shot a good score for the way I played, period.
Q. Did you get reimbursed for the putter by Ping?
MARK CALCAVECCHIA: They claim they did, but I honestly don't know. I'm sure I did.
Q. You paid, what, $250 for it? What was the price on that?
MARK CALCAVECCHIA: Yeah, $258.18.
Q. So you would remember if you got a check for $258.18 I assume?
MARK CALCAVECCHIA: Yeah, I'm sure they did. Even if they didn't, I'm not too worried about it. It all worked out. It pays for itself, put it that way. Yeah, I've bought putters before. Usually I leave the price tag on but they took the price tag off for me.
Q. So you couldn't return it?
MARK CALCAVECCHIA: Well, I like to leave the price tag on so the putter is aware it was bought and paid for, so it should work.