Price reels in Haas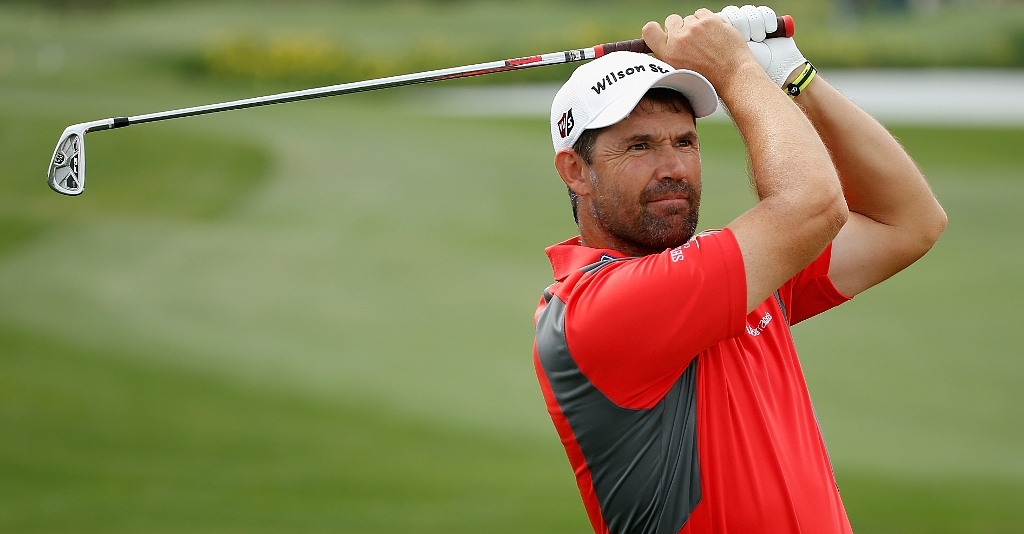 Nick Price and Jay Haas share the lead heading into the final round of the Greater Hickory Classic, but victory is not assured.
Zimbabwe's Nick Price has joined Jay Haas at the top of the Greater Hickory Classic leaderboard, but victory for either of them is hardly cut and dried heading into Sunday's final round
Price reeled in overnight leader Haas (71) with a five-under 67 but at least 31 of the pursuers bunched up behind them are within six strokes of the lead and could make winning on Sunday a pretty tough proposition,
Haas, the winner of this event in 2005, and Price, a two-time major winner, are at 11-under 133 after the first 36-holes of this 54-hole event at Robert Trent Jones course at the Rock Barn Golf and Spa.
Gil Morgan (70), who trailed Haas by three shots after Friday's opening round, eased into a tie for third at 135 with Andy Bean (68) and Russ Cochran (68).
And just behind them, three shots off the pace is Joe Ozaki, who shared the day's best round, a 6-under 66, with Tom Purtzer.
He is tied with a group of nine players, including Charles Schwab Cup points leader Fred Funk (67), Bob Tway (67), Gene Jones (68), David Frost (68), Lonnie Nielsen (68), Mark McNulty (69), Hal Sutton (69) and Jeff Sluman (69).
Haas was never bale to find the form that secured him a 62 in the first round, posting two bogeys on the front nine when he briefly lost the lead to Price, but birdies at the 7th and 12th brought him level again
"I was a little disappointed with my round," said Haas, a 12-time winner on this over-50s US senior tour.
"I wasn't very sharp on the greens and I didn't get a lot of chances – not as many as on Friday, for sure."
In contrast, Price, who started the day four strokes behind Haas, moved up the leaderboard with birdies on two of the first four holes. then moved into the lead with an eagle on the par-5 7th after Haas had bogeyed the 5th.
Price had another chance to move ahead, but missed an eagle putt on 18th and had to settle for a second-round tie.
"I got off to a really good start," said Price, who recently broke his Champions Tour drought with his first win in 47 starts.
"I kind of got a little defensive when I got to 10-under for some reason. … But that birdie on the last hole was very welcome."
"We've got a two-shot lead … then there's a ton of guys at 8 (under)," Haas said. "One of those guys shoots 7, 8 or 9 under, they're right up there. … I almost expect that to happen. Neither one of us expects to shoot in the 70s and be in this tournament."
Sunday's final-day field will be the closest in the tournament's seven-year history. The previous best was 17 players, set at the inaugural event in 2003 won by Craig Stadler.
"Jay and I are going to have to shoot around 5 or 6 under just to keep the other guys out of the picture," Price said. "It depends on the conditions — if it gets wet and heavy … then it might not take that low a round."
ALL THE SECOND ROUND SCORES (USA unless stated, par 72):
133 Jay Haas 62 71, Nick Price (Zim) 66 67
135 Gil Morgan 65 70, Andy Bean 67 68, Russ Cochran 67 68
136 Gene Jones 68 68, Jeff Sluman 67 69, Joe Ozaki (Jpn) 70 66, David Frost (Rsa) 68 68, Fred Funk 69 67, Hal Sutton 67 69, Bob Tway 69 67, Lonnie Nielsen 68 68, Mark McNulty (Irl) 67 69
137 Jim Thorpe 68 69, Brad Bryant 70 67, Dan Forsman 67 70, Scott Simpson 70 67, Olin Browne 70 67, Larry Nelson 69 68, Bobby Wadkins 67 70, Tim Simpson 70 67
138 Tom Jenkins 66 72, Tom Kite 70 68, Craig Stadler 71 67, Chris Starkjohann 68 70, Ronnie Black 68 70, Tom Purtzer 72 66, Mark Wiebe 67 71, David Eger 70 68
139 Steve Thomas 67 72, Don Pooley 70 69
140 James Mason 71 69, Bruce Vaughan 68 72, John Cook 71 69, Mark James (Eng) 69 71, Jerry Pate 66 74
141 Phil Blackmar 71 70, Fulton Allem (Rsa) 68 73, Bruce Summerhays 72 69, Chip Beck 72 69, John Harris 69 72, Keith Fergus 73 68, Wayne Levi 70 71
142 Jack Ferenz 70 72, Mike Reid 70 72, Walter Hall 71 71, Keith Clearwater 70 72, Morris Hatalsky 74 68
143 Joey Sindelar 69 74, Dave Eichelberger 69 74, Bob Gilder 70 73, Sandy Lyle (Sco) 73 70
144 Gary Hallberg 72 72, Denis Watson (Zim) 70 74, D A Weibring 70 74, R.W. Eaks 69 75, Mike Goodes 71 73, Larry Mize 68 76
145 Jay Sigel 71 74, Mark W Johnson 72 73, Jay Don Blake 74 71
146 Bruce Fleisher 77 69, Tom Wargo 71 75, John Morse 74 72, Allen Doyle 70 76, Javier Sanchez 72 74
147 Bruce Lietzke 76 71, Jim Colbert 72 75
148 Lee Trevino 73 75, J.C Snead 72 76, Leonard Thompson 78 70
149 Blaine McCallister 72 77
151 Mike Hulbert 77 74
152 Mike McCullough 76 76, Lanny Wadkins 76 76
153 Gibby Gilbert 75 78
156 Jim Dent 79 77