Pressel shares the Farr lead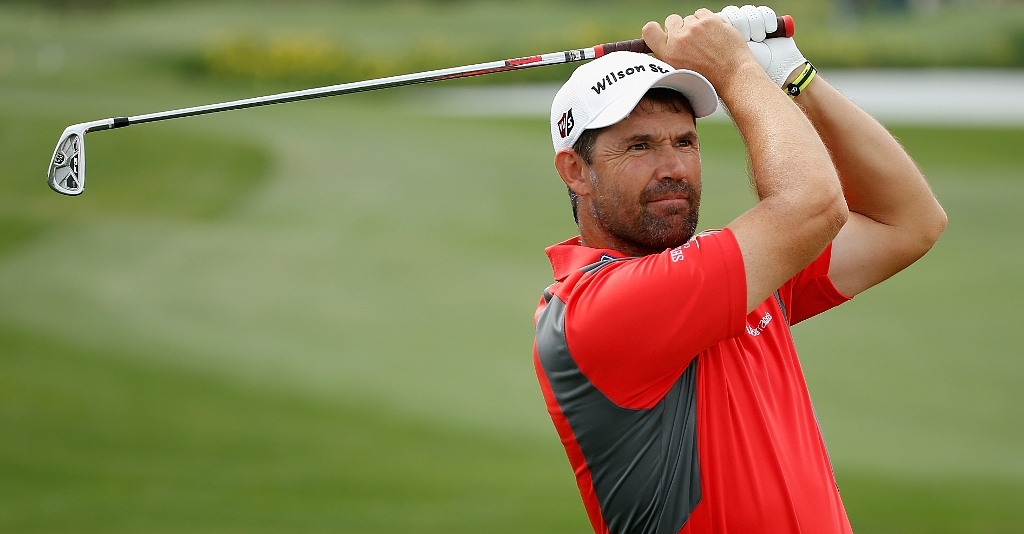 Morgan Pressel, Laura Diaz and Kim Song-hee shared the lead after day one of the Jamie Farr Owens Corning Classic.
Americans Morgan Pressel and Laura Diaz and Korean Kim Song-hee shared the lead after Thursday's first round of the LPGA'S Jamie Farr Owens Corning Classic in Ohio.
Taking advantage of the withdrawal of defending champion Paula Creamer who has a thumb injury, the trio surged to the front with 7-under 64s at the Highland Meadows Golf Club and will take a one shot lead over a third American, Michelle Wie, and Norway's Suzann Pettersen into Friday's second round.
Cristie Kerr, Inbee Park, last week's winner Jiyai Shin, Lindsey Wright and Jee Young Lee, were a further shot back on 66 as more than half of the field broke par on an overcast day.
The big log-jam on 67 was led by top-ranked Lorena Ochoa, making her first appearance at the Farr since 2004.
Pressel, who finished second behind five-time winner Se Ri Pak here two years ago, didn't make a single bogey and birdied four holes in a row late in her round.
Her 64 matched her best round since joining the tour in 2006.
Pressel established herself as a major star of the future when she broke into professional golf with a runner-up finish at the 2005 US Women's Open when still in her teens and then became the youngest player ever to win a major at the 2007 Kraft Nabisco Championship.
But her early charge to fame has slowed and she has won only once since then, so clearly her target here is to get back on the victory trail.
"This is the best golf I've played in a while," she said with a broad smile afterwards.
Her fellow leaders are just as anxious to win again.
Kim has yet to win in the 56 LPGA Tour events she has played, and Diaz hasn't won in seven years.
"I've been trying to get my swing going good again," Diaz said. "I just really have spent a lot of time on those things. My putter happily surprised me today."
Wie could also use a victory. Despite enjoying the LPGA spotlight since she was 12, she has won nothing since her lone amateur victory in the USGA's Women's Amateur Public Links Championship when she was 13.
She does have three top-10 finishes in her seven starts on the LPGA Tour this season and that could spell danger for her rivals..
On Thursday Wie used her length off the tee to shoot her lowest competitive round since turning professional and rebounded from her only bogey to birdie two of her last three holes.
Five of Wie's seven birdies came on putts of 10 feet or less.
"The best part of today was my rhythm and the tempo," said Wie, who won't turn 20 until October.
"I was just going along, hitting fairways and greens and making putts. The mental part was the best part. I felt really good out there, and really confident."
Creamer, who led from start to finish in beating Nicole Castrale by two shots here a year ago, injured her left thumb at last week's Wegmans LPGA in New York and saw a doctor on Monday.
She was given a cortisone shot but was unable to play a practice round and although she did participate in the pro-am on Wednesday, she tearfully told tournament officials she was withdrawing after hitting some practice shots before Thursday's first round.
"This is an event I feel a very special bond with and it's disappointing not to be able to defend my title," she said.
ALL THE FIRST ROUND SDCORES(USA unless stated, par 71):
64 Morgan Pressel, Laura Diaz, Song-Hee Kim (Kor)
65 Michelle Wie, Suzann Pettersen (Nor)
66 Minea Blomqvist (Fin), Jee Young Lee (Kor), Lindsey Wright (Aus), Ji-Yai Shin (Kor), Cristie Kerr, In-Bee Park (Kor)
67 Chella Choi (Kor), Beth Bader, Lorena Ochoa (Mex), Na Ri Kim (Kor), Russy Gulyanamitta (Tha), Michele Redman, Ashleigh Simon (Rsa), Anna Nordqvist (Swe), Angela Stanford, Meaghan Francella, Allison Hanna-Williams, Kris Tschetter, Janice Moodie (Sco), Helen Alfredsson (Swe)
68 Meena Lee (Kor), Maggie Will, In Kyung Kim (Kor), Reilley Rankin, Karine Icher (Fra), Ya-Ni Tseng (Tai), Sung Ah Yim (Kor), Sarah Kemp (Aus), Shanshan Feng (Chn), Il Mi Chung (Kor), Shi Hyun Ahn (Kor), Sun Young Yoo (Kor), Eun Hee Ji (Kor), Jin Joo Hong (Kor), Sarah Lee, Maria Hjorth (Swe), Candie Kung (Tai), Natalie Gulbis, Eunjung Yi (Kor), Sophie Gustafson (Swe), Katherine Hull (Aus), Hye Jung Choi (Kor)
69 Juli Inkster, Jeehae Lee (Kor), Silvia Cavalleri (Ita), Jimin Kang (Kor), Mikaela Parmlid (Swe), Jimin Jeong, Soo-Yun Kang (Kor), Becky Morgan (Wal), M.j Hur (Kor), Jeanne Cho-Hunicke, Anja Monke (Ger), Brandie Burton, Hee-Won Han (Kor), Dorothy Delasin, Ai Miyazato (Jpn), Jane Park, Karin Sjodin (Swe), Birdie Kim (Kor)
70 Taylor Leon, Irene Cho, Jill McGill, Young Kim (Kor), Jamie Hullett, Katie Futcher, Vicky Hurst, Seon Hwa Lee (Kor), Se Ri Pak (Kor), Moira Dunn, Allison Fouch, Kyeong Bae (Kor), Karen Stupples (Eng), Wendy Ward, Christina Kim, Stephanie Louden, Johanna Mundy (Eng), Lisa Strom , Alena Sharp (Can), Nicole Castrale, Stacy Lewis
71 Joo Mi Kim (Kor), Stacy Prammanasudh, Heather Bowie young, Anna Grzebien, Amy Yang, Diana D'Alessio, Julieta Granada (Par), Michelle Ellis, Jackie Gallagher-Smith, Marisa Baena, Carolina Llano, Carin Koch (Swe), Jeong Jang (Kor), Hee Young Park (Kor), Marcy Hart, Jennifer Rosales (Phi), Giulia Sergas (Ita), Lorie Kane (Can), Brandi Jackson, Kim Hall, Kristy McPherson, Anna Rawson (Aus), Meredith Duncan, Ji-Young Oh (Kor), Mollie Fankhauser, Shiho Oyama (Jpn), Momoko Ueda (Jpn), Amy Hung (Tha), Eva Dahllof (Swe)
72 Paige Mackenzie, Haeji Kang (Kor), Charlotte Mayorkas, Sarah-jane Smith (Aus), Brittany Lang, Kris Tamulis, Leta Lindley, Rachel Hetherington (Aus), Audra Burks
73 Mindy Kim, Na Yeon Choi (Kor), Louise Friberg (Swe), Angela Park (Bra), Louise Stahle (Swe), Pat Hurst, Leah Wigger, Amanda Blumenherst
74 Mika Miyazato (Jpn), Michelle McGann, Jin young Pak (Kor), Young Jo (Kor), Maria Hernandez (Spa), Erica Blasberg, Brittany Lincicome
75 Young-A Yang (Kor), Aree Song (Kor)
76 Angela Jerman, Laura Davies (Eng)
77 Becky Lucidi, Meg Mallon
WD: Sandra Gal