Poulter storms clear with a record 60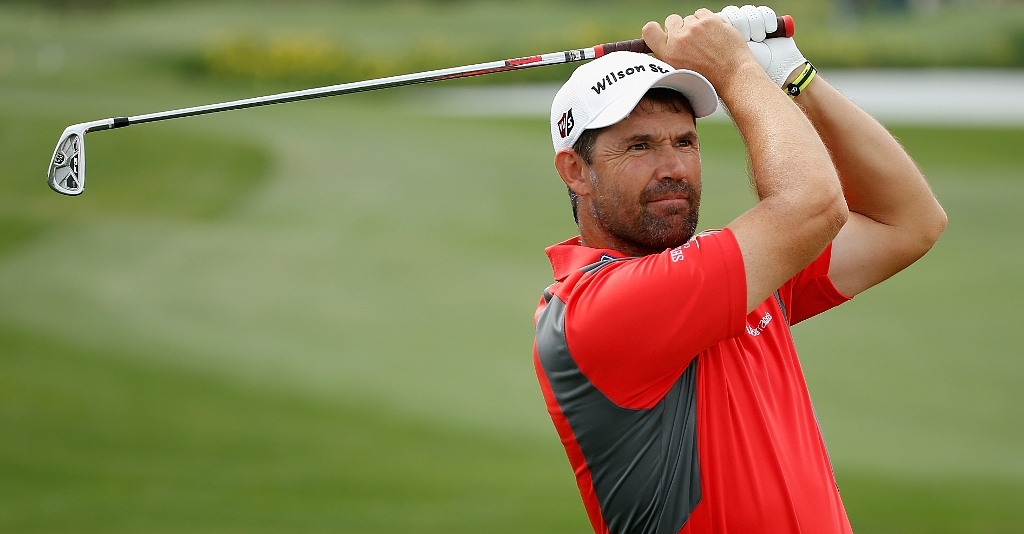 Ian Poulter has charged into the halfway lead at the UBS Hong Kong Open with a stunning, course record, 10-under-par 60.
The earth shook at the UBS Hong Kong Open on Friday when England's Ian Poulter rumbled to a magnificent 10-under-par 60 for a one-shot second round lead.
The flamboyant Ryder Cup star put on a master-class performance at the Hong Kong Golf Club, brilliantly sinking 10 birdies to lead the $2.5 million showpiece sanctioned by the Asian Tour and European Tour from back-in-form Anthony Kang of the United States, who fired an equally impressive 61.
World number 10 Rory McIlroy of Northern Ireland, playing alongside Poulter, looked set for the joint lead but double-bogeyed the 18th hole after sending his poor approach into the watery grave for a 66 to lie two back with former Hong Kong Open champion Simon Dyson, who returned a 65.
Two-time Asian Tour number one Jeev Milkha Singh of India and reigning number one Thongchai Jaidee of Thailand kept up the Asian charge with a 67 and 64 respectively for tied fifth place, three behind. US Open champion Graeme McDowell shot his second straight 65 for fifth place as well.
World number 14 Poulter was undoubtedly the star on a day when a tremor, which lasted several seconds, was felt by players, spectators and officials at the club. An earthquake with a magnitude of 2.8 on the Richter Scale was recorded by the Hong Kong Observatory at 2:42 pm.
But the way Poulter tamed the tricky Fanling course with his swashbuckling style of golf, it was no surprise that the earth literally shook.
"I would rank it pretty high to be honest," said Poulter of his lowest career round.
"I had a lot of chances. I could have holed a couple more but I mean, it's a good round of golf," added the Englishman, whose effort would have been a new course record if not for the preferred lie ruling being in effect. It was also only the fourth ever 60 recorded on the Asian Tour.
An inspired Poulter turned in 29 with five birdies, including a 30-foot conversion on the ninth after McIlroy had spectacularly holed out with a seven iron for an eagle two.
When Poulter got to eight under through 14 holes, a first ever 59 on both Tours loomed but the Englishman parred the next three before rolling in an eight footer for birdie at the last.
"Yeah, mixed emotions. Five under on the front nine was a great score. I kind of felt there were plenty of chances coming in. So, you know, happy but slightly disappointed," said Poulter, who has nine wins on the European Tour.
He said he wasn't put off by the earth tremor. "I wondered what it was. I was just about to pick my ball up (on the 14th tee). I did feel a little tremor, It was a bit strange."
Kang surprised even himself by shooting his career best round with nine birdies to charge into contention. The Korean-born American has struggled to find his best form since winning the Malaysian Open early last year, missing far too many cuts for his liking.
Such was his sparkling form that the scorer went "wow" upon checking his scorecard. "Yeah, she's shocked. Every time I turn in a score to her, it's always like 74, 75. So it was a surprise to her. A surprise to me, as well," smiled Kang.
Kang won his third Asian Tour title last year before venturing to Europe but has struggled to replicate his Asian form in the continent. "It was fun getting it on the green and hitting a good putt and watching it go in the hole. It was happening hole after hole and hopefully it will carry on," said Kang, who will turn 38 on November 30.
McIlroy was disappointed with his late blemish. "Obviously a very disappointing way to finish but I played well up until that point so I can't really complain," said the 21-year-old. "At one stage it looked like he (Poulter) could shoot 59, and it was great. He played really good. We were both hitting good shots out there. He's playing very well and he'll be tough to beat this week."
Singh, battling tendinitis in his right shoulder, turned in 31 but took his foot off the pedal with three bogeys on his inward nine. He said he got ahead of himself, especially, with a bogey on the par five third hole.
"I tried to draw a three wood into that flag which is abnormal for me. I think I got ahead of myself there; management was wrong, and hit it in the water and made a bogey," said the Indian, who was third at the UBS Hong Kong Open in 2006.
"When you put yourself in a good position like this, I think it gives you a lot of confidence and I think I'm feeling pretty good about it."
Thongchai, holder of an unprecedented three Order of Merit titles, enjoyed a blazing finish with four closing birdies to end his round. And for the first time in months, his putter worked like charm throughout 18 holes.
"The putting was very good. We had long putts from more than 20 feet. My feeling is confident now with the putting," said the Thai . "I think the same game plan tomorrow, make a lot of fairways and greens. If you have good putts, you are going to have a good chance."
Title holder Gregory Bourdy of France shot a 66 and will enter the weekend rounds five behind Poulter.