Poulter setting his sights high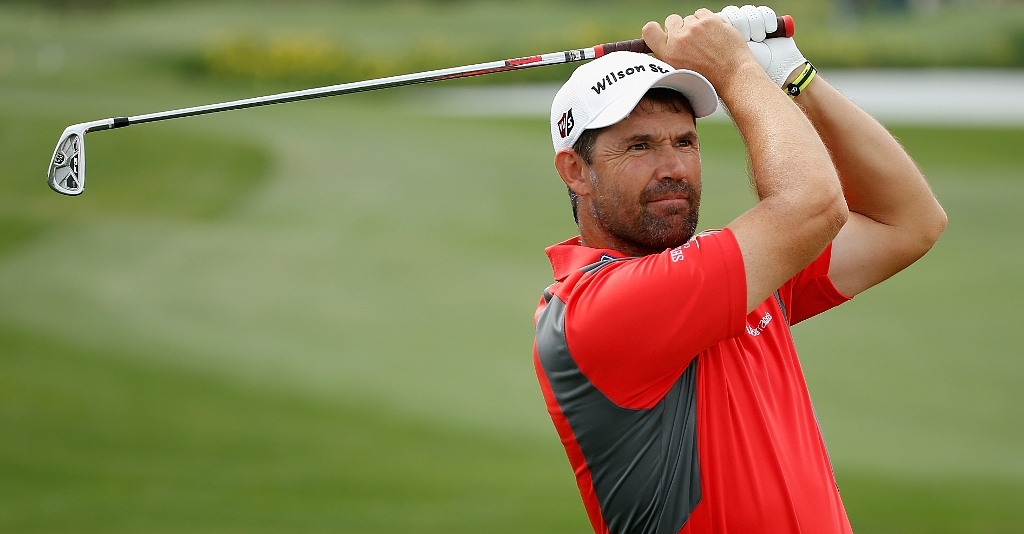 Ian Poulter is not sure what he will say when he next sees Tiger Woods, but he would love it to be: "I'm number two now."
Ian Poulter has not yet thought about what he will say when he next sees Tiger Woods, but he would love it to be: "I'm number two now."
Poulter was laughed at in some quarters when he dared to suggest two years ago that he had the talent to reach second in the world behind Woods.
But the 34-year-old could move to a career-high fifth by making the final of the WGC-Accenture Match Play Championship in Arizona on Sunday.
And the chances of that happening are good. He and Paul Casey are the only top-10 seeds left in the event after the opening two days.
To progress to the quarter-finals, Poulter must beat Indian Jeev Milkha Singh today, while in the other half of the draw Casey, runner-up last year and now the favourite for the title with holder Geoff Ogilvy out, will face little-known American Brian Gay.
There are four Englishmen in the last 16, but one of the others has to go out because Luke Donald and Oliver Wilson – conqueror of fourth seed Rory McIlroy yesterday – play each other.
Poulter, seeded ninth, is taking a keen interest in how high he can go by taking the title.
"I've had a good look and been punching numbers on my iPhone to know exactly," he said. "It would be a nice position – I'd be very happy."
Asked if it would be extra sweet to get to second spot in view of the stick he took for his 2008 comments he just smiled and replied: "I don't think I have to prove anything to anyone. It would just be nice to get there."
Poulter was speaking after adding Adam Scott's scalp to that of Justin Leonard's in the first round.
Winning 2&1 he commented: "It was never going to be an easy match. I don't think any of the these matches are, whether you're number one seed or 64."
Two years ago, of course, Poulter top-scored with four points out of five at the Ryder Cup – also in 18-hole match play.
"I like this format. I guess you get the adrenalin going from the first tee and I go with the flow.
"It's nice to be under that pressure, knocking on every shot the clock is ticking and the holes are running out, and ride the adrenalin rush by trying to make as many birdies as you can.
"I don't like losing, more than anything else. I believe I can play this game pretty good and I think my mental toughness is pretty strong – one of the key parts of my game.
"It's definitely got better over the last couple of years. I expect to go out on the course and play well, play hard and don't give matches away."
Casey has had a comfortable passage so far, knocking out Canadians Stephen Ames and Mike Weir by 5&4 margins.
With possibly 36 holes tomorrow and Sunday he stated: "It's always about conserving energy, especially the legs.
"If my legs get tired then that affects my swing. And I'm glad they moved this to Arizona – my record at La Costa (near San Diego) was crap. I never made it past the first round in four attempts."
On the English success story he added: "We had nine in the field this week, which was impressive.
"Obviously that was because of Tiger and Phil not being here (Woods and Mickelson were replaced by Chris Wood and Ross McGowan), but you want to be the last Englishman if you can.
"We're all friends, but I think we're all competitors deep down."
Lee Westwood, the highest-ranked of them all at world number four, has still to go beyond the second round of the event after losing to American Nick Watney.
But Westwood's point before the start about English golf not getting the credit it deserves was backed up by Wilson.
The Mansfield golfer, still chasing his first professional victory despite having a Ryder Cup cap, stated: "I think Lee's definitely got a point.
"We're only a small country and to have nine in the event is fantastic – a great achievement."
Surprisingly, he has never played a tournament round with Donald before. But he knew it was likely to be a tough one with Donald thrashing Robert Allenby 6&5 yesterday.
McGowan, who toppled top seed Steve Stricker on Wednesday, went out to 18-year-old Ryo Ishikawa, while Ogilvy lost to Camilo Villegas, third seed Jim Furyk to Charl Schwartzel and Ernie Els to Retief Goosen.