Poulter in spectacular fightback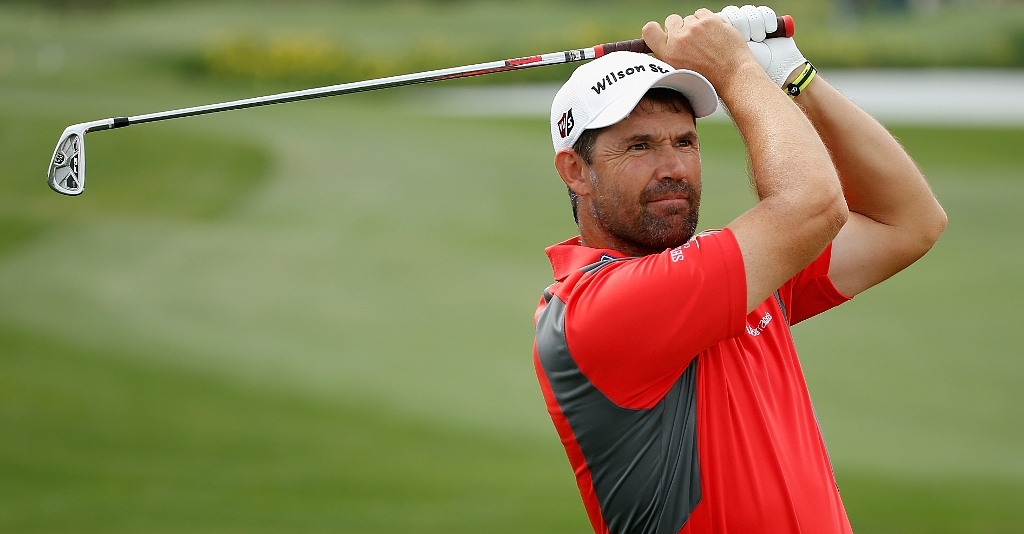 Ian Poulter has taken a Ryder Cup mentality into this week's BMW Championship in Chicago – and so far it seems to be working.
Ian Poulter has taken a Ryder Cup mentality into this week's BMW Championship at Cog Hill Golf and Country Club's Dubsdread course near Chicago – and so far it seems to be working.
Poulter resumes the third leg of the FedEx Cup play-off series on Friday in joint third place with a five-under-par 66 after he had fought back in spectacular fashion from a disastrous double bogey start.
"I was trying to get in that kind of mindset, making as many birdies as I did in the Ryder Cup last time around," said Poulter, who trails American Matt Kuchar by two, but is seven ahead of Tiger Woods after another disappointing display by the world number one.
"If you can somehow get into that frame of mind that anything is possible you can make 10 birdies in a round of golf.
"I want to perform again. It was special last time and it will be special again."
Poulter, top-scorer in Louisville despite Europe's defeat, could need a top seven finish this week to be among the 30 players who contest the Tour Championship in Atlanta in a fortnight's time.
"The way I look at it is I've either got a week off before the Ryder Cup or I've got two," he added. "It's as plain and simple as that."
Poulter had begun on the back nine and at the 386-yard 10th he was bunkered in two, over-flew the green and then missed from under four feet.
"It was a bit of a kick in the teeth," he said.
"I needed more than 10 seconds and was glad it was a long walk from the green to the 11th tee.
"I calmed down pretty quickly and turned a poor mindset into a good one."
A 73-foot putt on the short 14th certainly helped, as did a 12-footer for eagle on the next and a chip-in birdie from nearly 55 feet at the 18th.
Woods also began with a double bogey and then mixed three birdies with three bogeys to find himself down at 45th in an event where he probably requires fifth place at worst to qualify for the final event of the play-offs.
Woods was in trouble from the moment he found sand with his second shot and, after leaving his recovery short, missed from four feet.
There were some brilliant shots after that, but most of them were from trouble spots and Corey Pavin's most high-profile wild card clearly still has not bedded in the swing changes he is undergoing with new coach Sean Foley.
Once again, however, Phil Mickelson failed to capitalise on his main rival's troubles as he set off on his 11th attempt to take the world number one spot off him.
Only a top-two finish will suffice for Mickelson this time, but after a 72 he is in 34th spot with both Londoner Brian Davis and Scot Martin Laird.
Kuchar leads by one from compatriot Ryan Moore and as the front-runner in the FedEx Cup race already – he won the opening event two weeks ago – he is even closer now to the £6.5million jackpot that goes to the overall winner.
Despite 'flu-like symptoms he eagled the 15th like Poulter, matched his six birdies and dropped his only stroke on the 383-yard eighth, where he went from one bunker to another.
Winner of the US Amateur title on the course in 1997 Kuchar, not wanting to speak much because of how he felt, said: "I've got good memories of this place, so it continued to go well for me.
"Last week was a little bit suspect and this week I kind of figured some stuff out, hitting the ball solid and making some putts."
Luke Donald, joint second in the Deutsche Bank Championship on Monday, is in the running again after a 68 but he felt it could have been much better. "Three bogeys was a little disappointing just because I didn't short game it well enough from relatively simple up-and-downs," said the Englishman.
Justin Rose had the same score, while Paul Casey, like Rose overlooked for a Ryder Cup wild card, shot 69.
But Rory McIlroy had only two of the 70-strong field below him after an error-strewn 76. At least there is no halfway cut this week and, having come into the week 29th in the play-off standings, the 21-year-old has time to recover.