Poulter holds off Westwood in China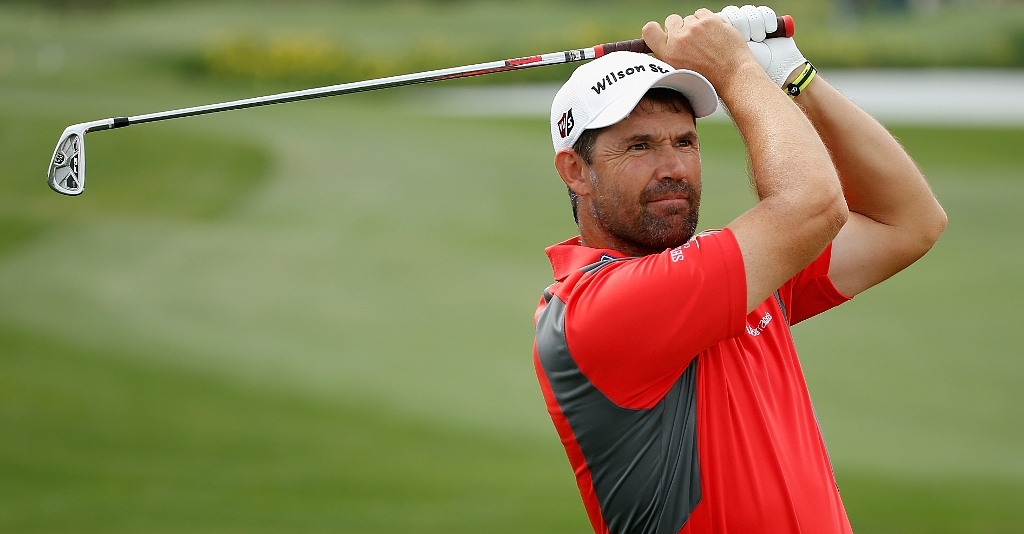 Lee Westwood managed to get within a shot of Ian Poulter on the 2nd day of the Shui On Land China Golf Challenge.
Lee Westwood managed to get within a shot of overnight leader Ian Poulter on the second day of the Shui On Land China Golf Challenge.
This in Tuesday's whirlwind stop in Zhengzhou in the second leg of the week-long, seven-city event in which two or three holes will be played at each of eight clubs along the way.
World number two Westwood has edged to within a shot of leader Ian Poulter after the first four holes of the unique event which started with two holes at the Tomson Pudong Golf Club in Shanghai on Monday.
Westwood birdied hole three of the 18-hole tournament and finished the day in a second-place tie with Liang Wen-chong of China on even-par, while the fourth member of the touring quartet, US Open champion Rory McIlroy, stayed four-over after a birdie and a bogey at the new Jinsha Lake Golf Club in Zhengzhou.
Following an early-morning flight aboard a Bombardier jet from Shanghai, the quartet was whisked to the venue in Rolls-Royce cars for a lavish grand opening that was broadcast live on television.
For the four international players, it was their first visit to the capital of Henan province.
Poulter and McIlroy were cheered and mobbed like rock stars as the players practiced on the driving range before the Poulter went out and hung on to his lead at one-under by shooting pars at the 554-yard par-five and the 408-yard par-four.
"I played two good holes, so I'm still leading and it feels good," said the colourful Englishman, once more a standout in his check trousers.
"They're very excited about their golf over here in China and we had good fun on the range.
"Rory was at one end and I was at the other, and we ended up hitting shots and trying to get each group of fans to cheer louder than the other."
The 35-year-old also praised the host venue, which presented one of its new golf villas to Westwood during the opening ceremony and also organised two hole-in-one challenges, including one for a BMW.
"It was interesting to arrive and go straight on stage and be on live television," Poulter continued. "It showed they really appreciated us coming and we're very honoured to be given that kind of ovation.
"They love golf in China. They've got a great facility here at Jinsha Lake and I think the course looks very, very good. We only played a few holes, but you can see it's going to be a spectacular layout."
Westwood, who started the day one-over, hit a sand-wedge approach to four feet to birdie the day's opening hole and cut a happy figure after drawing closer to his compatriot.
"Rory is a bit of a rock star and Ian (Poulter) sort of likes that as well, so it was fun being on the driving range and creating some noise," said Westwood, the current world number two and a man who has 22 European Tour titles including two in Asia earlier this year.
"Coming and playing in China continually amazes me. The appetite for golf is incredible. You visit cities you've never heard of and they have eight, nine, 10 million people, something like London. It really is an incredible country."
The players later flew to Beijing, where they will play two holes each at the Topwin Golf and Country Club and the Jade Island International Golf Club on Wednesday before an evening flight to their next stop, Dalian, where they will play at the 36-hole Red Flag Valley.
The Shui On Land China Golf Challenge is being filmed by IMG Media and showcased on Golfing World.