Poulter can't see Tiger in Top 5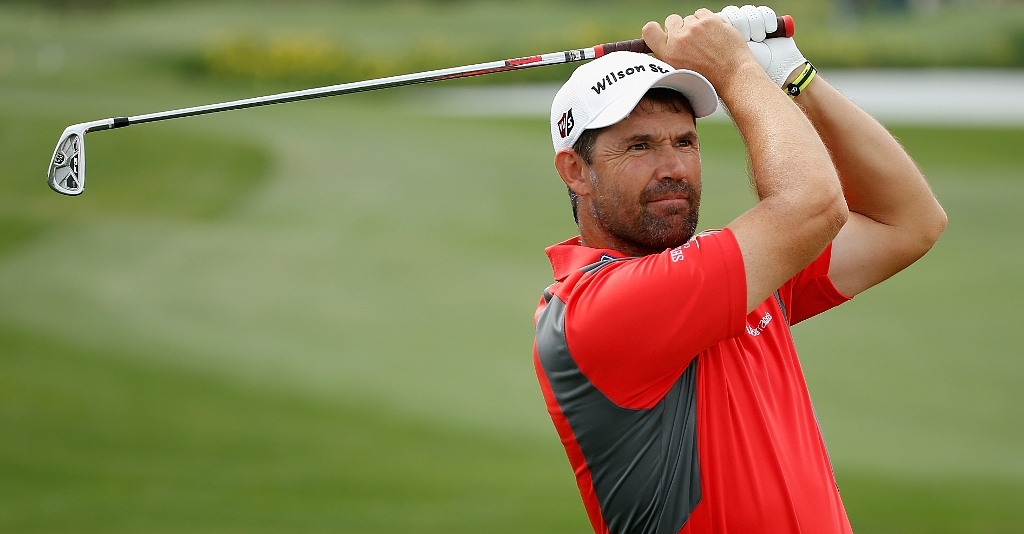 Ian Poulter last year correctly predicted that Tiger Woods would finish in the top five at the Masters, but this year he's not so sure.
Ian Poulter last year correctly predicted that Tiger Woods would finish in the top five at the Masters, but this year the flamboyant Englishman is not so sure
Woods finished fourth after breaking par in every round, but this year Poulter doubts if the former World No 1, who will tee off at Augusta on Thursday as the No 7, will do as well.
"I don't think he'll finish in the top 5," Poulter said, pointing to the quality of play produced by Woods at the recent World Golf Championships at Doral.
"The shots he was hitting at Doral were very inconsistent," Poulter said. "You can't afford to hit shots like that on this golf course and get away with it. I don't think you want to rely on your short game that much around this place."
Poulter could be right.
The Augusta Chronicle reported that Woods hit two lackluster drives on the first hole on Sunday in a practice round. The first went left into the pine straw. He reloaded and hit one so short, Woods reportedly said to himself: "Have you ever seen such a slow swing? That one went about 220."
"You can never rule him out, can you?" Poulter said of a man who has won the Masters four times..
"He has such an incredible record on this golf course. He has won by plenty and won it quite a few times. We've seen him hit the shots in various situations when he has put himself in trouble. And he has one of the best short games in the world; that will not disappear from him.
"When he gets in position where he's close, he generally holes putts at the right time. He hasn't done it for a while, but I think if he starts to hole the putts at the right time then you will see the Tiger of old come out. And that's dangerous. But I don't see it this week."
"If it does happen it would be a hell of an achievement, He hasn't won for what, 18 months, two years?
On his own game, Ian Poulter admitted his own game had also lost momentum and had seen him drop from World No 7 to 16 and he was hoping to get some of that momentum back at Augusta this week.
"It's very frustrating and driving me mad," said Poulter when referring to the fact that while he been sliding backwards in the rankings, a good number of fellow European Ryder Cup stars had been going in the opposite direction.
"I need to push on. When I perform well I think I can play with the best players in the world for sure."
The world saw that when he picked up four out of five Ryder Cup points under intense pressure after being one of Nick Faldo's controversial picks for Valhalla.
We saw it again when he won the 2010 World Match Play Championship and saw it once more at Celtic Manor last October he was joint top scorer in Europe's Ryder Cup win
But not too much has happened since then Poulter has not had a top 10 finish in his last six starts.
"I'd like to find out why I perform so well in the Ryder Cup and I don't bring it out in stroke play as often as I'd like.
"I've definitely got to have a think about my mind set and try to get pumped up.
"In Ryder Cup week you don't need to try for it – it's just there in you.
"On the first green with 72 holes to play you don't fist-pump when you hole from 10 feet for birdie, but perhaps I should get a bit more excited inside.
"I do it occasionally, so you feel you should be able to do it every week."
Handing over £260 to practice playing partner Graeme McDowell yesterday did not make his return to Augusta as good as the 35-year-old hoped it would be, but impressed as he was by McDowell and by Justin Rose, the third member of the group, Poulter still believes he can be the man to complete a first-ever clean sweep of the majors by European Tour golfers.
"I've done enough homework and I'm ready to go now," he said.
"Being in the lead after two rounds last year was great. Knowing you can play the golf course is always a plus."
But he lost the lead and while Westwood went on to duel with Phil Mickelson for the title, Poulter tumbled down to 10th with rounds of 74 and 73.
"Not having to chase is key at Augusta," Poulter has decided. "You can't do that on this course and I did after Mickelson and Lee got out in front.
"When you go for some of these pins you can make birdies, but you can also make mistakes.
"My first tee shot in the third round way left – 60 to 70 yards left – and it rattled me. That's never a shot I hit, so I stand up on two and the one place you can't hit it is left, so I'm thinking about it there.
"Then I hit it left on eight again. I'm chasing now and you can't. I've seen people chase on this golf course and it's ugly.
"The attention on me now is not the same, but my expectations are the same if not more.
"It was disappointing to play like I did Saturday and Sunday after getting off to such a great start.
"It's a course I can play some of my best golf around and I would like to rectify the mistakes I made."